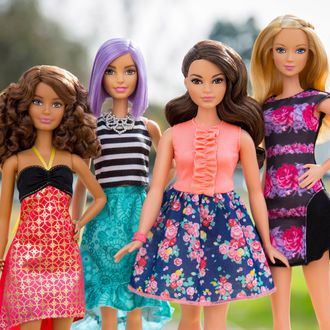 Barbies.
Photo: Barbie/Facebook/Mattel
Mattel has been doing big things this year — marketing new Barbie dolls that are more representative of the real, actual human body. They've branched out in representation of the industries, too: Oprah's got her very own Ava DuVernay director doll. And now they're adding a doll to the mix who might actually be representative of real women's work ethic: Wonder Woman.
The Gal Godot Wonder Woman doll will sell as an exclusive collectible for $80 at the mega-big San Diego Comic-Con in July. And she's decked out in the full Wonder Woman garb, complete with tiara, lasso, bulletproof bracelets, and shield.
If Mattel is looking to diversify their collection with empowering dolls, then choosing one with a sword is a step in the right direction.