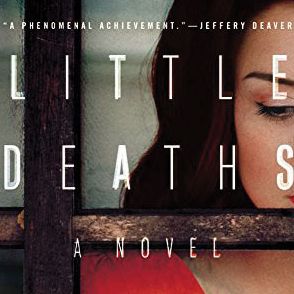 Two of the books from BEA.
"I think writing about the death of children would have been incredibly painful if I was a mother," said Emma Flint, one of the authors touted at Book Expo America's hype-generating "Buzz Panel" Wednesday afternoon in Chicago. Her forthcoming first novel, Little Deaths, fictionalizes the scandal surrounding Alice Crimmins, a Queens mother whose children were strangled in 1965. "The death of children is obviously a tragedy, particularly the murder of children, but I'm writing about the effects of those deaths on their mother, and I think it would have been just too painful."
Any possible reluctance to read about it failed to deter some of BEA's most loudly promoted authors. The country's largest book trade show, Book Expo, which wrapped Friday, feels a little small this year — probably a couple thousand shy of last year's attendance. That might largely be due to its one-year relocation to Chicago, which takes the fair outside the Javits Center for the first time since 2008 and forces New York companies to cut back due to travel expenses. (It returns to Javits next year.) Much of what remains, especially during today's consumer-facing adjunct, BookCon, increasingly targets YA readers. And then there are all the adult novels that target children in their pages.
Three of the six books featured at the Buzz Panel turn on youth who have "gone from living to dead," in the phrasing of Emily Fridlund's novel, History of Wolves. Grove editor Elizabeth Schmitz called that debut, which turns on a four-year-old boy's murder, "dark, brilliantly dark," referencing Psycho, Winter's Bone, and Smilla's Sense of Snow. A fourth book, Nathan Hill's The Nix, has no literal dead children, but the mythical title beast in his expansive comic saga is an equine water spirit that lures children to their deaths by drowning.
Two fall authors who spoke at a Thursday lunch thrown by Little, Brown doubled down on child trouble giving us siblings in extremis. Affinity Komar's Mischling, whose galleys were handed out on the show floor by a publicist shouting "What Anthony Doerr says you should read next!", stars a pair of twins subjected to medical experiments at Auschwitz. Two albino African-American brothers don't fare much better in Beth Macy's Truevine, a nonfiction account of their kidnapping and display as circus freaks in the Jim Crow South.
Child peril isn't a new device in fiction of any brow; a boy's unknowing captivity is what made Emma Donoghue's very artful novel The Room and its film adaptation such sensations. It's a reliable outrage to adults with and without kids, a narrative shock in a market glutted with shocks, especially in the increasingly co-opted genre of crime fiction. (Three of this year's five Buzz Panel novels could be described as literary crime.) Children in grave danger are easy to turn to because a certain kind of reader craves in fiction what she might avoid at all costs in real life, no matter how often it actually happens.
It happens every day — a fact grimly documented in the Buzz panel's only nonfiction title, Gary Younge's Another Day in the Death of America. Shocked by the statistic that seven children are killed by guns every day in this country, Younge picked a random day in 2013 and sought the families of the ten minors shot to death within those 24 hours. His editor, Nation Books's Alessandra Bastagli, laid out the facts at the panel, noting that a year's tally of child shootings comprises 134 Sandy Hooks — and adding that "sometimes the things we think of as normal are not normal." What relegates child murder to local papers' crime blotters is its frequency. It's a "dog bites man story," as Bastagli put it, and its very banality is evidence of national derangement. For Younge, recognizing the derangement meant facing the reality and exploring the gruesome and particular details of a mass phenomenon.
I haven't read the galleys of the forthcoming novels in which child suffering plays a part. All of them sound fascinating and worth cracking, and all seem to respect the gravity of their morbid subject. (Little Deaths is actually a critique of media prurience.) But fictional violence, wielded with abandon, threatens to distract us from the real thing. The death of children is a gross perversion of the natural order that happens every day. I don't envy Gary Younge the task of documenting that dark truth. (Unlike Flint, he is a parent.) But I'm grateful that he took it on.
* This post originally misspelled the last name of the author of Mischling. It is Affinity Konar, not Komar.