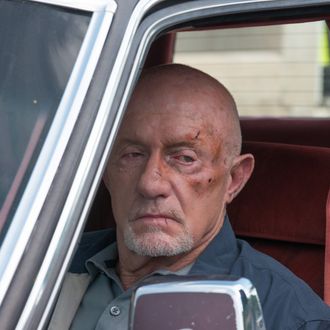 Photo: Ursula Coyote/Sony Pictures Television/ AMC
When Better Call Saul fans run into stars of the AMC show in real life, they tend to take the gregarious nature of Bob Odenkirk's Saul Goodman as an invitation to approach him, and back away from the taciturn-seeming Jonathan Banks (Mike Ehrmantraut). But they might fare better the other way around, co-star Rhea Seehorn (Kim Wexler) shared this morning at the third annual Vulture Festival.
Jonathan, they expect like he might shoot them. So I'll literally be in the diner and people are talking to Bob and they walk by Jonathan. There was a Marine, a big guy, that came by and just gave his business card and he's like, [very quickly] "I don't want to bother you, I just want to tell you …" Left his card and ran away! While Bob can be pleasantly surprised by the fans and shy at times to accept the attention, Jonathan is like, "Get back over here and talk to me! What are you doing?" He wants to talk to everybody. He's like your favorite weird uncle at every barbecue.
Seehorn offered some tips on what not to do in a chance encounter with Banks. "He doesn't like being looked at by fans, like stared at without them saying something," she explained. "So you'll often be eating with him and people will like be at the outside table thinking they're being covert and he will get up and be like, "If you're going to stare at me, talk to me!"
But there is one context in which Banks is similar to his steely character, fellow panelist and co-star Michael McKean pointed out. "Have you ever been with Jonathan at a restaurant and he doesn't like his food? The look that he gives the waiters …," he trailed off, giving an eerily accurate rendition of the withering gaze. "He's hardly said anything and the guy has shit himself and is on his way back to the kitchen. It's wonderful and it's like he's using a kind of currency. It's genuinely off-putting and charming as hell."