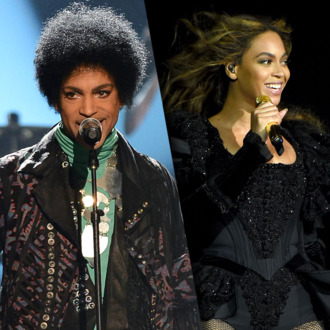 We already know Beyoncé is queen of the Billboard 200, with Lemonade nabbing the biggest-selling week of 2016 so far — and making Beyoncé the first artist in history to have their first six albums go No. 1 – but how has she slayed the Hot 100? As expected, she's started out big: "Formation" has debuted at No. 10 on the singles chart, entering nearly three months after the song first caused all that conversation. (Beyoncé initially made "Formation" available as a free download and its video is unlisted on YouTube, while Tidal did not report the song's streams to Nielsen, where Billboard gets its numbers.) Despite never officially being promoted as Lemonade's lead single (though marketing doesn't get much bigger than the Super Bowl), "Formation" is now Beyoncé first song to reach the Top 10 since "Drunk in Love" with Jay Z peaked at No. 2 in 2014.
But of course, His Purpleness has overshadowed everyone: Prince's "Purple Rain" has skyrocketed to No. 4, with the biggest-selling week since Adele's "Hello" in January. It's his first time back in the Top 10 since the "The Most Beautiful Girl in the World" hit No. 3 in 1994. Even more crazy, he's also on the chart at No. 8, with "When Doves Cry," making this the first time Prince has more than one song simultaneously  in the Top 10 since 1984. His catalogue even claims half the Billboard 200's Top 10 this week, having sold more than 4 million albums in the U.S. alone since his death on April 21.
Up at the top, Desiigner's "Panda" rules at No. 1 for a second consecutive week, but his lead just got slimmer. Drake's "One Dance" has now risen to No. 2, which means Drake may very well get that first solo No. 1 that he lost out on with "Hotline Bling" as early as next week. It's already gone to No. 1 in Canada — his first! — and broke the single-week streaming record previously held by Adele's "Hello" in the U.K., where it has also hit No. 1. "One Dance" is now Drake's third song to reach No. 2, since "Hotline Bling" did it last year and "Best I Ever Had" went there in 2009. Free tip, Drake: Don't make the "One Dance" video an Apple Music exclusive this time.