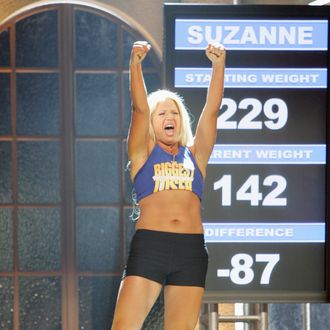 The Biggest Loser.
Photo: Trae Patton/2012 NBCUniversal, Inc.
The producers of The Biggest Loser are roundly denying charges that the show forced contestants to take weight-loss drugs. In a report in the New York Post on Sunday, a mix of on-the-record and anonymous sources claimed — among other abuses — that contestants on the long-running reality series were given Adderall and energy pills containing ephedrine, which the FDA banned in diet supplements in 2004. Now, in a statement to Variety, the show's producers say that's untrue.
"Contestants are told at the start of the show that there is zero tolerance for any weight-loss drugs," the producers said. "We prohibit the use of any illegal substances, in addition to the many other rules and procedures of the show that are designed to ensure safety." (In a statement to New York magazine, the show's trainer-turned-host Bob Harper echoed those sentiments, calling the allegations "absolutely false.")
The news comes shortly after a study that tracked 14 former Biggest Loser contestants for six years found that all but one of them gained weight after their time on the show.