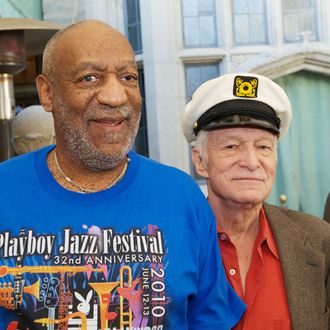 Cosby and Hefner.
Photo: Earl Gibson III/Getty Images
The model who previously dropped a lawsuit against Bill Cosby that alleged he sexually assaulted her at the Playboy Mansion in 2008 has filed a new lawsuit against the embattled comedian, and she's holding yet another high-profile name accountable. Chloe Goins is suing Bill Cosby and Hugh Hefner for sexual battery, gender violence, and other charges over that same alleged 2008 attack. Goins, who was then 18, claims that Hefner introduced her to Cosby, illegally served her alcohol and possibly other substances, and told her to "lie down" in a bedroom when she appeared ill. "Hefner's actions of inviting and hosting young and impressionable and possibly minor children [at] his residence, and providing alcoholic beverages and or foreign substances was negligent at the very least," the lawsuit states. Goins also argues in her suit that Hefner "knew or should have known [Cosby] had a history of severe and serial sexual battery and or possibly rape of women."
Goins's accusations fall within California's statute of limitations to prosecute. The L.A. District Attorney's office previously declined to charge Cosby, who is currently facing criminal charges of sexual assault in Pennsylvania. Hefner and his Playboy properties have been cited by several of Cosby's accusers as being involved in their alleged assaults. "I told my supervisor at the Playboy Club what he did to me, and you know what she said to me? She said: 'You do know that that's Hefner's best friend, right?' I said, 'Yes.' She says to me: 'Nobody's going to believe you. I suggest you shut your mouth,'" PJ Masten told New York last July.