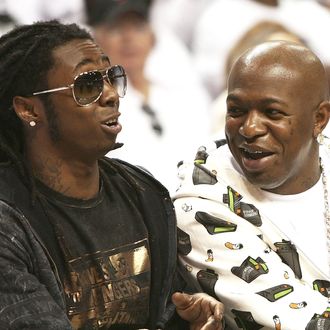 Wayne, Baby.
Photo: Doug Benc/2006 Getty Images
Amid ongoing label drama and claims to the contrary, Birdman tells Hot 97 he's not the one halting Lil Wayne's long-awaited Carter V. "Man, Wayne always been his own boss; I never interfered," he explains in his interview with Ebro and Laura Stylez, from the comfort of his multimillion-dollar home. "Me not putting out Tha Carter V, why wouldn't I? I got a lot of money invested into Young Money and Wayne … I think the world deserves a Carter V. Whatever he wants to do, I'm good with."
To try to prove his point, the Cash Money honcho says that, technically speaking, he could have stopped the other records Wayne has been releasing, but he isn't because he respects the younger rapper's hustle. Baby's lengthy chat, posted Monday, also touches on the future of hip-hop, forthcoming projects, and his pick for album of the year. Read on for more of those highlights:
More on Wayne
I think it's more of a misunderstanding than a money issue. If you know me, I always gave Wayne any and everything he ever wanted. Our train still moving, man. Drake just put out an album, man. Nicki in the studio, man. The train still moving — I think there are a lot of misunderstandings. Me and him talk, but you best believe that situation gonna work itself out … Our relationship, to me, has changed, and I've always wanted to be a part of my son's life, any kind of way possible … I'm not gonna let this music and this money ever interfere with how I feel about my son. I love him, and we're going to figure it out.
On What's Missing in the Future of Hip-Hop
We don't have enough CEOs in the game. Everybody wants to be a fucking rapper, nobody wants to put nobody on … That shit is dead. How are we going to continue to have hip-hop live when we don't have motherfuckers like me, that's helping people, putting people on? Everybody wants to rap, but nobody wants to make rappers.
On Nicki Minaj and Drake
I tilt my hat to Nicki, I always say she would probably be the biggest and the best that we done had so far in hip-hop. I don't think a female has built an empire like she has. What Drake's doing: Look how far he's taken his talent, from being on a TV show to being the biggest artist in the world, he got the NBA, he got Michael Jordan, he's at the heights of his life … I think Drake got the album of the year [with Views].
On Trick Daddy Spreading Rumors About His Sexuality
I guess [Trick Daddy] gets on the radio and wants to be funny or something, but [he] knows what's happening with me, man … Google me, man. Watch what comes up. Straight G. Straight gangsta. I don't know how to be nothing but that. I'm just a hustler, I'm a mastermind. I know how to use my brain and organize a lot of shit and make a lot of money and sell a lot of records. That's just my gift. Everything I touch is gonna be something.
On His Forthcoming Movie Projects
The name of [my biopic] is Before Anything. Before I signed my deal with Universal I was maybe 19 years old, turning 20, for $30 million. It was before that. It was life before that. Also, I'm doing the Cash Money story. I thought that what Dr. Dre and Cube did was real genius, that was some genius shit … My Cash Money story should be as big, because we are super [relevant] in music. I started writing this script two years ago … I've been working a lot with Mike Epps.
And catch the full interview — which includes more on Baby's relationships with Rick Ross, his mother, and his ink — below: