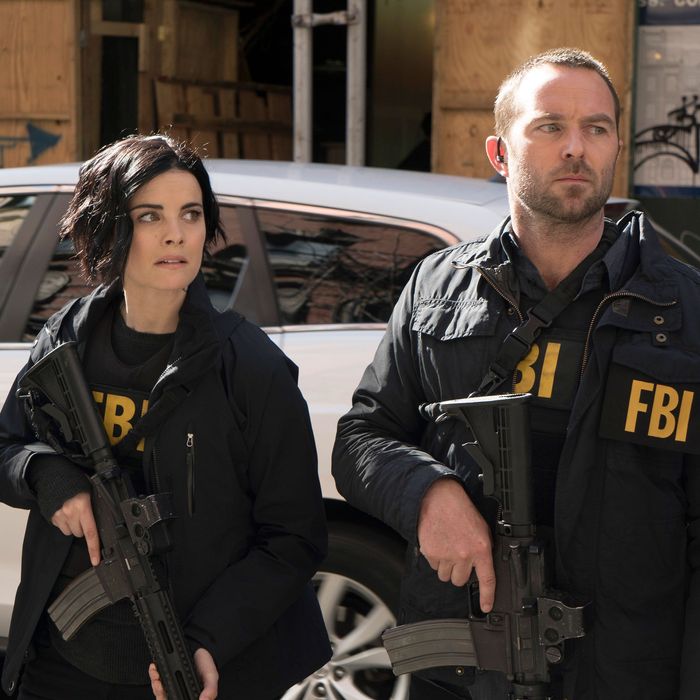 Jaimie Alexander as Jane, Sullivan Stapleton as Weller.
Photo: Peter Kramer/NBC
According to Blindspot, a job in the FBI's New York City office is akin to reporting for The New Yorker. Between its art heists, crossword scavenger hunts, and this week's focus on an autistic girl with a photographic memory, the show has shaped up to be a window into some overly dissected nerd territory.
"Swift Hardhearted Stone" opens with a little girl wandering the streets of New York, shoes bloodied and lacerations stitched across her body. She's unable to speak due to a severe form of autism, but she's armed with a notebook of remarkably detailed drawings of people, places, and one of Jane's tattoos. When FBI psychologist Dr. Borden examines her, he discovers she's drawn a replica of one of the markings. The team soon learns that it's the crest of the Ahmadis, a family of Syrian terrorists.
As has been the case with many difficult witnesses, Jane strikes an empathetic stance, drawing the girl out of her shell by revealing her own experiences with loneliness and fear. And indeed, the girl is forthcoming. Jaimie Alexander's ability to balance ferocity with vulnerability makes her one of the most dynamic characters in the show, and is always such a welcome break from the oft one-dimensional personalities of Weller and Oscar.
With access to the girl's drawings, rendered from her photographic memory, the FBI discovers she's actually the daughter of the head of the Ahmadi family. The girl, Mya, and her mother have been smuggled into the U.S. by a rock-star journalist who had promised them safe passage in exchange for an interview, but they're tailed by the Ahmadis. They brutally slay Mya's mother, and given her dangerous knowledge and frighteningly precise memory, Mya is the next target.
But wait! Dr. Borden has a country house where she can be hidden away. Sweet Patterson expresses interest in joining because she "likes cottages," and soon enough, Weller and Jane pile onto the party bus, too. At first, this impromptu couples' vacay is shaping up sweetly, with flirty banter between all parties (Oregon Trail talk for the nerds, camping memories for the badasses), but the Ahmadis eventually swoop in to dampen the mood. Patterson and Borden defend mightily with a Home Alone–like collection of booby traps. Even Mya pitches in with a save-the-day move of her own, when Borden is in danger. In the end, the peace is restored and Mya is toted off, parentless, to whatever safe house the FBI has for refugee children of Syrian terrorists.
Beneath this week's distraction of a case, Jane remains torn between her hypothetical loyalty to Oscar and her current allegiance to the FBI. Oscar reveals some trivial-seeming information about his mother and his love of jazz, which he feels should comfort her, but it falls flat. Half of this is due to the stilted dialogue, the other half to dry acting. Clearly, these two characters should be fighting to keep their hands off of one another, but in the daytime their relationship is rendered bland. Strangely enough, Weller and Jane seem to have struck up a little spark, or maybe it's just relative to her disconnection with Oscar. Either way, Jane's lashes seem to flutter in Kurt's direction throughout the episode, and even he chuckles a bit, exuding actual charm.
Jane ultimately adheres to Oscar's directions to infiltrate the FBI files, but only so she can save Weller from harm. However, she's tailing Oscar when he's not looking, and keeping herself available for after-hours game night with the Wellers.
Meanwhile, the tension between Reade and Zapata comes to a head when he tells her to back off the Mayfair investigation. Zapata is (somewhat) straight with him, telling him she's suspicious of Mayfair's connection to Carter's death and that they should stick together to figure out what his disappearance is about. Reade doesn't seem committed, but Zapata is forging ahead with or without him.
Speaking of Mayfair, the danger surrounding her is finally bubbling toward the surface. She puts her memories of Sophia to rest with a nice burn/purge of photographs and cards. Feeling fresh, she decides to meet her cute love interest, Amanda, for a drink in a hotel room. The intensity of the situation proves momentarily too much for Mayfair, who takes a quick time-out, but when she arrives back, Amanda's throat has been slit and an ominous caller makes it clear: Stop looking into Carter's death, or she's next.
Tattoo Meanings:
A cobra wrapped around scimitar — the crest of a Syrian terrorist family — matches an illustration in a lost autistic girl's sketchbook.
Blind Sides:
There's some ambiguity about this week's anagram. It might translate to "then first road head west" or "then head first road west." Any guesses?
Maybe Jane should moonlight as an FBI psychologist, too.
Would an FBI scientist/puzzle nerd like Patterson be armed?
Also, would she be trained in Home Alone booby-trapping?
Borden shot a guy in the head with a nail gun. Guess he can deal because he's a therapist?
I thought Amanda was fishy, but it seems she was just bait. I'm torn as to whether Oscar is behind the threats to stop looking into Carter. It would make sense, but nothing is ever as it seems in this show.