Bob Dylan is our most celebrated living songwriter. But while he's been busy, you know, reshaping popular music, he's also undertaken a parallel career as a singer of other people's material, releasing albums, including the new Fallen Angels, consisting solely of other songwriters' compositions and performing a dizzying range of covers in concert. So here's what Bob sings when he doesn't sing his own songs, which is more often than you might think.
Dylan's Covers Albums, Ranked Best to Worst

These folk and blues songs — performed by Dylan accompanied only by his own nimble acoustic-guitar playing — are full of murder, resentment, loss, love, and acceptance. Tenderly gruff and often brutally insistent, songs like "Two Soldiers" and "Love Henry" are covers for what Dylan in the liner notes called a "New Dark Ages." Fittingly, the music contained here is apocalyptic and infinite, making for his best album of non-originals.
Dylan's first entirely solo acoustic album since 1964's Another Side of Bob Dylan beautifully mines the work of songwriters both anonymous and known, like Mississippi John Hurt ("Frankie and Albert") and the Mississippi Sheiks ("Sitting on Top of the World"), moving through lost worlds of condemned sailors, cuckolding Gypsies, and other outsider tales with a frailty that's both welcoming and rebellious.
3. Bob Dylan
Dylan's debut consists of 11 bluesy covers of songs by Bukka White, Blind Lemon Jefferson, and others (along with two originals) legendarily recorded over two days for $400. So young and already a man of constant sorrow fixin' to die, albeit with a laugh and a wheeze in his throat and a vivaciousness in his strumming and harp-blowing.

A sequel of sorts to 2015's Shadows in the Night, this is an even more gorgeous album of American standards, all once recorded by Sinatra, with the exception of Johnny Mercer and Hoagy Carmichael's beautiful bit of mystical ornithology, "Skylark." Dylan's small-band sound has been reduced to a fabulous consommé, full of pedal steel, brushed drums, and his own oddly apt croak — perfect slow-dance music.
A selection of obscure love ballads previously sung by Sinatra — including four from his classic 1957 midnight-mood record Where Are You? — and all rendered in spare and haunting fashion by Dylan's five-piece touring band (plus subtly lugubrious horns) instead of the usual massive orchestra associated with pre-rock pop. The collection finds Dylan perfectly attuned to the spirits inhabiting these mournful love songs.
Optimistic and funny, this album is full of sleigh-bell-laced, gently swinging versions of holiday classics with plenty of cheery choral singing and martial drum rolls. Christmas in the heart, yes, absolutely — less so, it must be said, in the artist's throat. The Pogues' "Fairytale of New York" is still the go-to for ragged Christmas groaning, but this is a reasonable backup, especially Dylan's joyous beer-hall polka take on "Must Be Santa."

7. Dylan
Dylan's first absolutely-all-covers album was put together by his then-former, now-current label, Columbia, entirely without the artist's input, and it was a critical and commercial dud. But there's some fun and heartbreak and qu'est-ce que c'est among the throwaways. E.g.: a sloppy take on Jerry Jeff Walker's "Mr. Bojangles" and a rasping run though Joni Mitchell's "Big Yellow Taxi."
Six covers — three at the top of the record, four at the bottom — sandwich four "meh" originals on the first Dylan record to consist primarily of others' material in 15 years. It's an ugly blues-rock set that doesn't manage to put across any of the lovelorn lyrics he borrows. The anguish expressed on the Hank Snow classic "Ninety Miles an Hour (Down a Dead End Street)," as throughout, is the wrong kind: felt musically, not spiritually.
This covers-heavy effort was widely panned on release, the first of Dylan's albums to be so received. It's 73 minutes of half-baked cuts like the folk ballad "In Search of Little Sadie" and versions of "Blue Moon" and "The Boxer" that will send you right back to Elvis and Simon and Garfunkel. Despite the extensive personnel — 11 guitarists are listed in the credits — a vocal, instrumental, and production laziness pervades.
Inspiration Index
Dylan tends to release albums of non-original material when his own songwriting is at a low ebb.
Dylan's Most-Played Covers
Dylan got his start playing non-original material and he's never stopped, offering covers at just about every concert he plays. These are the ones he's played the most.
138 performances: "Not Fade Away"
Also a frequent cover choice by his buddies the Grateful Dead; Dylan first played this Buddy Holly and Norman Petty rave-up in 1986. 
111 performances: "Searching for a Soldier's Grave"
This haunting ballad, written by Jim Anglin (and also a favorite of Dylan's idol Hank Williams), was subject to a brief but intense Bob fixation: He first played it in 2000 and last played it in 2002.
96 performances: "Friend of the Devil"
Dylan covers were often highlights of Grateful Dead concerts, and the bard returned the favor with frequent renditions of Jerry Garcia, John Dawson, and Robert Hunter's shaggy-dog tale.
96 performances: "Little Moses"
A folk retelling of the Passover story, usually performed by Dylan as a solo acoustic number and set to the arrangement by country-music giant A. P. Carter.
82 performances: "Alabama Getaway"
Another Garcia-Hunter Grateful Dead composition, though more hard-charging and bluesy than "Friend of the Devil."
80 performances: "Roving Gambler"
This traditional ne'er-do-well tale, first recorded by Kelly Harrell in 1925, has the longest span between first and most-recent Dylan performances of any song on this list. It was first played 1960, last played in 2002.
72 performances: "Autumn Leaves"
That's 72 and counting, since Bob only started playing Joseph Kosma's lilting ballad (with original French lyrics by the poet Jacques Prévert and English lyrics by Johnny Mercer) in 2015, and was ­playing it again as recently as last month.
69 performances: "Cocaine Blues"
Another decades-long Dylan mainstay, this traditional bad-boy boogie was ­performed by him first in 1963 and most recently in 1999 in an arrangement taken from the ­Reverend Gary Davis.
60 performances: "Barbara Allen"
Dylan has cited the influence of ­centuries-old Child ballads on his own songwriting, and this tragedy in song is perhaps the finest example.
59 performances: "I Am the Man, Thomas"
Dylan and band delivered a sprightly two-stepping version of Ralph Stanley and Larry Sparks's bluegrass classic on tour from 1999 to 2002.
Singularities
Dylan has performed these notable tunes live just once.
"(Sittin' on) The Dock of the Bay"
Written by Otis Redding and Steve Cropper
"1952 Vincent Black Lightning"
Written by Richard Thompson
"Around and Around"
Written by Chuck Berry
"Ball and Biscuit"
Written by Jack White
"Dancing in the Dark"
Written by Bruce Springsteen
"Heartbreak Hotel"
Written by Mae Boren Axton, Thomas Durden, and Elvis Presley
"Here Comes the Sun"
Written by George Harrison
"Moondance"
Written by Van Morrison
"Stand by Me"
Written by Ben E. King, Jerry Leiber, and Mike Stoller
"What Becomes of the Brokenhearted"
Written by William Weatherspoon, Paul Riser, and James Dean
"Yesterday"
Written by John Lennon and Paul McCartney
Playing Covers With Bob
Guitarist Larry Campbell, who played in Dylan's band from 1997 to 2004, talks about his old boss's approach to covering other composers' material in concert.
"Bob gave everybody cassettes of tunes he wanted to cover. There was no discussion about the significance of the songs. And we had no real preconceived notions about arrangement. We tried to cop the feel and the changes of the original as efficiently as possible, but it always became a personal interpretation because he would leave out a verse or go to the bridge early or sometimes follow it exactly. As for the lyrics, there were some times when he had words written out on top of his keyboard, but his retention for lyrics is pretty remarkable. He was never specific about an arrangement, like, 'I want to do it this way.' The songs attained their character in rehearsal, after we kicked them around in the dirt a bunch of times. Everything Bob did was odd, so nothing was odd."
Dylan's Recorded Covers by Type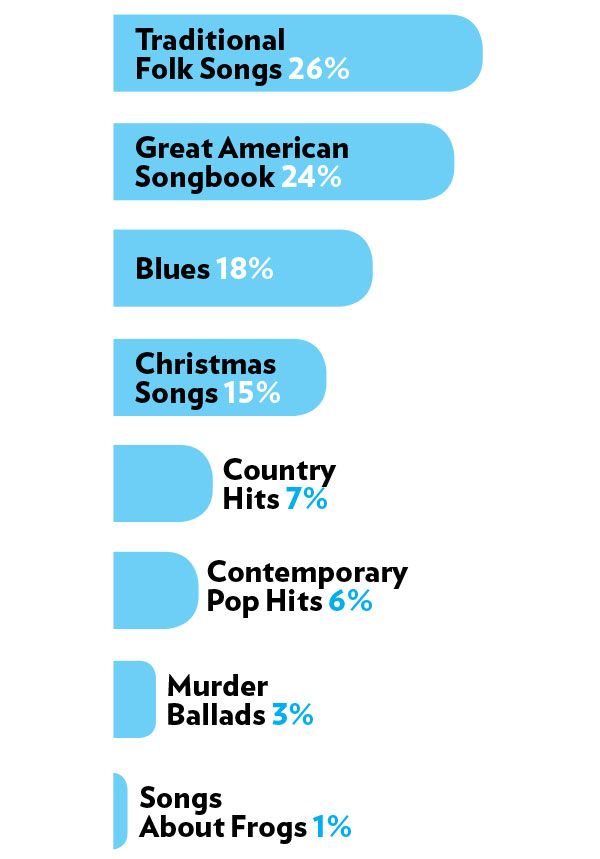 Paying Homage
Dylan isn't typically effusive about his songwriting peers, but he has seen fit to shout out a couple of his contemporaries and also cover their songs.
Gordon Lightfoot
Bob's Praise: "Gordo's been around as long as me … I can't think of any [of Lightfoot's songs]
I don't like."
Songs Covered: "Early Mornin' Rain," "I'm Not Supposed to Care," and "Shadows."
Warren Zevon
Bob's Praise: "Zevon was a musician's musician — a tortured one."
Songs Covered: "Accidentally Like a Martyr," "Boom Boom Mancini," "Lawyers, Guns and Money," "mutineer."
Why Write New Songs Anyway?
"As a matter of fact, if nobody wrote any songs from this day on, the world ain't gonna suffer for it. Nobody cares. There's enough songs for people to listen to, if they want to listen to songs. For every man, woman, and child on earth, they could be sent, probably, each of them, a hundred records, and never be repeated. There's enough songs. Unless someone's gonna come along with a pure heart and has something to say. That's a different story. But as far as songwriting, any idiot could do it. If you see me do it, any idiot could do it. [Laughs.] It's just not that difficult of a thing." —Bob Dylan, 1991
Fallen Angels is out May 20 on Columbia.
*This article appears in the May 16, 2016 issue of New York Magazine.