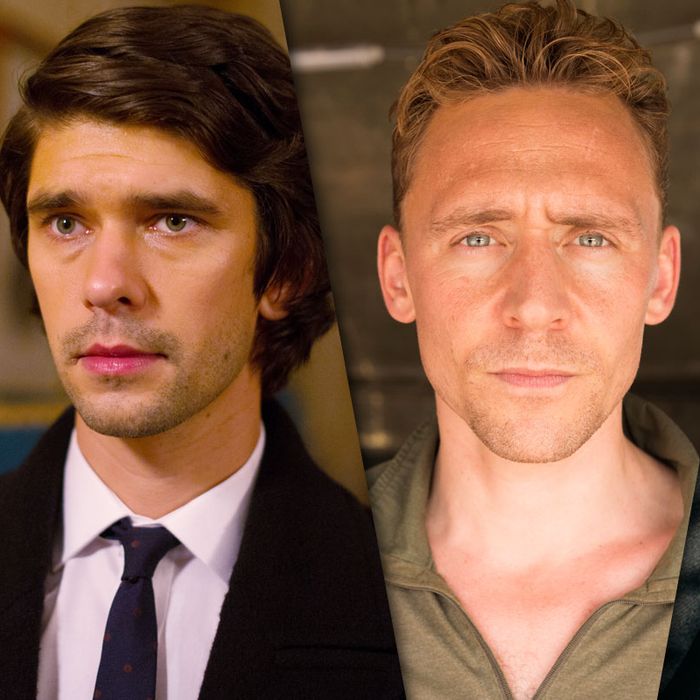 Ben Whishaw in London Spy, Tom Hiddleston in The Night Manager, Goran Bogdan in The Last Panthers
Photo: AMC, BBC America
The 2016 Emmy race has begun, and Vulture will take a close look at the contenders until voting closes on June 27.
When it premiered on the BBC last winter, The Night Manager became a full-blown cultural event. Director Susanne Bier's John le Carré adaptation reached over 8 million viewers — roughly 12 percent of the British population — and helped make its star, Tom Hiddleston, the odds-on favorite to don James Bond's bow tie after Daniel Craig retires. It's certainly difficult to imagine better Bond-bait than the role of a charming hotel night manager recruited to infiltrate an international arms dealer's inner circle.
In its current U.S. run on AMC, where the mini-series' finale airs Tuesday night, The Night Manager's ratings victories have been somewhat less dramatic. It has, however, become the most visible in a new wave of British TV thrillers landing on American shores. The past several months have also brought us London Spy on BBC America and The Last Panthers, a collaboration between U.K. network Sky Atlantic and France's Canal+ that aired its finale last week on Sundance.
This isn't an entirely new phenomenon. In 2014, the Telegraph traced the roots of a vogue for thrillers on U.K. television to the popularity of Denmark's The Killing. Some of these shows, like The Missing and The Fall, made it to America, where the explosion of networks and streaming services hungry for original programming has made space for foreign series that never would've reached us before. But by the time The Night Manager arrived, it had an unusual amount of support behind it: AMC programming head Joel Stillerman called it "an event show" and said the network planned to "market it as aggressively as we market any other originals."
AMC's newfound enthusiasm for U.K. co-productions bodes well for similar series crossing the Atlantic in the future, but it's a shame The Last Panthers and London Spy didn't get the same attention during their U.S. runs. Both are more thematically ambitious than The Night Manager, a conventional spy tale with sharp directing and sparkling performances. London Spy explores what it means to be an outsider through the story of a young man (Ben Whishaw) on a quest to learn the truth about his boyfriend's sudden disappearance, while The Last Panthers transforms a heist plot into a meditation on internationalism. All three shows suggest that British thrillers have plenty to offer American audiences that we aren't getting from domestic takes on the genre.
Some of these advantages come with the territory of U.K. television, where short seasons and limited runs are common. The current crop of British thrillers are mini-series that top out at five or six episodes. Brevity surely helps secure stars like Hiddleston and his Night Manager foil Hugh Laurie —  as well as London Spy's Whishaw, Charlotte Rampling, and Jim Broadbent — who might balk at making years-long TV commitments. (Though it features chilling work from John Hurt, The Last Panthers deserves more casting credit for giving the perennially underrated Samantha Morton her best role since 2008's Synecdoche, New York.)
Liberated from American TV's imperative to crank out episodes until viewers stop tuning in, these shows minimize filler and deliver decisive conclusions. When writers know their final destination, they can resolve every plotline and experiment with unconventional storytelling methods that wouldn't sustain multiple seasons. American thrillers like Homeland and The Walking Dead tend to outlast their natural lifespans, as once-focused stories become repetitive. But The Last Panthers was able to capitalize on the confusion it had purposely created in early episodes. When the show finally filled in the history between Morton's British insurance investigator and Goran Bogdan's Serbian jewel thief, which dated back to the Bosnian War, the geopolitical subtext of their relationship brought new thematic depth to the heist plot.
There are also refreshing differences in perspective between these British shows and their American counterparts. While they can be just as political as Homeland or 24, their diverse preoccupations couldn't be farther from stateside TV's long-running fixation on the U.S. as a lonely world power tasked with stamping out Islamic terrorists. (A notable exception is The Americans, which uses family drama to humanize the Cold War-era Soviet spies it follows.) The Night Manager's biggest questions concern the U.K.'s waning role in international politics. With dialogue in French and Serbian as well as English, and episodes that traverse the European map, The Last Panthers traces the distance between pro-EU rhetoric and reality. London Spy's vision of the international community is dreamier but no less resonant, with characters stalked by the omnipresent specter of global intelligence agencies.
Best of all, British thrillers craft strong characters and explore predominantly male spaces without falling prey to the antihero clichés of American "prestige TV." By and large, these shows privilege the ensemble's interactions over the psychological burdens of any given character. Even if men dominate the casts, each offers at least one captivating female character, from Rampling's icy, brilliant upper-class mum to Morton's insurance investigator with a troubled military past. Olivia Colman's pregnant spy in The Night Manager, based on a male character from the le Carré novel and shot while the actress was actually pregnant, is the series' most courageous figure.
With more BBC adaptations of classic spy novels in the works and the broadcaster's political thriller Undercover heading to BBC America (which is co-owned by AMC) this year, we seem to have entered a full-blown golden age of British thrillers. American viewers, however, haven't quite caught up (viewers didn't tune into The Night Manager as AMC executives predicted). That's likely in part because we're already deluged with our own programming, and might be tempted to give up on shows that don't mind withholding essential exposition. But the total running time of The Night Manager, London Spy, and The Last Panthers combined adds up to less than a single season of the average network drama, and the resolutions they provide are worth the wait. All it takes to catch up on one of the year's most compelling TV trends is one long, rainy weekend.