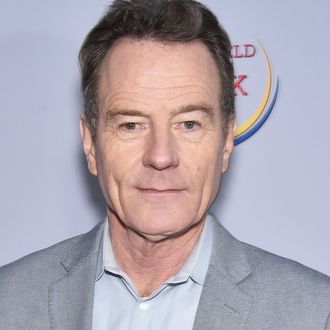 Do Androids Dream of Walter White?
Photo: Dimitrios Kambouris/Getty Images
Bryan Cranston is cooking up an addictive little product: No, it's not blue crystal, it's more like Black Mirror. Britain's Channel 4 and Sony Pictures Television are producing Electric Dreams: The World of Philip K. Dick, a ten-episode anthology series based on the works of the prolific sci-fi pioneer. Much in the style of Black Mirror, the first season will be made up of ten stand-alone episodes, each "adapted and modernized" from a Dick novel or short story. Outlander and Battlestar Galactica's Ronald Moore and Justified's Michael Dinner are writing and executive producing the project, while Cranston will also executive produce and appear in the series. The series may avoid Dick's classics, given that there are so many existing adaptations, but if they do tackle Do Androids Dream of Electric Sheep? (which became Blade Runner), may we suggest putting Bryan Cranston in the Daryl Hannah part? He'd rock that eye shadow.