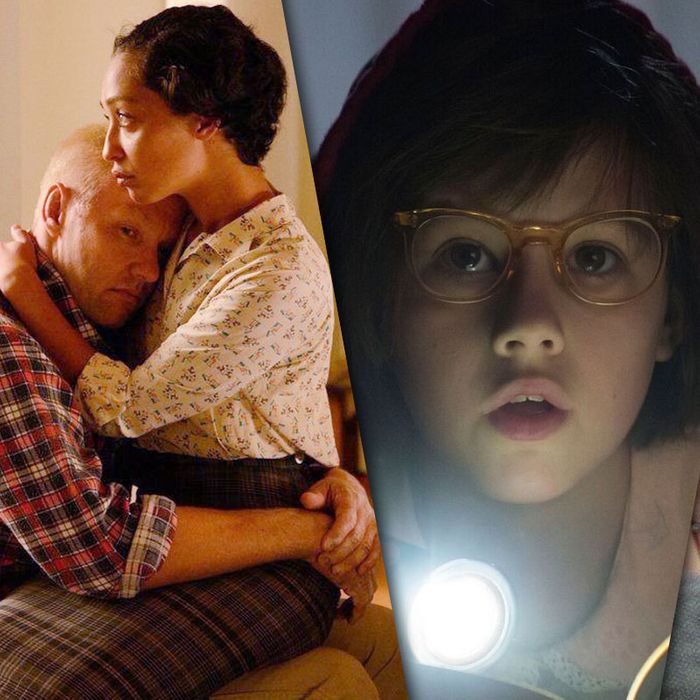 Photo: Big Beach Films, Disney, Gravier Productions
What's the one place on earth you can go for cannibal supermodels, high-end art films, and Shia LaBeouf? The Cannes Film Festival, of course. Even if you can't make it to the Croisette yourself, rest assured that Vulture's Kyle Buchanan and Jada Yuan will be there giving you the lowdown on all of Cannes's cinematic highlights. Which 15 films are going into this year's festival with the most buzz? Below, Kyle and Jada talk through these highly anticipated entries for you, but stay tuned to Vulture during the next week-and-a-half for surprises, interviews, and a smart soupçon of Oscar talk.
The BFG
Any Roald Dahl addict has a special place for this sweet and sometimes terrifying story of a girl who's taken from her orphanage by a big friendly giant — the titular BFG — who distributes dreams to children and battles the other, evil giants that would rather just eat the kiddos. It's fitting, then, that the 25-year labor of love to bring this book to the big screen has found a steward in director Steven Spielberg and can boast brand-new Oscar winner Mark Rylance as the CGI-animated BFG. The glorious trailer gives us nightmares, but we'll still be first in line. — JY
Cafe Society
Woody Allen's 1930s-set film opens the festival on Wednesday night, and sees Jesse Eisenberg as a young striver who mingles with the upper crust on both coasts: first shadowing Hollywood types Steve Carell and Kristen Stewart, and then falling for socialite Blake Lively in New York. The most recent period piece Allen took to Cannes, Midnight in Paris, was his biggest hit, so expectations are high for this one. — KB
The Nice Guys
Ryan Gosling and Russell Crowe play two endearingly scuzzy private-eye types in Shane Black's '70s-set buddy comedy, where a porn star's outrageous death, a politician's missing daughter, and a one-percenter conspiracy all prove interlinked. Along the way, Matt Bomer's giant anime eyes are put to unsettling use as a hit man trying to snuff out our duo's biggest informant. — KB
The Neon Demon
Nicolas Winding Refn's Drive debuted at the very end of the 2011 Cannes Film Festival and earned him a surprise Best Director award. Stranger things may be afoot for this beautifully shot psychological-horror film about an aspiring model in Los Angeles (Elle Fanning, who's worth watching in anything). Soon enough, she becomes the object of cannibalistic obsession for other women who covet her youth and beauty, and it's all scored to an insanely cool soundtrack from Drive composer Cliff Martinez. — JY
American Honey
The last time Shia LaBeouf went to Cannes, he debuted the plagiarized short film that kicked off his fall from A-list grace and unlikely career as a performance artist. This time, he'll just be there as an actor, though the project he toplines is an intriguing slice of Middle-American youth in revolt from director Andrea Arnold (Fish Tank). — KB
Loving
Director Jeff Nichols is on a roll. He not only pulled off Spielbergian miracles in this year's Midnight Special, but he's done particularly well at Cannes with previous films Mud and Take Shelter, the latter of which won the festival's prestigious Critics' Week prize in 2011. Oscar buzz is already in full force for Loving, his first film based on a true story. Starring Joel Edgerton and Ruth Negga as real-life couple Richard and Mildred Loving, the film follows them as they are jailed by a Virginia court in 1958 for their interracial marriage, sparking a civil-rights battle that went all the way to the Supreme Court. — JY
Money Monster
Some Cannes premieres don't make it into Stateside theaters until a year later, but this weekend's Money Monster will bow on the Croisette just before it comes out in the United States. Directed by Jodie Foster, it casts George Clooney as a cocksure financial pundit whose cable show is crashed by a gun-wielding mystery man with a grudge (Unbroken's Jack O'Connell). Julia Roberts co-stars as the producer trying to keep Clooney alive. — KB
It's Only the End of the World
Twentysomething wunderkind Xavier Dolan had a breakout moment at Cannes two years ago with his stellar Mommy, and now he's returning to the fest with frequent Cannes leading lady Marion Cotillard. She costars with Gaspard Ulliel in this story of a writer who reunited with the family he hasn't seen in ages, only to tell them that he's dying. Not long after the Cannes premiere, Dolan will start shooting his first English-language film starring Kit Harington, Jessica Chastain, and a rumored Adele. — KB
Personal Shopper
Kristen Stewart already became the first American actress to win a Cesar Award for her work in Olivier Assayas's Clouds of Sils Maria, and advance word is that she's astounding in her second collaboration with the auteur director. In the new film, she plays a personal assistant to a celebrity who also has the ability to communicate with spirits in the Paris fashion underworld. Come for the ghosts and the clothes, stay to watch Stewart's continued transformation into her generation's most interesting actress. — JY
Julieta
Pedro Almodóvar's 20th film is a return to his tradition of "cinema of women," which has produced all-time classics like All About My Mother and Women on the Verge of a Nervous Breakdown. Intriguingly, this one is based on Alice Munro's 2004 book of short stories, Runaways, and tracks mother Julieta as she searches for a daughter who disappeared without explanation the moment she turned 18. — JY
The Last Face
Charlize Theron and Sean Penn split several months ago, but they'll both be at Cannes to promote this Penn-directed film, where Theron and Javier Bardem play humanitarian doctors struggling to make it right in a war-torn region of Africa. After formidable turns in Mad Max: Fury Road and The Huntsman: Winter's War (and before she plays the villain in the upcoming Fast and Furious 8), this is Theron's chance to play down-to-earth. — KB
The Unknown Girl
What would Cannes be without a film from the prolific Belgian brothers Luc and Jean-Pierre Dardenne? The directing duo has taken home two Palme d'Or prizes and their last movie, 2014's Two Days, One Night, scored a surprise Oscar nomination for Marion Cotillard. The moral quandary at the center of their new film is a haunting one: What does a young doctor do when she ignores a random doorbell ring, only to find out the next day that her casual act may have cost a woman's life? — KB
The Salesman
Director Asghar Farhadi has made a career out of delicate dramas where cultural misunderstandings breed discontent, and his new film concerns two Iraqis whose move into a Tehran apartment comes with some significant baggage left from the previous tenant. Will it measure up to his last two acclaimed films, The Past and A Separation? — KB
Risk
For her follow-up to the Oscar-winning Citizenfour, director Laura Poitras takes on WikiLeaks, using footage of Julian Assange she shot concurrently with her documentary about Edward Snowden. Though Poitras and Assange are said to no longer get along, she had unprecedented access to him beginning in 2010 and followed him into asylum as he landed in the Ecuadorian embassy in London. — JY
Paterson
In case you needed another reason to love Adam Driver, his first post–Kylo Ren movie appearance will be as a Paterson, New Jersey, bus driver (who's also named Paterson) in Jim Jarmusch's new film. Jarmusch at Cannes is always a treat — he won the Best Director trophy for 1984's Stranger Than Paradise, the Grand Prix for 2005's Broken Flowers, and is also debuting his Iggy Pop documentary Gimme Danger* this year — and this languid trip through a week of blue-collar life has the added intrigue of being the second film produced by Amazon Studios. Oh, and did we mention that Driver's Paterson driver Paterson (c'mon, we had to) also has a secret gift for poetry? — JY
*This article has been corrected to show that the Iggy Pop documentary is titled Gimme Danger, not Gimme Shelter.