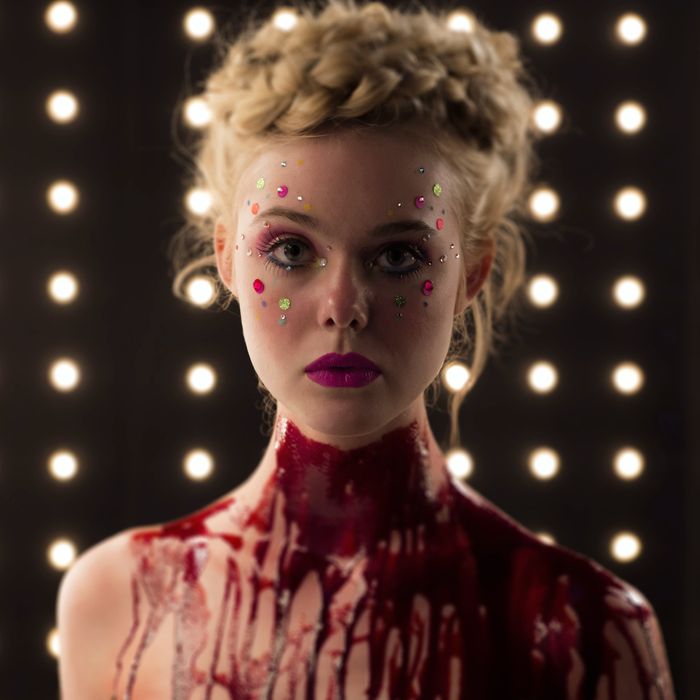 Over the back half of the Cannes Film Festival, not a day has gone by without a major movie earning its fair share of boos, but the scattered jeers aimed at movies like Personal Shopper and Xavier Dolan's It's Only the End of the World were nothing compared to the wild reception The Neon Demon got just hours ago in its debut. As the film from Drive director Nicolas Winding Refn began to wrap, its Sia-penned end-credits song was drowned out by boos and whistles, and some critics were so enraged that they leapt to their feet to holler at the film. Worse, when the dedication to Refn's wife, Liv, came onscreen, they booed her, too. "Basura!" shouted one Spanish critic. "Fuck you, Liv!" yelled another.
It's a matter of personal taste, what you'll make of The Neon Demon when it opens in theaters next month, but whether you're booing your head off or staying until the bitter end to applaud, one thing is certain: You'll definitely be talking about it. This is a purposefully provocative, polarizing movie from a director who delights in dividing audiences: Refn won the Cannes prize for Best Director with Drive, though his critically acclaimed film later stumped mainstream moviegoers, and he followed it up with the gory, off-putting Only God Forgives, which left even longtime fans cringing. With The Neon Demon, at least Refn has delivered a movie unlike any other being released this summer. Here are six things about this weird, wild film that will have everyone buzzing.
It's a major moment for Elle Fanning.
Only 17 when The Neon Demon was shot, Fanning commands the screen as Jesse, a fledgling model who moves to Los Angeles and finds herself beguiled by the fashion world and beset by rivals. "Beauty isn't everything — it's the only thing," one fashion designer tells her, and it's clear that Jesse's guileless, dewy face is this season's must-have. But while Jesse expected to be wanted, she's in danger of being devoured, and as a coterie of besotted artists, deposed supermodels, and assorted sleazebags lick their lips and circle her, Refn begins to put the horror in haute couture. Before the movie is over, plenty of blood will be spilled, splattered, and vomited, and Fanning will have catwalked her way through several surreal dream sequences, including one where she deep-throats a knife. (That's hardly the weirdest thing happens in The Neon Demon, but y'know, it's up there.)
Best known for starring in Super 8 and Maleficent (and for her big sister, Dakota), The Neon Demon will be Fanning's breakout moment as a nearly adult ingenue. She's a sympathetic presence in the movie's first half as Jesse endures a series of gross indignities — most especially the command by a top photographer to strip and assent to being groped by his gold-painted hand — and later, as Jesse comes into her own and exults in the power of her own beauty, Fanning finds something fascinating in Jesse's hardened malevolence. Casting her as a muse carries with it a whiff of meta promise, too, since Fanning's work with Refn is the first of several collaborations to come with acclaimed auteurs, including films with Sofia Coppola, John Cameron Mitchell, Ben Affleck, and Mike Mills all teed up in the next year. Like Jesse herself, Fanning is one to watch.
It's a revival for Refn, too.
After Drive came out, Refn flirted with a number of big-studio assignments — including a quickly vacated gig directing Denzel Washington in The Equalizer — before turning his back on Hollywood with the ugly Only God Forgives, the film equivalent of two raised middle fingers. I'm happy to say, then, that The Neon Demon feels much more like Drive than its follow-up: While it's highly stylized and far more bat-shit crazy than Drive, at least it seeks to entertain rather than repel. You're in on the joke this time, not the butt of it, and there are all sorts of aesthetic and comedic pleasures to be had here. Refn shoots camera flashes like lightning strikes, turning a simple studio photo shoot into a suspenseful setpiece; he also brings in ringers like Christina Hendricks and Keanu Reeves for cameos, letting the former's comic crispness and the latter's sleazy sangfroid add welcome color. But speaking of that cast …
The supporting-actor surprise is Abbey Lee.
The 28-year-old model-actress popped up in last year's Mad Max: Fury Road (shot in her native Australia), but as the cruelest and hungriest of The Neon Demon's mean-girl models, she makes a striking impression. In addition to giving good look, she knows her way around a bitchy bon mot, and whether she's stomping down the runway or stalking Fanning with a knife, there's a savage athleticism to her that made me think of Charlize Theron. Once Hollywood gets a look at this performance, it won't be long before Lee plays a full-blown blockbuster baddie, and I can't wait.
The film's male gaze will be hotly debated.
There's no question that Refn's stamp is all over this film — often literally, as Refn superimposes his initials on several title cards that already feature his full name. But does this film about beautiful women truly understand the gender, or are these actresses just vacuous props for Refn to ogle? That, I suspect, will be the great debate about The Neon Demon, and when Refn throws in a slow-mo shower scene late in the movie, it's almost like he's daring you to call him a chauvinist: Refn has said that he channeled his inner 16-year-old girl to make this film, but there are plenty of images and scenarios that seem directly imported from a 16-year-old boy's spank bank. Nevertheless, The Neon Demon has several crucial female contributions behind the camera, including writers Mary Laws and Polly Stenham, who worked on the screenplay with Refn, and cinematographer Natasha Braier, whose images possess a spooky beauty themselves.
There's a problematic lesbian character.
Eventually, one of the women in Jesse's orbit makes a pass at her, and when Jesse declines her ever-more-insistent advances, the woman handles this rejection in the worst way, to say the least. I wouldn't want to divulge more and pass into the realm of spoilers, and I realize this is a movie where just about every character is a black-hearted maniac, but the jilted-lesbian-turned-psychopath trope is so tired that I groaned when Refn started going there, even as he pushes things to a surreal extreme of bad taste that truly must be seen to be believed. For some of my colleagues, that was the moment they jumped ship on The Neon Demon; I still had a lot of fun with the film, but it's a talking point that will be hard to defend.
The Neon Demon is proof that Amazon isn't kidding around.
While Netflix and Amazon are both willing to pay top-dollar prices to distribute major movies, Amazon is coming out ahead with auteurs by promising them a theatrical release months before their films end up on the streaming service. That's how Amazon ended up with several films at Cannes this year, including the latest releases from Woody Allen and Jim Jarmusch, and why Amazon may be better able to compete this awards season than Netflix managed last year with its date-and-day experiment Beasts of No Nation. Refn has become an Amazon devotee only one film in, and the company made so many headlines during the festival — completely overshadowing traditional distributors like Sony Pictures Classics and the Weinstein Company — that when the Amazon logo appeared at the front of The Neon Demon, it actually prompted some of the film's first boos. Had people gotten tired of Amazon's dominance already, or were they just warming their throats up for the experience to come? At least the distributor got out a little better than Refn's wife, Liv: Unlike when her title card came up, nobody yelled, "Fuck you, Amazon!"