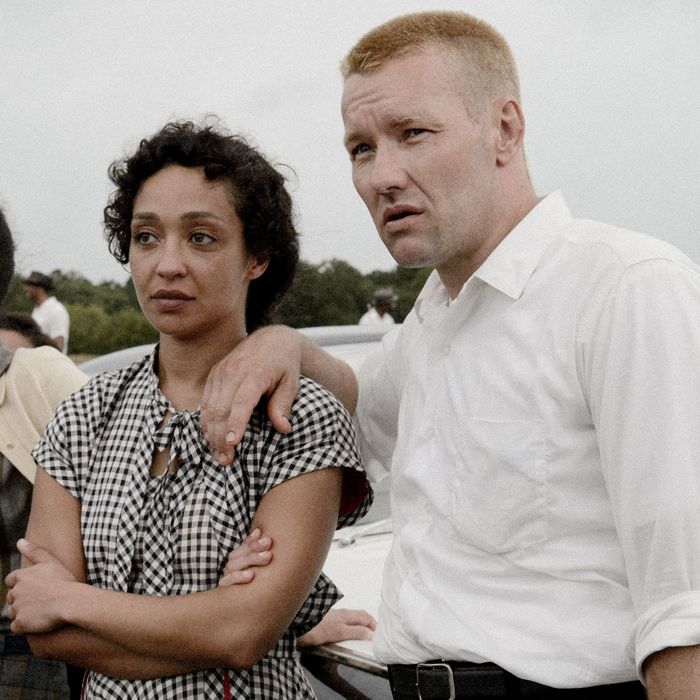 Last year at the Cannes Film Festival, audiences were swooning for Carol, the 1950s-set period drama about two women falling in love at a time when their relationship had to be kept hidden. This year, Cannes-goers were anticipating another American movie about a relationship at odds with 1950s mores: Loving, which stars Joel Edgerton and Ruth Negga as an interracial couple whose marriage led to arrest in segregated 1958 Virginia, then became the focal point for a landmark Supreme Court decision overturning anti-miscegenation laws. The Jeff Nichols–directed drama debuted on the Croisette this morning; will it follow in Carol's footsteps as an awards-season player?
Certainly, Focus Features thinks so: The distributor has set a November release for Loving, just as the Weinsteins did last year with Carol. That awards-season berth can be considered a sign of intent, though the movie is so intimate and quiet — and so immune to the melodrama that Academy voters and audiences might be expecting from it — that a campaign will have to be run carefully. Let's break down the main races where it could contend.

We'll start with the big one, Best Picture. With its focus on civil rights, Loving is well-timed, though Sundance breakthrough The Birth of a Nation will likely steal much of its thunder — not that this is a thunderous movie in the slightest. True to Richard and Mildred Loving, who mostly eschewed the spotlight even as their groundbreaking court case played out, Nichols forgoes bombast and heart-tugging to tell a simple story of simple folks. There is no major arc crafted for Richard and Mildred: They are already in love when the movie begins, and their relationship never wavers even as their marriage runs afoul of Virginia law. Rather, the movie's main arc is one of social justice, and it plays out mostly in the background, as the law finally catches up to what the Lovings' hearts already knew.

This admirably spare approach, though, can make for less-than-dynamic viewing, and while reviews from Variety and the Hollywood Reporter have been respectful, neither is the sort of galvanizing rave that immediately augurs an awards contender. If you were looking for an Oscar clip from the film, you'd be hard-pressed to find a traditional one: No matter the setback or victory, the Lovings don't cry, raise their voice, or speak in Oscar-friendly monologue. They just duck their heads — or tuck them into each other's shoulders — and continue their quiet lives. Some of my colleagues teared up by the end at the characters' sheer steadfastness, but others found the film too remote, and Oscar voters trained to look for Big Moments could be inclined to agree. For Loving to make it into the rough-and-tumble Best Picture derby, flashier fall films will have to come up short.

Though it's not a very wordy film — the Lovings aren't exactly conversationalists, even in their private moments together — Nichols could contend for his screenplay, as he is a filmmaker ripe for a breakout. An Independent Spirit Awards stalwart at only age 38, he has a critically acclaimed filmography under his belt that includes Take Shelter, Mud, and Midnight Special, and his films are so rooted in recognizable, real Americana that he already has a distinctive point of view. Well-liked in town with a growing studio profile, Nichols could be rewarded for sticking to his guns and crafting a spare, true screenplay the way he wanted it. A Best Director nod will be harder to come by, though if the Cannes jury flips for the film, it could at least establish him as a contender.

The two categories where the film could find the most traction are the lead acting races. Supporting parts — including Michael Shannon as a Life photographer and Nick Kroll as the Lovings' lawyer and advocate — are too small to warrant much consideration, since Nichols spends most of the movie searching the faces of Edgerton and Negga. Physically, those profiles are well-matched: Edgerton is squinty and tough, his blond hair so close-cropped that it almost glints, while Negga is soft and deferential with eyes so enormous that they could be donated to anime. The Lovings don't talk, they look — and Nichols can't stop looking at them.

Edgerton was bubbling under last year in the Best Supporting Actor category, where his Black Mass performance won plenty of notice but missed the final-five after the movie began fading. As Richard Loving, he recalls another Oscar winner, his fellow Aussie Heath Ledger, in the way he screws up his face and shields his soul much like Ledger's Brokeback Mountain cowboy. His Oscar candidacy would be improved if the character had a standout moment, but this man of few words will still be talked about.

I suspect, though, that Negga is the better-positioned of the two. Certainly, one reporter thought so at the Loving press conference, and asked Negga if she was ready to win an Oscar. I wouldn't go that far on this role, but she'll definitely make a strong impression. Born in Ethiopia and raised in Ireland, Negga has a big year on deck: In addition to Loving, she appears in the big-budget Warcraft and has a starring role as a gun-wielding badass on AMC's Preacher, and the sheer variety of those parts marks her as one to watch. She does the entirety of Loving's emotional heavy-lifting with those big, beautiful eyes, and your own eyes will look to her in every scene. A few Oscar contenders have already popped this year — in addition to The Birth of a Nation, Kenneth Lonergan's Manchester by the Sea sparked award buzz at Sundance — but we hadn't seen much to turn the awards talk to the Best Actress category. As of this week, that changes.