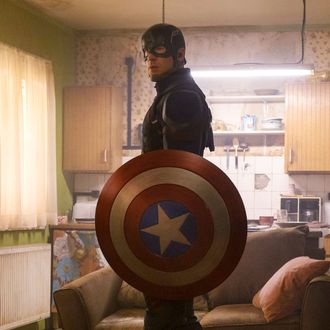 Captain America: Civil War, Marvel's latest experiment in "more is better" movie-making and marketing, had the fifth-best opening of all time, usurping Iron Man 3, which means three of the top five films are still Marvel movies. (The other two are The Force Awakens and Jurassic World.) With a red-blooded haul of $181.7 million domestically plus $496.6 overseas, a 91.3 percent increase from Winter Soldier, the movie has already surpassed Captain America ($194 million), Iron Man ($267 million), Thor ($268 million), Iron Man 2 ($312 million), Ant-Man ($339 million), Thor: The Dark World ($438 million), Guardians of the Galaxy ($440 million) and Captain America: The Winter Soldier ($455 million). It's expected to continue its domination of the box office until X-Men: Apocalypse, another movie about superheroes, comes out on May 27.
Between Captain America, The Jungle Book (which made $21.8 million this weekend and now has $776.1 million worldwide), and Zootopia ($956.4 million worldwide), Disney has become the fastest company to reach $1 billion domestically, $2 billion internationally, and $3 billion globally. Good job, Disney! Make that money.
Mothers fared less well than superheroes on Mother's Day Weekend, as the Garry Marshall movie Mother's Day made a comparatively paltry $9 million, for a domestic two-week total of $20.7 million. The Huntsman: Winter's War added $3.5 million for a three-week total of $40.3 million, which is slightly more than 25 percent of its $115 million budget. The Palme d'Or–winning Dheepan made $22,760 on two screens. The Star Wars documentary Elstree 1976, which concerns the unknown actors who portrayed some of the iconic masked characters in George Lucas's trilogy but never found the kind of fame that greeted the franchise's s stars, made $3,000 on 14 screens, for a per-screen average of $214, which sort of befits the movie.