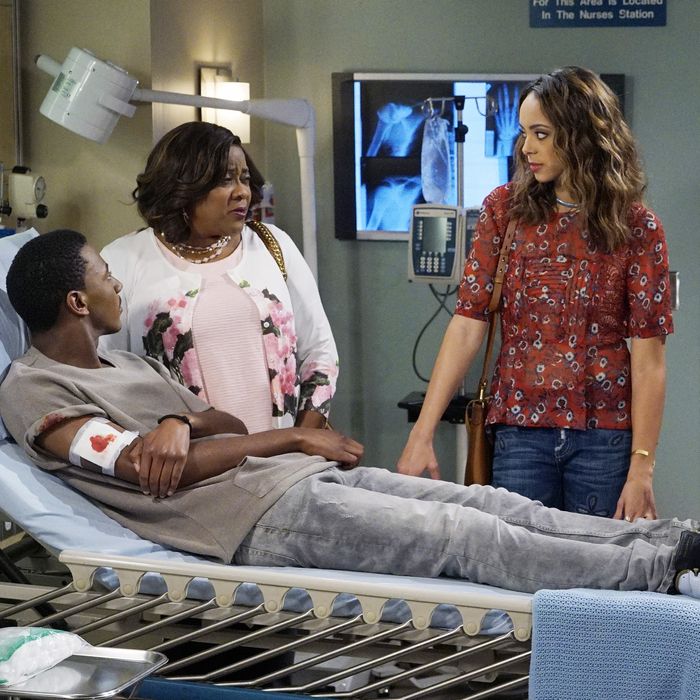 L-R: Jerrod Carmichael as Jerrod Carmichael, Loretta Devine as Cynthia Carmichael, Amber Stevens West as Maxine, David Alan Grier as Joe Carmichael.
Photo: Chris Haston/NBC
After just 19 episodes spread over two shortened seasons, NBC's The Carmichael Show has become television's most critically acclaimed multi-camera sitcom since CBS's Mom.  Admittedly, there aren't a whole lot of taped-in-front-of-a-studio-audience comedies left on TV, but Carmichael has won praise for expertly mixing the elements of a traditional family comedy with episodic explorations of various social and political issues, from debates about guns and gentrification to a half-hour devoted to depression. Recently renewed for a third season, albeit just barely, the series wraps its second season Sunday at 9 p.m. with an episode in which Jerrod (Jerrod Carmichael) and his family come to terms with the fact that patriarch Joe (David Alan Grier) has decided to support Donald Trump for president. The episode marks the first time since the pilot that series co-creator Nicholas Stoller (who's also a writer and the director of Neighbors 2: Sorority Rising) has written an episode. We chatted with Stoller via email about why he returned to the Carmichael writers room, his (indirect) connection to the Bernie Sanders campaign, and how the show balances character development with topic-driven humor.
The vast majority of episodes of The Carmichael Show have focused on broader issues or themes. You stepped outside that box earlier with your episode on Bill Cosby, and now you're doing so again with "President Trump." Is there a bar an individual has to jump over — or maybe dip below — to get their own episode of Carmichael?
We just knew that we had to talk about politics in an election year. We wouldn't be true to the show if we didn't. The original idea for the episode was that Bobby is an undecided voter and everyone tries to get him on their side. But the rise of Trump made that seem less interesting than just doing a whole episode around Trump. For better or worse, Trump has galvanized a big chunk of the population around his cause and it seemed interesting to explore what emotions are driving that.

We saw Joe Carmichael's conservative leanings outlined pretty clearly in the pilot, so it's not surprising on one level the character would be attracted to Trump. But did you have any internal debates about whether Joe would represent the pro-Trump voice in the episode — or whether you'd have any of your main characters back him?
Joe being the character who constantly questions the status quo — and also being a bit conservative and reactionary — seemed like the natural fit to be the person who would support Trump. It never seemed like any of the characters would back Joe, except maybe Jerrod to make a point.

How do you feel about Trump and his candidacy? Do you think his presence in this election makes this less of a standard Democrats vs. Republicans contest, and more of a Future of Our Republic race? Or is such talk overblown?
I am personally quite liberal. (As an FYI, my brother is a senior policy analyst for Bernie Sanders.) I think both Trump and Bernie are attracting voters who are angry. That anger in terms of telling a story about a family fighting over the election seems really interesting to me. I am personally terrified of a Trump presidency, but that is not what this episode is about.

This is the first episode you've co-written since the pilot. Why'd you get so involved on this one?
My family is really into politics. Again, my brother works for Bernie, so it seemed like a natural fit for me. I'm not into sports, and politics is kind of my sport. I love talking about it and debating it and getting into it. I also think people on both sides of the aisle have real exaggerated, incorrect views of the other side, and that is fascinating to me.
What were the writers room conversations like for this episode? Was it a more heated debate than usual?
Not really, since we weren't trying to prove which candidate is right or wrong. That just heads towards propaganda, which is boring artistically. We were trying to figure out why people fight about politics so often — what's happening beneath the fight.
Beyond the main story line, the finale also includes a big piece of character development. Nineteen episodes in, how do you feel about the structure of stories on the show? Are you satisfied with the level of detail about the characters you've given the audience? Or do you want to flesh those details out more? For example,  I think Jerrod is a comic, but he's never talked about that and we've never seen him around fans or colleagues.
We definitely want to reveal more details about the characters, but only to support the conversations that we're having. I am here now to reveal that Jerrod is actually an astronaut in training.

You had a couple of visitors this season, but for the most part, you've avoided the Special Guest Star trope of sitcoms. Is that by design? And if not, are there any actors you'd love to have come by for one or several episodes?
The stories that we're naturally drawn to haven't created many opportunities for SGSs. When you want to have a conversation about the various topics we've been drawn to, it doesn't necessarily mean you're going to meet the mother-in-law … unless the mother-in-law sparks that conversation.
There was some behind-the-scenes drama over your recent renewal. Even though there seem to be many fans of the series inside NBC, the network initially only wanted to order ten episodes for next season. It ultimately committed to 13. Were you a bit disappointed that NBC seemed so lukewarm in their support?
It was a surprise that it came down to the wire because they've been supportive of the show. We are excited to be getting to make 13 more.
In an ideal world, would you want to be making 22 episodes of Carmichael per year, speeding down the road toward syndication money? Or do you think shorter, cable-like episode orders make it easier to make the show you want to make?
Thirteen is hard enough. If we're lucky enough to get more we'll be excited to do more, but with 13 you can make them all worthy.