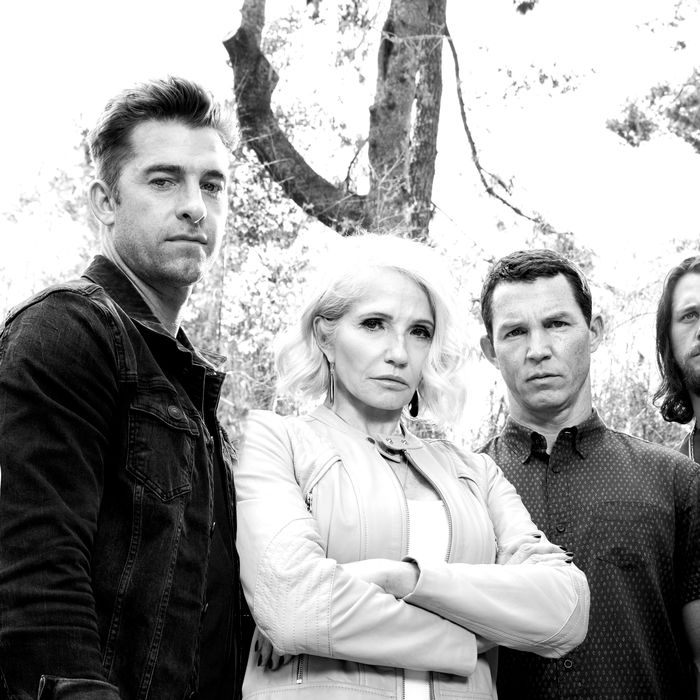 The Southern California of TNT's Animal Kingdom, premiering on June 14th, is one of sunny skies, brisk waves and carnal disobedience. At the center of it all is the Cody family, a throng of chiseled miscreants led by Ellen Barkin's "Smurf," blonde-haired and ball busting in a tour-de-force performance by the Emmy and Tony award winner. Smurf, whose real name is Janine, leads a family that's engaged in organized crime, and the matriarch, with a garish wardrobe marked by Californian indulgence, makes sure her family remains tight-knit come hell or high water. Maybe even a little too tight-knit; besides prancing around the mansion in next-to-no clothing, the brothers routinely bring women home to the Cody headquarters for long nights of booze and drugs.
Moments into the series premiere, tragedy strikes, sparking a plot that's as captivating as it is roundabout. Joshua, or "J," played by Finn Cole, is taken under his grandmother's wing after his mother dies of a heroine overdose. Unaware of the brotherly criminal activity in which his relatives take part, he is introduced to a world of drug-fueled excess, defined by virility, family secrets and gunfights. The Cody family is comprised of Barkin's Janine along with Baz (Scott Speedman), Pope (Shawn Hatosy), Craig (Ben Robson) and Deran (Jake Weary), each of whom are wary, to different extents, about welcoming "J" into their controversial clan. Slow to catch on to his uncles' delinquency, the teenager must wrestle with his cutthroat family and his opaque past. The TV crime-drama has been done before, but Kingdom combines family skeletons, high-octane heists and blinged-out excess with cool, California aplomb, in a way that's never been done before.
If you weren't sure what to binge-watch this summer, you'll have the answers after watching Animal Kingdom's first episode here. The show is based on a 2010 Australian crime film of the same name, directed by David Michôd, who executive produced the forthcoming series. With a stellar cast, it's an endlessly stimulating look at familial strife and the parasitic effects of organized crime, and surely one of the summer's must-watch shows. Tune into TNT on June 14th, and catch a sneak peak below, for the sexy, shocking SoCal series, a surefire addition to anyone's binge-watching queue.