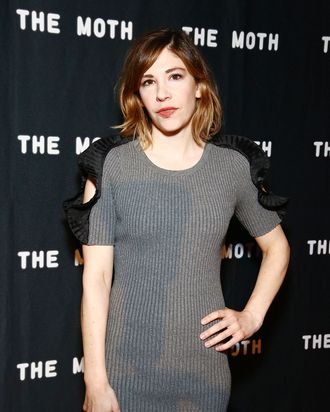 The glamorous Carrie Brownstein.
Photo: Astrid Stawiarz/WireImage
In Carrie Brownstein's speech accepting the Moth Award at last night's glam-rock-themed Moth Ball, the Portlandia actress described her first brush with glamour, in middle school, which involved her favorite soap opera, Days of Our Lives. "I was so obsessed with Days of Our Lives that when a character named Kayla temporarily lost her hearing and her boyfriend, Patch — because he had an eye patch — learned sign language, I also learned sign language," she said. "And Patch literally signed the song 'The Rose' by Bette Midler with tears streaming down his face. And so I, because I had to, signed 'The Rose' to my family at dinner while pasta sauce dripped from my chin."
Brownstein then remembers going to a taping of a local talk show that had dedicated an entire week to the show. The Days of Our Lives guest was Judi Evans, but the second guest was the one who caught the eye of 12-year-old Carrie Brownstein: a woman who ran a store in L.A. to which movie studios donated their props and costumes. There was a drawing for an item from the store — "an off-the-shoulder lavender, lace crop top that Cher had worn in one of her exercise videos." Brownstein won, but when the cameras zoomed in on her, instead of soaking up the glam, she covered her face with her hands until they cut to commercial.
On that day, sheer embarrassment cured Brownstein of her soap-opera obsession. "But what I had now was this Cher shirt," Brownstein continued. "This seemed like the real prize. I'd broken up with Days of Our Lives, but in its place found something more exotic, more intriguing, more glamorous." And what better glamour icon can you have than Cher?