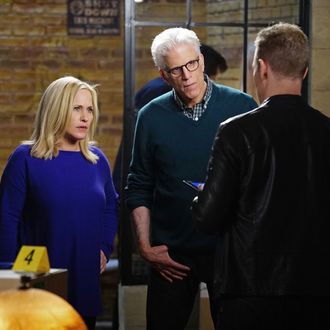 This is a true crime scene to investigate.
Photo: Sonja Flemming/CBS
The CSI franchise will be enlarged and enhanced no more. CBS has canceled CSI: Cyber, the third spinoff of the CSI mothership. The new installment, which starred Partricia Arquette, James Van Der Beek, and Ted Danson, ran for two abbreviated seasons, which never reached the ratings highs of the rest of the franchise. The flagship series, CSI, was canceled last spring and sent off with a two-hour finale last fall. CSI ran for 15 seasons, while CSI: Miami ran for 10, and CSI: NY managed nine. But never fear: If you're hankering for Ted Danson, he'll be in an NBC sitcom this fall. And if you're looking for more procedurals, CBS already renewed all three of its NCIS series as well as Criminal Minds. Your parents will be just fine. Paranoid, but fine.