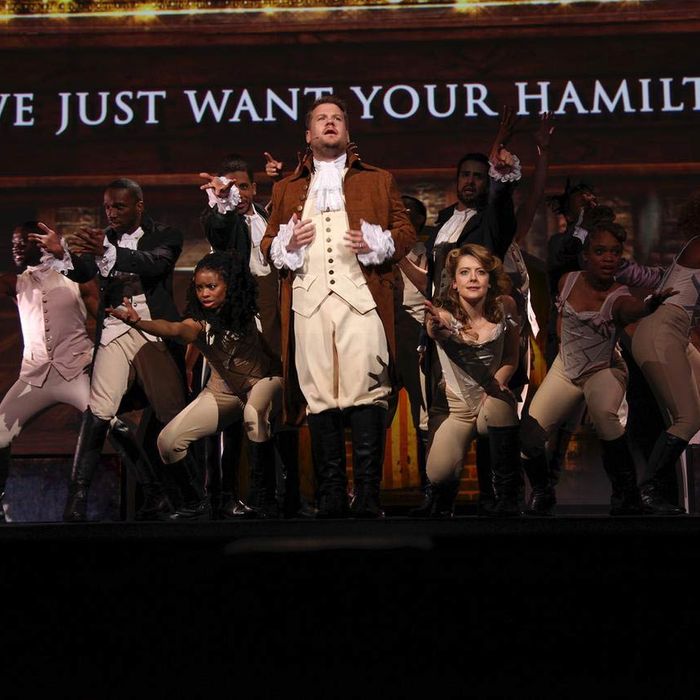 About right.
Photo: Edward Erne/CBS
CBS has long been criticized for presenting a retrograde vision of America, and this year's Upfront presentation at Carnegie Hall perfectly encapsulated the network's ongoing obliviousness. CBS sales chief Jo Ann Ross opened the presentation by screaming, "What's up bitches?" at the audience while dressed in a beige fur coat, matching hat, and bedazzled cane at Carnegie Hall. It was an appropriately tone-deaf introduction for everything that followed, which included James Corden singing a spoof of the opening number of Hamilton surrounded by actors of color. It was the only time you actually saw people of color speak during the rest of the presentation. In the trailers for the new pilots, they would largely exist as secondary characters at best or corpses at worst. Corden's appearance ironically underscored a larger point that Hamilton itself so valiantly attempts to upend: That white men should be at the center of things.
But we can just let the trailers speak for themselves! After putting women at the center of three shows last season, CBS's six new shows this year all star white men (except for the Katherine Heigl–led Doubt, coming in 2017, which was barely mentioned at the Upfront, and for which a trailer has not yet been released). In terms of sitcoms, CBS has three on the docket: Kevin Can Wait, starring Kevin James with another attractive wife (played by Erinn Hayes) as a beleaguered dad in retirement; Man With a Plan starring Matt LeBlanc as a beleaguered newly stay-at-home dad; and The Great Indoors starring Joel McHale as a beleaguered man at the office! In each trailer, our protagonists are perplexed by the new world they find themselves in, populated by emasculated stay-at-home dads and Millennials. The world is so different! It was particularly sad to watch Joel McHale dump on the viewership of Community onstage while promoting The Great Indoors, as though you were literally witnessing the moment he sold his soul.
The dramas repeat a similar formula, except this time, they star white men as exceptional geniuses. In Bull, Michael Weatherly plays a young Dr. Phil (here renamed as Dr. Jason Bull) who runs a trial-consultation firm, and is able to read how jurors will vote. Then there's Pure Genius, starring Augustus Prew as an aggressive "billionaire genius" and Dermot Mulroney as a "maverick" surgeon, as they fuse technology and medicine together to create a cutting-edge new hospital. There's a MacGyver reboot starring Lucas Till, and to cap it all off, Training Day, a remake of the Denzel Washington–Ethan Hawke film, with the roles flipped: Bill Paxton headlines the show as the dirty cop, and Justin Cornwell, the one person of color on this lineup in a major role, plays the rookie.
And yet, with so many different plots, there appears to be surprisingly little to distinguish these protagonists from one another: They are all exceptional men who might be assholes.