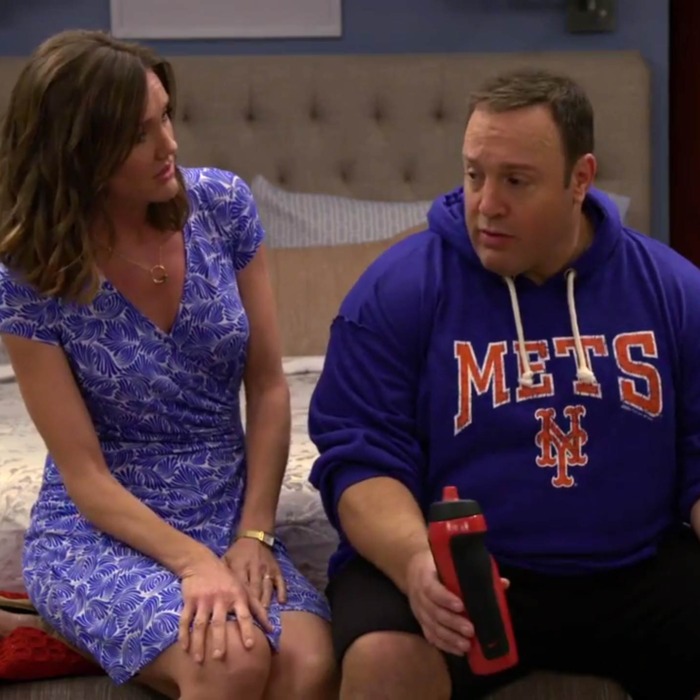 Kevin James stars in a new comedy, Kevin Can Wait.
After veering a bit outside its lane last year, CBS — whose 2015-16 schedule we dubbed the network's  "most radical in years" — seems to have decided it's better off being as CBS as it can possibly be. This is not necessarily meant as a slam: The Eye network will finish the current season No. 1 in total viewers and among adults under 50, a victory which CBS Corp. CEO Leslie Moonves told reporters Wednesday would stand "even without the Super Bowl" bump the network got in February. And going back to the start of the century, CBS has had enormous success, and made hundreds of millions in profits, following the Moonves formula of feeding expertly crafted comfort food to the masses.  But after taking some tentative steps last May toward freshening its brand — more single-camera comedies, fewer procedurals, joining the superhero fray — it seemed as if CBS had decided that, in the era of Too Much TV, it was time to evolve its brand. Instead, the network Wednesday took the wraps off a fall schedule that screamed back-to-basics.
Rather than building on the modest success of last fall's Life in Pieces, the network is putting on three new comedies, all of which are old-school multi-cams and two of which feature male stars whose biggest success came in the 1990s (Kevin James and Matt LeBlanc). Instead of taking a flyer on something outside the CBS norm, as it did with last fall's Supergirl, the network is reviving ABC's MacGyver, putting Dermot Mulroney in a (very weird-looking) medical show and recruiting recently-departed NCIS star Michael Weatherly to play a character inspired by a young Dr. Phil. And while three of CBS's five new freshman last year featured female stars at their center (Supergirl, Angel from Hell, and the Marcia Gay Harden-led ensemble Code Black), all six of this year's fall newcomers are led by white men. (Midseason will bring a smidge more diversity with Katherine Heigl and Laverne Cox in Doubt.) Meanwhile, the network's two buzziest shows from last fall, which insiders had been building up as successes just a few months ago? Supergirl is headed to the CW, while Limitless, a crime procedural that had gotten critical raves from the likes of USA Today's Robert Bianco, is gone. (New CBS Entertainment president Glenn Geller told reporters this morning that the Eye's studio arm was "in discussions with other potential buyers" for the show.) Save for the return of Life in Pieces, the network's sole single-camera comedy, all the great leaps forward in program philosophy evident in last year's CBS lineup have been stripped away.
Given CBS's first-place finish, it might seem odd the network would detour from the path toward change. Fact is, the network's Nielsen ranking hides some serious weaknesses. The two shows returning for next season, Code Black and Life In Pieces, are successful by 2016 standards, but they're hardly hits. And while CBS might still be in first even without football, the network's overall ratings would be down (rather than flat) without the power of pigskin. The Eye is No. 1 not because it's been on a roll of late, but rather due to a combination of its core schedule strength, a very loyal base of older viewers — and the reality that its rivals have plenty of issues, too. CBS's reaction to this seems to be reverting to form rather than trying to shape itself into something different. The only creative area where the network is switching gears just a bit: There will be no CSI series on the air next season, and none of the network's new fall dramas are traditional cop or crime dramas.
CBS also isn't being cautious with the structure of its schedule— just the opposite. On that front, CBS is taking plenty of chances, even if they're quite logical risks. While other networks are adding as few shows as possible in the fourth quarter, CBS is introducing six new series in the fall, more than any of its Big Four rivals. And save for Wednesday, every night of the week boasts some significant change-up. The shifts, for the most part, aren't all that radical. On Sunday, for example, Madam Secretary simply slides into the former The Good Wife timeslot, with NCIS: LA making a play for more male viewers at 8 p.m. Tuesdays, the Eye's decision to limit Limitless to a single season opens up a spot for NCIS: New Orleans at 10 p.m., freeing the 9 p.m. hour adjacent to the original recipe NCIS for the legal drama Bull, which stars…NCIS veteran Michael Weatherly. And on Fridays, CBS is marrying the blue sky goodness of Hawaii Five-0 at 9 p.m. with the throwback antics of a new MacGyver at 8 p.m. CBS viewers who watch TV the old-fashioned way — live, one show into the next — may hardly notice much of a change most of the week.
The one exception: Monday nights. The headline move of the CBS fall lineup is the return to a four-comedy schedule, one year after the network went without half-hour sitcoms for the first time since 1949. ABC this week announced it was expanding to a 10-comedy lineup in fall, something that makes the Eye's shift make even more sense than it would have already. Network TV's two big live-action comedy tentpoles — CBS's The Big Bang Theory and ABC's Modern Family — almost certainly won't be around three years from now (though spin-offs seem quite possible). With NBC and Fox struggling on the half-hour front, the race is on to find the Next Big Network Sitcom. More at-bats allow more of a chance to hit a home run. Of course, because CBS's mantra in program development this season is "safe at all costs," the three new sitcoms are pretty generic family or office shows, all fronted by White Guys Over 40 (and, in the case of James and LeBlanc, Pushing Fifty). History suggests one or more will do very well, even if none will be competing for Emmys. The same is probably true of the CBS lineup as a whole, anachronistic as it is. CBS viewers are an incredibly loyal bunch, and this schedule seems genetically engineered to reward that loyalty. Still, given how quickly the TV ecosystem is changing, it's hard not to wonder whether maybe CBS should have stayed on the evolutionary path a little while longer.