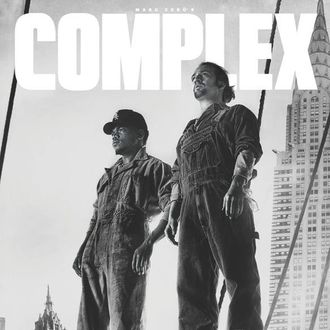 If Kanye West does end up being our generation's gift to eternity, you're going to be really glad you bought that shirt at his concert. In their new interview with Complex, Lin-Manuel Miranda sat down with Hamilton superfan Chance the Rapper to ruminate on their respective artistic drives, fatherhood, politics in the time of Twitter and, of course, how to enter the pantheon of men and women remembered for their accomplishments generations after their death. Specifically, is it cool to brag about how awesome your work is, Yeezy-style, or nah?  The Hamilton creator could go either way, noting:

"We have great examples of both. There are artists who take over the world and remain humble, but then I think of Muhammad Ali, who was the greatest of all time and said, 'I'm the greatest of all time,' and he was. He backed it up in the ring every time and really was the first method boxer. He treated every opponent differently, psychologically, for months before they got in the ring, and was a real inspiration."
Chance, who collaborated with Kanye on The Life of Pablo's "Ultralight Beam," takes more of a long view, explaining, "There's not really a responsibility to tell people of your accomplishments, but I think in Kanye's situation … it's Kanye West. If I was the greatest artist of this generation, and the few past generations, and a few generations going forward, I'd probably say it all the time, especially if I was black and people didn't really like me. I'd be like, 'Let me remind you all the fucking time.'" When asked by Complex's Nadeska Alexis if self-promotion helps secure an artist's legacy, Chance said, "I don't even know if it's about people recognizing it. I think it's about being a polarizing figure, so that 200 years from now when nobody really remembers any of our names, people talk about him being an asshole and also being great." And so in 200 years, Kanye finally replaces Alexander Hamilton on the front of our holographic cyber $10, and the cycle begins anew.