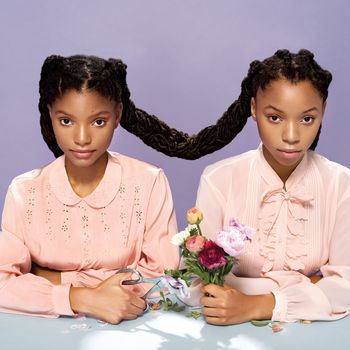 Halle Bailey, left, and her sister Chloe.
Photo: Rene and Radka
You were not expecting this, but here you stand, transfixed, in the doorway of a Hollywood rehearsal studio, your throat clamping up and your chest tightening, watching 16- and 17-year-old sisters Halle and Chloe Bailey sing a single word, "Hallelujah," in gorgeous, repeating crescendos, like a church choir sending a dying loved one off into the light. Those harmonized "Hallelujahs" aren't even a song, just their way of saying grace. You are not religious. But you will start to cry.
And as soon as they spot you, it's over. "Hi! I'm Chloe," says Chloe, rushing out from behind her piano to give a stranger a hug. "I'm so excited! We're going to have so much fun!" She means it; Chloe is a grin embodied. She gasps. What's wrong? "I like your sneakers! Blue is one of my favorite colors." Halle, as always, follows Chloe's lead, flashes a sweet smile, puts down her electric guitar, and gives a more timid hug. Meanwhile, Chloe has moved on from complimenting my sneakers to raving about the vegan place, Gracias Madre, where we're having lunch after rehearsal (the sisters are both vegan) and how she's already dreaming of her order and how it'll probably have pesto, which is maybe her favorite thing to eat, and she does an enactment of the exact look of joy that's going to cross her face when it touches her mouth. Halle, her brow furrowed, lost in concentration, adjusts her reverb, then looks up with a shy giggle when she realizes she'd sort of drifted off.
They're like two sides of a Rorschach test, at first glance practically twins, with glorious dreadlocked hair. But they sing so differently: Chloe fiercely strident, Halle with a languid dreaminess. Chloe has the more classic R&B voice with heavy vibrato, while Halle's voice is tremulous with jazz inflections, as you can tell from watching them side by side in close frame singing heartfelt covers of Top 40 hits on their YouTube channel,Chloe x Halle, where they've been posting since 2008, way back when they were 8 and 10. In fact, pointing out their differences seems to be the second-favorite preoccupation of their YouTube commenters, right behind debating which one of them is the next Beyoncé.
It's fitting, then, that Beyoncé's become their mentor. Just two years ago, at ages 13 and 15, the sisters posted a heartfelt piano-and-voice YouTube rendition of Beyoncé's "Pretty Hurts" that went viral. Now they're one of three young female acts signed to her Parkwood Entertainment label — with a contract, for up to six albums, reportedly worth up to $1 million — and just this week they released their first five-song EP, the majority of which is self-written and self-produced. The most ringing statement of support, though, was their prominent appearance in perhaps the most-talked-about musical event of the year, alongside model Winnie Harlow; actresses Quvenzhané Wallis and Amandla Stenberg; and the mothers of Eric Garner, Trayvon Martin, and Michael Brown — as members of Beyoncé's black-girl squad in the hour-long visual album for Lemonade.
Not only do Chloe and Halle appear, dressed in Victorian white lace, in the video's "Resurrection" section, set among the poplar trees of Louisiana (not too far from Atlanta, where they're from). They're also featured in the tableau that has become the album's defining image, with a weary yet determined Beyoncé center frame on a weather-worn stoop, surrounded by six other striking black women, including Stenberg, Zendaya, and Lisa-Kaindé Diaz and Naomi Diaz of the twin-sister French–Cuban singing duo Ibeyi. With the video, abundant with black female pride and devoid of men and white people, Beyoncé seems to be embracing her role as a spiritual and musical godmother to young black women of America — showcasing their talent and resilience, celebrating natural beauty, and lifting up all women. But she's also very particularly lifting up these two young women, Chloe and Halle. Imagine being a teenager on that Lemonade set and being entrusted by your idol for months to keep it secret. "Just being in midst of 'Black Girl Magic' was amazing," says Halle.
It's not just Beyoncé. Michelle Obama, too, has become something of a patron, urged along by daughters Malia and Sasha. Chloe and Halle were featured on her all-star charity single for girls education and have performed live onstage for the First Lady twice, once as the opening act to her keynote discussion at the SXSW Music Festival in March with Queen Latifah and Missy Elliott and a week later as the last-minute opening act for the White House Easter Egg Roll. In fact, the First Lady insisted that the latter event's entire schedule be rearranged to accommodate the sisters after meeting them at SXSW. "The people who were running the Easter Egg Roll told us that they already had the whole show together with all of the artists that they wanted," says Halle, "and then Michelle told them, 'I have these girls coming in, Chloe and Halle. Make room for them.' And they were like, 'What? Now we've got to change everything!' "
Chloe and Halle were the only act Michelle Obama personally introduced, in a several-minute speech that ended with her saying how impressed she was by the girls. That weekend also happened to be Halle's 16th birthday, which the sisters spent helping their parents check off a bucket-list item of getting into the White House while Barack was still president, and getting a surprise visit from Beyoncé and Blue Ivy, who waited with them before they went onstage and then cheered them on from the wings. "Everything seemed so surreal that for two split seconds I started tearing up," says Chloe.
Halle, ever the cooler customer, kept it together. "I was like, 'Chloe, this is not the time to cry!' " she says. "I was on cloud nine. Greatest 16th birthday ever!"
Vision boarding has become something of a Bailey sisters New Year's tradition. They make at least one each at the start of every year and save the old ones for comparison. "It's things that we'd like to speak into existence or for our life to be like, says Chloe, who spends the whole year collecting clippings — dreaming big about how to visually express her dreams — while Halle plays fast and loose with whatever magazines they have lying around the house the day of.
"This is potentially some stuff we want people to say about our album: 'Soaring,' 'Masterpiece,' 'Heartrending,' stuff like that," says Halle, guiding me through the three vision boards that hang in their L.A. home recording studio, which is really an alcove leading from the living room to patio, just big enough for a table to fit their logic board, mikes, computer, and piano keyboard. The sisters taught themselves to play piano and guitar from watching YouTube videos, do all their own vocal arrangements, and record their own demos. Chloe also started beat-making two years ago, and the cool, trip-hoppy sound of their first single, "Drop," is entirely their creation. When they need to record, they make their parents and brother promise not to turn on the TV and shut the door to the living room.
Also on the boards in the home studio: "Dangerous," "Heroes," "We're Stronger Together," and "Welcome to the Future." Nearby is the evidence that the boards are working: a picture of that time they met Oprah at the NAACP Awards ("Her bodyguard was like, "No pictures,' and she saw us and she was like, 'Yes! Sure!' " says Halle), a picture of that time they went to the MTV Video Music Awards to watch Bey perform, and a picture of them with Bey at Parkwood's ugly-sweater-themed Christmas party. They're also big fans of The Secret and The Law of Attraction.
We take a walk down a hallway absolutely covered in African art and family photos — school pictures of Chloe and Halle; a picture of Chloe campaigning for student-council president at age 10 (she won); their father Doug, a former stockbroker and now their full-time manager, and their mother, Courtney, an HR recruiter for Twitter — and into their rooms, which are basically three-dimensional vision boards.
Halle's is filled with posters of her guitar idols, Jimi Hendrix and Bob Marley, and every guitar she owns hanging on the wall. Her main acoustic ax is the one she's named "Soul," and it's next to a handwritten card reading "Guitar Goddess." Her 2016 vision board hangs next to a bed filled with stuffed animals and includes a logo for Lollapalooza, because she wants to play there (plus a feather she glued to the board for good measure); phrases like "Achieve Your Dreams" and "Never Hide"; and a picture of Prince next to a picture of a guitar, "because he's just the guitar whiz." (This is was five days before he died.)
Chloe's room, though, takes dream manifestation to whole new levels. Surrounding her mirror are some 40 index-card phrases like, "I Can, I Can," "Be Grateful," "Don't Let the World Dim Your Light," and "Trust Your Gut," so she can read them every time she looks at her face and be reminded to have confidence but stay humble. Her 2015 vision board seems to have a definite theme, with expressions like "Empire," "Success," "Become Your Own Boss," and "We're Rich!" Is that a goal? "Oh, heck, yeah!" says Chloe. "It has different meanings, rich and health and also moolah!" While 2016's board, Chloe explains, is more about being in touch with herself and internal growth. Key phrases: "Every Obstacle Makes You Stronger," "Shine Bright," and "Can't Stop, Won't Stop." Above her bed are cutouts of Grammys taped to her ceiling, one each for Song of the Year, Album of the Year, and Best New Artist. "Every time I open my eyes, I see that, so I figure if I see it enough, I might be speaking it to the world."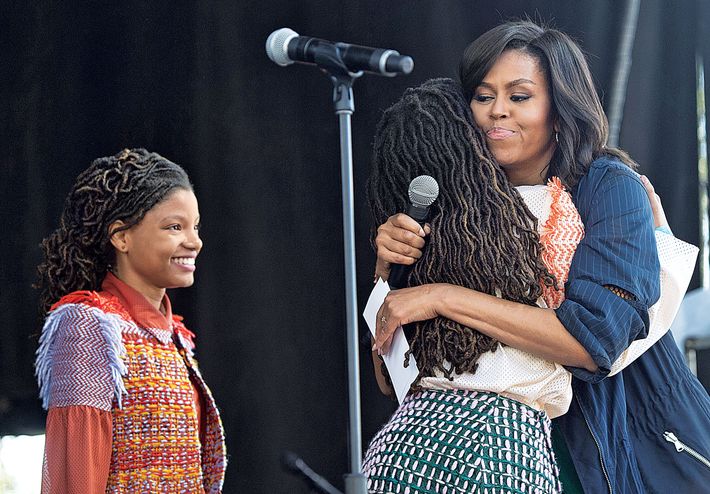 The Bailey family actually met Beyoncé nearly a decade before Chloe and Halle signed with her, back when a 3-year-old Chloe played the little-girl version of Beyoncé's character in the 2003 movie musical Fighting Temptations. Courtney hadn't planned on making her daughters showbiz kids, but Atlanta is a kind of child-model feeder market, and Courtney knew from her experience in HR that the audition process would be good for creating self-esteem and comfort around strangers. "For me, it was about building a foundation of confidence, public speaking, knowing how to meet people, to read scripts and rehearse, and if they got the gig, even better," Courtney tells me. Plus Chloe seemed to love being in front of the cameras and to have an unusual ability to focus for long periods of time. Fighting Temptations was Chloe's first movie audition, and she beat out 500 other little girls. They still have the picture of Bey hugging little Chloe at the wrap party. And no fewer than three giant Beyoncé posters hang in Halle's room. "I had all those posters up before we signed with her," says Chloe, "so now that we're really close to her, it's like having my aunt on the wall."
Neither of their parents is musical — the family jokes that Doug is actually tone-deaf — but Courtney does like to sing in the shower, and they played Jill Scott and gospel singer Kirk Franklin in the car on repeat while the girls were growing up. When I ask where the girls' musicality come from, Courtney laughs and throws her arms up. Courtney claims it was a complete surprise when Chloe walked into the kitchen at age 3 and began singing "Mary Had a Little Lamb" with a natural vibrato and perfect pitch. "I said, 'Chloe, sing that for Mommy again!' " says Courtney. Halle basically got into music and dance by way of worshipping her older sister and wanting to do everything she did, though over time she's developed her own ear for jazz legends like Billie Holiday and Sarah Vaughan.
"I think Halle's an old soul. She acts older than me sometimes," says Chloe.
"Sometimes I feel like I should be older, because I love listening to jazz," says Halle.
Their first musical performance was at a talent show for a summer day camp for Spelman College they'd attended when Chloe was 7 and Halle was 5. They twirled around adorably and sang with verve, if perhaps a bit out of tune. "I don't remember the performance much, but what I do remember is the next morning us seeing the sheet of who got first, second and third, and we were first!" says Chloe. "We were, like, really shocked." Next came local performances at charity awards and talent showcases and bit parts in the Queen Latifah movie The Last Holiday. But they were itching to see if people outside Atlanta would listen, so at ages 11 and 12, as in 2011, they recruited their elder sister Ski (pronounced Sky) to film them doing a hilariously overwrought a cappella cover of Beyoncé's "Best Thing I Never Had" and asked their parents if they could put it up on YouTube.
"And I said, 'Absolutely not!' " say Doug. "They said, 'Please, dad, please!' And they got me, because they're girls. Next thing you know, The Ellen Show is calling, after I'm telling them don't put it up. I guess I was wrong." (Current view count: 4 million.)
"Now it's so funny to go back and watch that video because we're like, 'Oh my God, this is embarrassing,' " says Halle. But Ellen led to a call from Radio Disney's The Next Big Thing — basically a kids' version of American Idol, which began with a cross-country tour and ended with a televised contest that Chloe and Halle won. More touring followed, as did appearances as themselves on the Disney series Austin & Ally and as choir girls in the Disney TV musical movie Let It Shine, a teenage rap retelling of Cyrano de Bergerac.Doug quit his job.
Though they began in public school, Chloe and Halle eventually switched to homeschooling (and moved to L.A. — Valley Village, which, close to the studios but without distractions, is known as a place where people go when they're scheming to break it big). Chloe got her GED after tenth grade and went to a prom with a friend in Burbank. Halle's taking the test this spring. ("Go, Halle, you can do it!" Chloe chants like a cheerleader. "She's so nervous.") Neither has a driver's license; Chloe found driving so scary she let her learner's permit lapse.
The L.A. move meant less time on the road and more free time to devote to YouTube covers. They'd put up five new ones before deciding to sit down in front of the antique cabinet that doubles as their TV stand in the living room and record "Pretty Hurts." They were in that same living room when they got the call. Or rather, email. "It was from the Parkwood digital team," says Chloe, "and they said, 'We want to post this to Beyoncé's socials. Have you signed with anybody?' "
"We were like trying to read into it," says Halle. "Like, 'Why are they asking us if we're signed?' "
The family says they had actually turned down offers from nearly every major record label at that point. The financials never seemed favorable ("The music business is crazy, and you can get ripped off pretty easily," says Doug), and they were worried they'd face the same kind of interference they'd seen in the acting world, where casting agents were constantly asking them to get rid of their dreadlocks. "They wanted to change their hair!" says Courtney, who's also had dreadlocks all her life. "It's who they are! They were like, 'We love our locks, mommy!' "
"I'm sure the girls probably didn't get 10, 15, 20, 30, 40 roles just because of their hair," says Doug, who can cite multiple times casting agents would call, ask if the girls could straighten their hair, and then never call back once he said no.
As part of their education, Doug lets Chloe and Halle handle all of their conference calls and business meetings. He's there, but he stays quiet: "I tell them, 'Girls, I'm not going to say anything.' I'm going to sit here, and I'm your crutch if you need it, but I want you to lead because you need to learn how to conduct your business this way.' " I notice lower-stakes shades of this in my own interactions with them as we wander around L.A.; when we go to the restaurant, Chloe is the one who negotiates with the hostess (while also complimenting her glasses), and she's the one who manages our appointment with the nail salon where we'll wind up at the end of the day.
"Beyoncé's been extremely fair with the girls in their deal with her," Doug goes on. She invites them to come backstage at her shows whenever she's in L.A. She's constantly updating their recording equipment, and she even sent them on a ten-day trip to London, partly because she wanted them to work with the U.K. producer Naughty Boy, who's worked with Beyoncé, Zayn Malik, and Sam Smith, and partly because they've never been out of the country and she wanted them to experience the same kind of cultural education she got when Destiny's Child went to Europe for the first time. They worked with four producers on the trip, two days for each — including an up-and-coming beat-maker for FKA Twigs, to whom they're often compared — and still had time for a visit to St. Paul's Cathedral.
"Basically, she just said that she was going to do whatever she could to help support the girls and she thought they were great talents," says Doug. Of course, when Beyoncé comes knocking on your door, you can't really say no."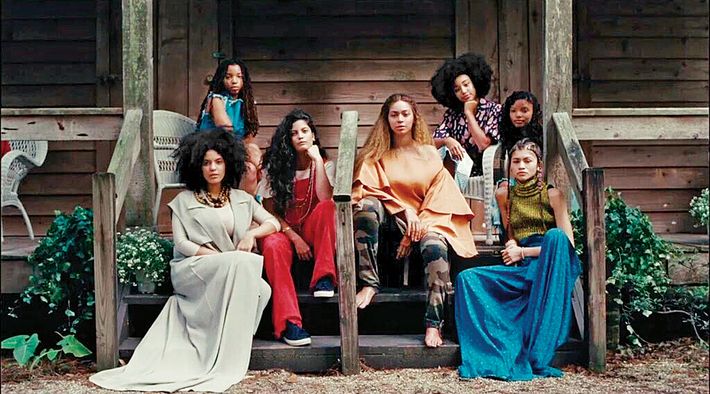 Everything on the Chloe x Halle YouTube page, up until now, has been covers, so it may come as a surprise that the sisters are actually avid songwriters with a stockpile of over 300 songs they've been sifting through to find 14 keepers for their album. Their Parkwood A&R person, Teresa LaBabera-Whites, who's known Beyoncé since she was 9 and oversaw the development of Destiny's Child, tells me that Chloe and Halle have written at least 150 songs since she and Beyoncé started working with them in mid-2014, and they send her new ones every week. "I think at some point Beyoncé actually did listen to all of them, because we sent them in batches and she's very dedicated to the girls," says LaBabera-Whites, and Bey regularly emails them feedback, in addition to the face-to-face meetings she has with them every couple of months. Halle tells me that Beyoncé taught them how to trust their guts on the songs they like and pick out the strongest elements from the ones that aren't quite working and transform them into new songs. "That's something Bey brought up to us, how if she hears something in this song or that song, she will combine them into one song," says Halle. "It also helps with just, you know, condensing the amount of songs we have, and then you have a really cool song!"
In addition to Holiday and Vaughan, Prince and Bob Marley, Halle's into the band the Internet and Frank Ocean. "He's so amazing. You really have to think to understand. You have to dissect. You're like, 'Wow, he's actually saying this about the world?' And it feels like you've won a trophy once you figure it out." (Lately, she tells me, she's also been watching lots of Lenny Kravitz to work on her stage presence, "because sometimes when I'm concentrating I get this blank face, like I'm not interested.") Chloe is into FKA Twigs, and the one-woman band tUnE-yArDs (a.k.a. Merrill Garbus). Plus Lauryn Hill and Nina Simone for piano. "Heck to the yes! I really admire the way that she loses herself in the piano while she's singing and the level of difficulty she's playing while the words that are coming out of her mouth are so impressive."
Beyoncé likes to call them her "little aliens" for their unearthly ability to grasp musical concepts (and production equipment) that adults find difficult. But Doug, who writes poetry and is author to what everyone in the family agrees are the best birthday cards ever, deserves credit for encouraging Chloe and Halle as lyricists. When the girls were 8 and 10, Chloe says, "Our dad sat us down and taught us about song structure and all the figurative language tools, like similes and metaphors and alliterations." They'd sit around the dinner table and make up songs. "One of our first songs was 'What Makes You Sad?' " says Halle. "Our dad was like, 'Just write what you feel. Let's start with what makes you sad.' "
"It wasn't that good," says Chloe.
"It was so bad," says Halle. They just picked the most dramatic events their preteen brains could think of — none of which they'd experienced — like losing a loved one and being betrayed by a best friend, then set it to a jaunty tune.
"The message that we want to put out in our music," Chloe says, "is of course we want you to feel great, but just be yourself, don't feel like you have to put yourself in a box because of what anyone else is doing. I just recently learned that, to be confident in your ideas and who you are." And they write constantly. "It's weird how they'll stop and be like, 'Oh, I got this music idea!' And put it on their phone," says Courtney. "What goes on in their mind and seeing them put the music together so quickly, I'm just in awe. And I'll ask you girls, 'Where does this come from? Where did you get this?' And they'll go, 'Mom, God. Hello!'"
The Baileys, if you haven't guessed, are very Christian. The girls were, as Halle says, "Gospel-raised," and though they're nondenominational, I notice Chloe say a quick prayer before lunch. And they never curse — "gosh" and "heck" are as close as they get. "Oh, we love God," she tells me when I ask her later. "He's there with us through everything. He's our best friend. God gave us this gift, but I don't think it's us really doing it. Because sometimes we'll look up and it's there in front of our eyes. I really believe it's a greater power doing it for us."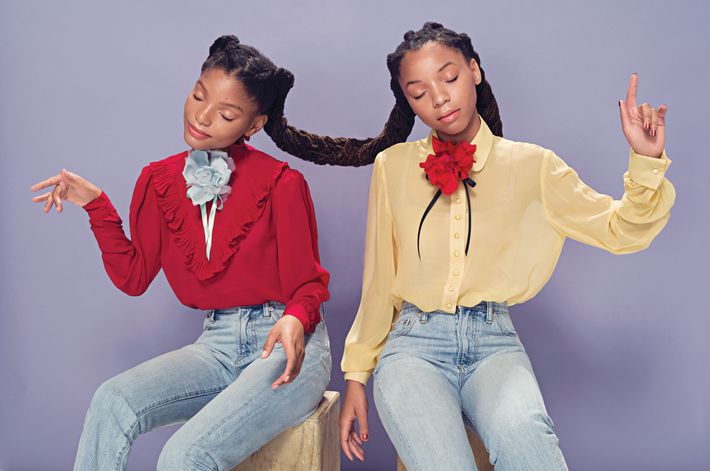 "Daddy, my mike sounds a little trample-y up here," says Halle, a green-and-maroon electric guitar she's named "Hippie" strapped around her tiny frame. "Is there any way I could put some more bass in it?"
It's a sunny Saturday afternoon in Los Angeles, and the sisters, along with Doug and a sound engineer, are working out the kinks of a showcase they'll be playing for the industry types who will be promoting the tour they're planning for this summer after their album drops. A beautiful woman with tight Pippi Longstocking braids who I later learn is Diana "Wynter" Gordon, songwriter of three tracks on Lemonade, soon joins us bearing smoothies and advice; she's been brought on as their performance coach.
They sing their "Hallelujah" introduction and transition into a raise-the-roof party jam with a synth-heavy "Na-na-na-na-na-na" chorus that's worlds away from those YouTube covers. There's a giggling fit when Chloe forgets to hit a trigger to slow the beat down. Then we're onto an empowerment anthem called "Simple" that sounds like the closest thing they have to a manifesto. "Now somebody once told us that we were too complex / That we're just supposed to sit there, look pretty, and just smile / And this is what we say…" raps Chloe — who has ridiculous flow, in addition to playing piano, manning the synth and drum machine, and producing most of their songs. She punches a synth for a deep, forceful Caribbean beat, as Halle joins her, singing: "I'm not gonna dumb down my mind for you / I'm not gonna dumb down my mind for you / Is this simple enough for you? / Is this simple enough for you?"
It's almost shocking to hear such young women singing a song they wrote themselves that literally sounds like tweets I've read from Amy Schumer criticizing Bachelor host Chris Harrison for calling a contestant "complicated." Chloe and Halle are a little new to the rhetoric — they pause when I ask if they consider themselves feminists, before Chloe answers, "Well, we're women, so yeah!" — but perhaps that's because they've grown up so soaked in the declarative independence OF Beyoncé that they don't even recognize it. They are the first wave of young women raised with that believe-in-yourself-and-make-it-happen swagger. For them, female empowerment isn't a choice they have to assert, and the record industry's historical sexism feels like NBD. "Especially when you are your own producer, your own writer, sometimes in this men-dominated industry people are like, 'Oh, you guys are women, that's great,' " says Halle, saying that last line like she's talking to a baby, "and then they don't expect you to push out such a hard beat and do what they do, but twice as good." Did she say "twice as good"? Halle grins: "Yup! Thank you so much!"
They run through one of Beyoncé's favorites, "Baby Bird," directed at co-dependents who need to "grow some feathers," a ballad about being in the creative zone called "Red Light" that they wrote with Hit-Boy (producer of Jay Z and Kanye West's "Niggas in Paris"), and their new single "Drop," with its intentionally obtuse lyrics about a persistent song (or a lover) you can't get out of your head: "Baby I get sick of you / You're the same ol' tune / I don't want to hear that again." Wynter sits cross-legged on the floor in front of them, manifesting the energy of an entire, jazzed audience herself, and pointing out times when Halle could milk her spotlight or Chloe could slow some of her frenetic energy down. When they finish, Wynter shouts "Woooo! Y'all, I'm gonna come to the show Monday with my Sunday hat, sitting in the back like a mom! I'll be holding a sign: 'Stay up, Chloe!' " It's their running joke, that Chloe tends to get so into the music, she'll spend entire songs hunched over, bopping, staring at the floor.
After rehearsal, we're joined by the girls' publicist, the music-world legend Yvette Noel-Schure, whose presence is a testament to how much Parkwood believes in Chloe and Halle: At the time we met, her main clients were Beyoncé and Prince. "Miss Yvette," as the girls call her, has flown in from the London launch of Beyoncé's athleticwear line, Ivy Park, to spend a single day in L.A. with the girls and it's clear she truly enjoys their company. "They have pure talent, and something that people don't put on their résumés — real kindness and heart," Noel-Schure tells me. "They believe that every girl who walks in the room is another lightbulb."
In the car, Chloe does most of the talking. Her big news is that the Color Pop lip stains she ordered online just came in the mail last night: "They're only $6 each one, and I got like seven. We're obsessed!" Also, they saw My Big Fat Greek Wedding 2 (thumbs down) and 10 Cloverfield Lane (terrifying: "It was PG-13, but they were pretty close to the line"). Oh, and their little brother, Branson, has become quite the ladies' man. "Miss Yvette, Branson has girls he likes — 10 years old!" says Chloe. "He FaceTimes one girl, and he posts on Instagram all the time because they follow him. I'm like, 'Halle, we've been doing a good job teaching him life lessons.' "
"Open doors," says Halle. "Look women in the eyes."
"He knows women because there's three women around the house, me and Halle and Mom."
Lunch is, as promised, very fun. There's not a single person the sisters meet about whom they can't find something to compliment. They like our restaurant hostess's glasses. The baby at the next table's tiara. Ellen DeGeneres's eyes. "She has the prettiest blue eyes ever," says Chloe. "Her eyes are so blue!" says Halle.
Back home, they're all about hanging out with Branson and their ridiculous-looking hairless dog, whom they've ironically named Common. Oh, and watching the playoff game between the Houston Rockets and the San Antonio Spurs with their dad. The phone rings. It's a nearby nail salon calling about our mani-pedi appointment. Chloe is thinking pastel-blue polish. But before they go, Halle wants to finish the book of poems she's reading, Lang Leav's Love and Misdemeanors. (No, they're not dating. "Our music is our boyfriend," says Halle. Most of their friends, they say, they've met through YouTube and social media.)
Outside the nail salon, I hear Halle scream and turn to see her frozen in disgust. "Uhhhhhhgggggg! Birdie poop!" she cries, as Courtney practically collapses in laughter before digging for some tissues. "Halle says, 'He pooped on my face!' "
"It's good luck!" says Miss Yvette, as Halle shoots her a death stare.
Chloe knows just what to do: "Let's Instagram it!" She pulls out her phone for what I think is the first time all day.
Styling by SisterStyling Giolliosa and Natalie Fuller; Makeup by Sean Harris; Hair by Kimmi McAllister for Six K; Jeans by Madewell.
*A version of this article appears in the May 2, 2016 issue of New York Magazine.