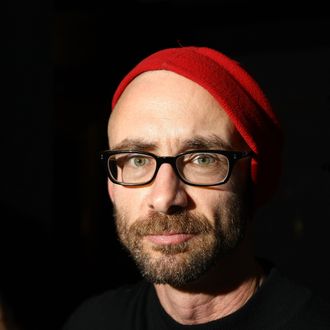 Palahniuk.
Photo: Neilson Barnard/2009 Getty Images
Chuck Palahniuk's Lullaby could make the leap to celluloid thanks to a Kickstarter launched earlier this morning by the author and two Portland filmmakers. The 2002 novel marked Palahniuk's fifth major release, coming six years after Fight Club; it tells the story of a reporter who tries to eradicate a "culling song" responsible for a rash of infant deaths. As Palahniuk explains in the campaign's teaser, he got the idea during the real-life trial of his father's murderer in 1999. "Lullaby is the book about dealing with whether or not I advocated the death penalty after the man was convicted of killing my father," he says below. "Lullaby is about this supernatural form of ancient power."
Director Andy Mingo and producer Josh Leake are adapting the project with Palahniuk as a co-screenwriter — the collaboration notably marks the cult writer's first film script — and the trio is hoping for at least $250,000 to create the flick "that Chuck fans want to see." Backing rewards include original signed artwork, screenplays, and the chance to be in Lullaby as an extra, among many others. The finished product is tentatively slated for a late-2017 or early-2018 release. At time of publication, Palahniuk and Co. had raised close to $40,000. You can learn more on the campaign's page, which will be live till June 17.