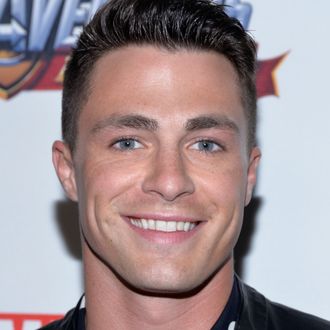 Colton Haynes.
Photo: Michael Tullberg/Getty Images
Colton Haynes, Instagram thirst trap extraordinaire, is finally, officially out of the closet. In a profile in EW, the Arrow actor has definitively ended any speculation about his sexuality: He's gay, dudes. "I should have made a comment or a statement, but I just wasn't ready. I didn't feel like I owed anyone anything," said Haynes. "I think in due time, everyone has to make those decisions when they're ready, and I wasn't yet. But I felt like I was letting people down by not coming forward with the rest of what I should have said." Haynes was referencing a Tumblr post he wrote earlier in January where he obliquely came out. Haynes had reblogged someone's Tumblr post about his "secret" gay past, writing, "Was it a secret? Let's all just enjoy life & have no regrets :)"
Indeed, any interested party can quickly find Haynes's so-called gay past: There were photos of a young, shirtless Haynes making out with another similarly built young man in the magazine XY — the twink Bible — from 2006. But Haynes wasn't exactly forthcoming about this at the time. As EW notes in a parenthetical, Haynes "like many others on his path, took advice early in his career to subdue it." Indeed, there was a small controversy when Haynes debuted on Teen Wolf in 2011. Photos from the magazine resurfaced on blogs that then received letters threatening legal action unless they took them down.
Haynes said that after the Tumblr incident, he had checked himself into rehab for anxiety, and would revisit the hospital over the next few months. On Instagram, at least, Haynes appeared to be more comfortable. (Here's a photo of him riding a rainbow unicorn floatie, for instance.) In either case, Haynes has officially busted through the glass closet and joined the ranks of openly gay actors. Break out the Tito's baby, because West Hollywood is going to be lit tonight.