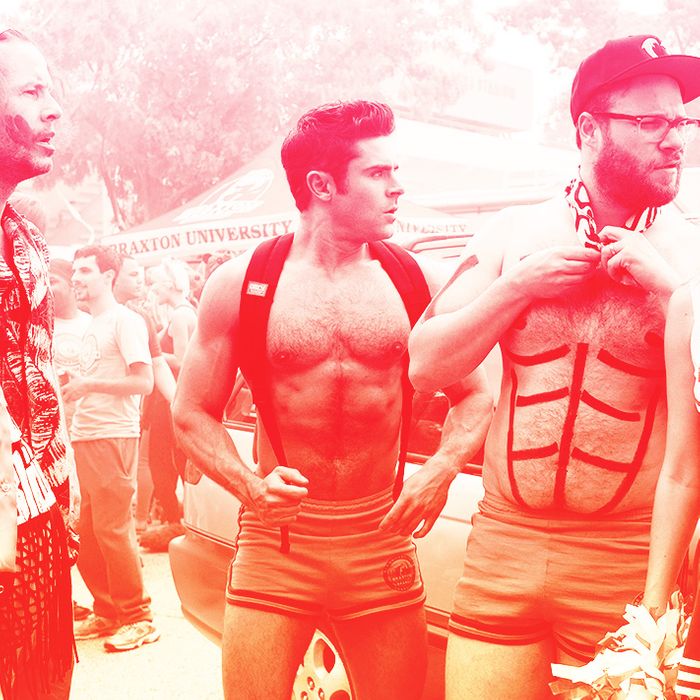 Photo-Illustration: Maya Robinson and Photo by Universal Pictures
When most people think of summer movies, they think explosions, and people shooting lasers out of their eyes, and the sequel to that movie with people shooting lasers out of their eyes. But summer got jokes, too. And though the box-office potential is generally lower for comedies, more credit (or, conversely, blame) goes to the talent who make them. So, while earlier this week we highlighted the movies likely to make a big splash, today we wanted to look at the comedians and comedy-makers to keep your non-laser-shooting eyes on this summer.
Zac Efron
Efron might not have a tight five, honed over years in stand-up clubs, but he sure has a tight six … pack of abs. To Hollywood, that's a start. Now this is the summer that Efron's abs, and the person attached to them, try to prove to be a legitimate comic movie star. That Awkward Moment slightly over-performed and Neighbors was a major hit, but I'm not ready to call Efron the new Gene Wilder just yet.
Exhibit A: Dirty Grandpa. He was in it.
Beyond that, his comedies haven't depended on him to carry the LOL load. Efron is in two comedies this summer — Neighbors 2 and Mike and Dave Need Wedding Dates — and if both succeed, especially the latter, expect a full shift of Efron's career to position him as a comedy star.
Andrew J. Cohen and Brendan O'Brien
"Who J. Who and Who O'Who?", you might be asking. Well, be patient, I'm obviously planning on telling you.
Cohen and O'Brien wrote the successful Neighbors, an accomplishment that's all the more impressive when you learn it was their first produced full-length script. That's the sort of thing that makes Hollywood take notice. They also wrote this summer's Neighbors 2 and Mike and Dave Need Wedding Dates. Should those both hit, Cohen and O'Brien will officially be on a comedy roll, which usually leads to Hollywood giving people the world. Think about how Phil Lord and Chris Miller went from dudes who wrote Cloudy With a Chance of Meatballs to directors of the Han Solo movie.
Hollywood is already anticipating it, signing up the duo to not only write the upcoming Will Ferrell-Amy Poehler comedy, The House, but to also have Cohen direct. At this point, the duo's biggest concern should be thinking of a different director-combo name, because "Cohen and O'Brien" sounds like you mispronounced Conan O'Brien, and that's just silly.
Ike Barinholtz
It's going to be a big and weird summer for The Mindy Project's Ike Barinholtz. Not only is he returning to the Neighbors­­-verse, he also lent his voice to Angry Birds, which comes out the same weekend. And that's just the start of it. Later in the summer comes Central Intelligence, a movie Barinholtz wrote with collaborator David Stassen.
Okay, but that isn't too strange, since Ike first joined Mindy as a writer, you might think. But what is strange (possibly literally) is that Barinholtz will be in Suicide Squad, reportedly as Dr. Hugo Strange, an evil psychiatrist not to be confused with Marvel's Dr. Strange. Barinholtz, with Stassen, is the sort of versatile (and white, male) writing-performing talent that Hollywood likes to give a shot. If all these things go as planned, that shot might be coming sooner than later.
Kate McKinnon
The Ghostbusters reboot is a good bet to be a hit, and hits need breakout stars. Thanks to a wink and a gun-lick, McKinnon appears to be the frontrunner.
Just like Wiig before Bridesmaids, McKinnon is heading into Ghostbusters following two straight Outstanding Supporting Actress in a Comedy Series Emmy nominations for Saturday Night Live. Combined with the likelihood that she'll be back playing Hillary Clinton in the fall, it sure seems like she's about to have a major, magazine-cover-filled moment.
Lonely Island
An obvious potential benefit of Popstar being a hit would be that the Lonely Island guys — Andy Samberg, Akiva Schaffer, and Jorma Taccone — would get to make more movies together. But just as important, if it is a hit, that should mean they'll also get to do more projects apart.
Considering Young Sandwich already has a day job on Brooklyn Nine-Nine, a win with Popstar would be more of a boon to Schaffer and Taccone, the directors of the film and most of the Digital Shorts. Schaffer hasn't had a directing gig since The Watch flopped in part due to bad timing, coming out soon after the tragic shooting of Trayvon Martin; this could get him back on track. And — this is just speculation — but I believe that with Will Forte's position in Hollywood being what it is, Popstar popping would enable Taccone to make MacGruber 2.
In short, if Popstar is a success, the Lonely Island would be on their way to being Seth Rogen–/Evan Goldberg–like comedy emissaries — especially since they're already experimenting with development and production with Fox's Party Over Here.
Kevin Hart
Though he hasn't had many bombs, Hart generally has yet to be a major box office success — and if you look at the numbers, a lot of the blame comes from dismal international yields. Here are the foreign contributions to the total grosses of his starring roles:

Think like a Man = 4.7%
About Last Night = 0.7%
Ride Along = 12.6%
Think Like a Man Too  = 7.1%
The Wedding Ringer = 19.2%
Get Hard = 19.1%
Ride Along 2 = 26.5%

Though trending upward, these contributions still pale in comparison to, say, that of Will Ferrell's 2015 movie Daddy's Home, to which foreign markets contributed 37.4% of the total gross. (A more extreme example is the 53 percent of Spy's gross that was generated internationally.) There are surely myriad reasons for this, from comedies generally not performing well overseas to the belief that international markets are just racist. Either way, if Hart is going to keep on starring in movies, those numbers will have to go up.
Thankfully, this summer's Central Intelligence pairs Hart with The "Dwayne Johnson" Rock, an actor with the exact opposite history internationally, thanks in large part to acting in a lot of action movies. (Sixty-seven percent of San Andreas's gross came abroad). Whether Central Intelligence makes Hart an international movie star remains to be seen, but it will definitely put him in front of more eyeballs, and familiarity is particularly important for foreign markets.
Liz Cackowski
You know that feeling when you're watching a comedy and you see an actor in one scene totally kill it, but you can't recall where you've seen them before? If that happens this summer, it's probably Liz Cackowski, writer for The Last Man on Earth and widely adored comedian-about-town. She's in three — count 'em three — movies this summer: Search Party; Neighbors 2, in which she'll be reprising her role as Wendy the Realtor; and Popstar. Like Barinholtz, Cackowski is an improv-trained writer-performer, who's well-liked in the comedy world. These sorts of roles are the ground before the swell.