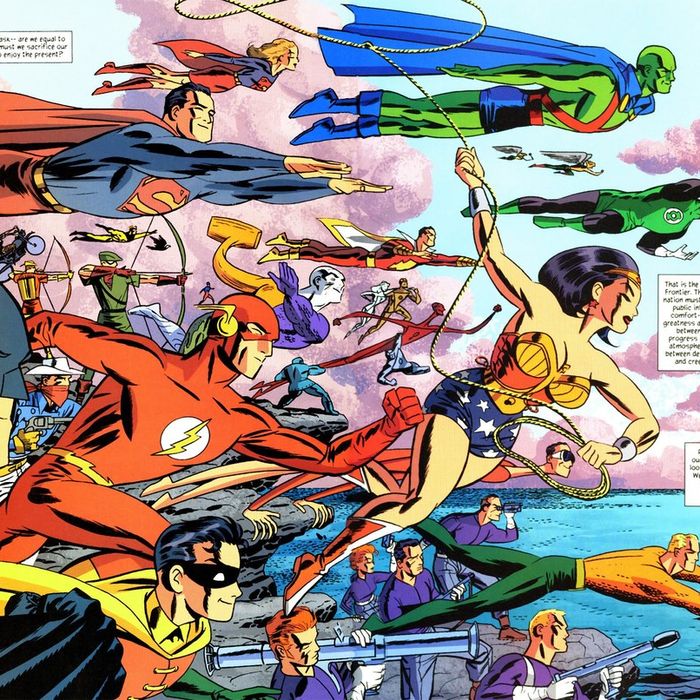 Excerpt from DC: The New Frontier.
Photo: DC Entertainment / Darwyn Cooke
Comics just lost a giant. Darwyn Cooke, one of the most acclaimed contemporary creators in the comic-book industry, has died at the age of 53. Yesterday, it was announced that he had aggressive cancer and was receiving palliative care, news that left fans shaken and concerned. This morning, the Cooke family issued a statement saying he died overnight.
Though he wrote extremely well, he was best known for his art, which was filled with clean, thick lines; dynamically smooth action; and evocative simplicity. If you've never seen his work, I recommend that you check out this series of covers he did for 23 DC Comics series in 2014. Notice how they're thrilling even though few of them depict battle scenes. You get Superman sweeping in to save a single child from an oncoming train, you get Batman falling asleep in his chair after a long day's crime-fighting, you get Harley Quinn grimacing as she realizes she's in a pile of dynamite with a lit match — the list went on and on. They remind you of everything that makes those characters great.
I'll admit that I haven't read everything he's done (though I'm going to spend the rest of the day devouring everything I can find), but I've loved him ever since I read his first big hit, Batman: Ego, when it came out in 2000. It was a surreal take on the Caped Crusader, a story in which he had to confront manifestations of his own psychological problems. The next year, he worked on Catwoman and gave the famed anti-heroine a stunning, leather-clad redesign that somehow felt like a '60s throwback while also acting as a very au courant take in the era of The Matrix.
Then, in 2004, he released his masterwork: a six-issue series called DC: The New Frontier. He wrote and drew it, and it was one of the best interpretations of DC's dramatis personae ever to grace the page. In it, he imagined the lives of Superman, Batman, Wonder Woman, the Flash, and other iconic characters — as well as lesser-known folks like the Challengers of the Unknown — in the late 1950s. It was simultaneously awe-inspiring and heartbreaking, and it earned award after award.
But as great as his work on superhero stories was, he was also capable of terrific takes in other genres. He adapted the two-fisted noir prose of Richard Stark's Parker stories into award-winning graphic novels. More recently, he collaborated with Gilbert Hernandez to craft The Twilight Children, a goosebump-inducing tale of supernatural events in a sleepy fishing town. He wasn't prolific, but he never, ever disappointed. And it seems like he was a good dude: Bleeding Cool has a nice rundown of how people in the comics industry are mourning Cooke, and it's worth a look to see all the stories about him.
I'll leave you with a little anecdote. When DC ran a different series of promotional covers a few months after Cooke's aforementioned series, I had a conversation with a geeky friend of mine about whether these new ones were any good. I didn't like them; he did. "I mean, they're not as good as the Darwyn Cooke covers," I told my friend. He squinted at me like I was the stupidest person in the world, and I thought he was going to blasphemously diss a living legend.
But no. "Those don't even count in this discussion, because it's like comparing a painting in a hotel to Da Vinci," he said. "Everyone already knows Darwyn Cooke is the greatest."