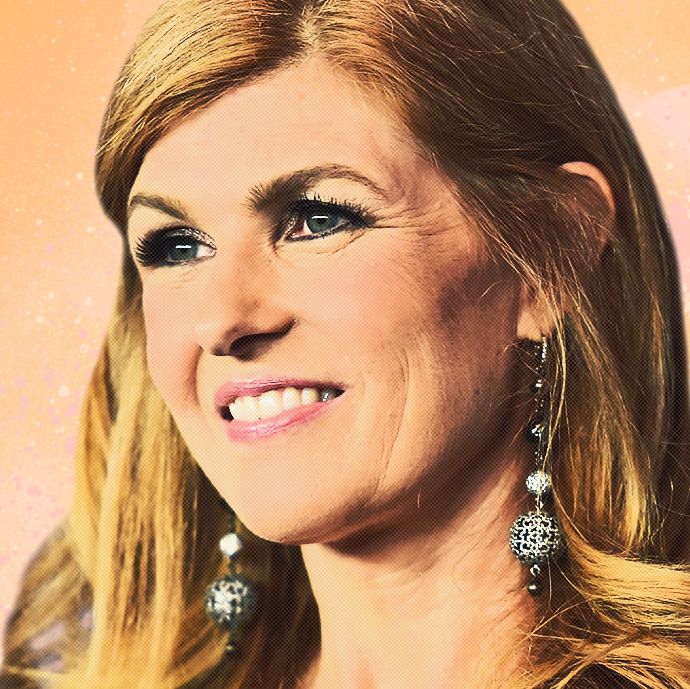 Photo-Illustration: Vulture and Photo by Getty
We here at Vulture have been intensely and uncommonly invested in the career and hair-conditioner brand of Connie Britton. So when we heard that ABC had canceled Nashville, we were torn: It might be the end of Rayna James! But of course, it could also be a new opportunity for Connie Britton. The possibilities are numerous for the woman who brought us Tami Taylor and birthed the anti-Christ. In that spirit, here are some completely unsolicited ideas about what Britton could do next.
Return to the Ryan Murphyverse
When Vulture first learned of The People v. O.J. Simpson, we dream-cast Connie Britton as Nicole Brown Simpson, because it seemed like a very Ryan Murphy thing to do. Instead she played the next best thing: Nicole's friend, the sordid and sleazy tabloid star Faye Resnick. Murphy also memorably cast Britton in her first post–Friday Night Lights job on the first season of American Horror Story: Murder House, and since we know that there is a connected universe on AHS, it would make sense for Britton to make another appearance. Maybe more delicious? A starring role on Murphy's latest anthology series, Feud. The first season is already set with Jessica Lange and Susan Sarandon playing out the legendary feud between Joan Crawford and Bette Davis, but let's talk about a second season starring Britton. If Murphy wanted to move away from a female-diva feud, we could see a retelling of Tippi Hedren and Alfred Hitchcock's contentious relationship where she says he threw birds at her, stalked, and harassed her. (May we suggest Vincent D'Onofrio as Hitchcock?)
Appear in Shondaland
Who better to create a female-driven series for our Connie than the woman who brought us Scandal? We can see it now: Olivia needs help burying a story and she calls in a favor from an old friend, a media tycoon whose family has owned the national newspaper of record for generations. Enter Britton's character. She's a Katharine Graham type, who is impeccably stylish but can flip magazine pages with a fierceness you've never seen. She gets a three-episode arc on Scandal in the spring and her spinoff debuts in the fall. Let's call it The Fourth Estate and move the action to New York so we can see how Shonda operates in a new city and how Connie can strut the sidewalks in fabulous outfits.
Star in the Next Aaron Sorkin Project
The West Wing fans will never forget Britton's memorable guest arc in season three as Connie Tate, a political consultant who played a large role in President Bartlett's reelection. Not only did she go toe-to-toe with Toby and have crackling chemistry with Sam, but she mastered that Sorkin dialogue with flair, walking and talking like one of the series regulars. If she's free from Nashville, let's find a Sorkin vehicle Britton can star in. He's already writing a Lucille Ball biopic for Cate Blanchett — maybe he can pen a similar script for Britton? We're feeling something political here, maybe Nancy Reagan on the campaign trail or the widow years of Ethel Kennedy? Connie could give some masterful side-eye to all of Washington.
Nashville moves to a streaming network like Hulu
It's entirely possible that this question will be moot if Nashville lives to sing another day. Lionsgate is currently shopping the show to other networks after ABC's cancellation. So the show may simply go the way of other shows with intense fan bases like The Mindy Project, which found its home on Hulu. (Or it could go the way of, well, Hannibal.) In which case, Britton, who is also an executive producer on the show, will continue her heartwarming turn as Rayna James, providing us all with the country wit and wisdom we need.