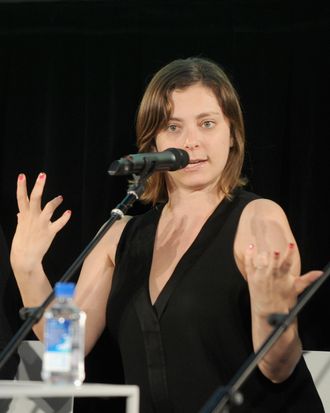 Bloom.
Photo: Brad Barket/2016 Getty Images
During a live taping of The Vulture TV Podcast at the third annual Vulture Festival Sunday morning, TV editor Gazelle Emami and TV critic Matt Zoller Seitz were joined by Crazy Ex-Girlfriend co-creators Rachel Bloom and Aline Brosh McKenna to discuss the show. One particularly noteworthy tidbit? When season two premieres on the CW, a new theme song will accompany it. "The theme song is changing, we're writing an entirely new theme," said Bloom. "Yeah that's right. Fuck you Game of Thrones, same stupid theme song. The wall? I've been to the wall. I've been to Mereen, bitches. Show me something new!" Bloom quipped, before adding, "I love that show."

McKenna said the song is "going to change every year," explaining that each season will require new opening titles to reflect the themes of that particular season. "We're exploring the different phases of romantic pursuit, and the [theme of] first season is, Oh yeah, I just happen to have moved here but for no particular reason," she said. "Now that Rebecca has admitted this thing, now that Josh knows that he's the reason why she's there, how is she going to feel on the heels of this?"
Subscribe to The Vulture TV Podcast here.