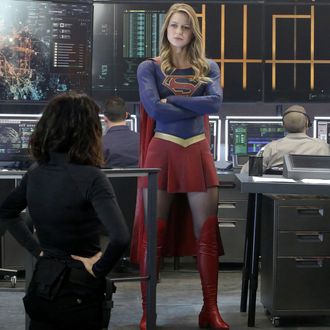 Photo: Robert Voets/Warner Bros. Entertainment
The CW released its upcoming fall schedule for the 2016–17 television season Thursday morning ahead of its upfront presentation. There are a few major changes to the schedule, namely that Greg Berlanti's Supergirl is moving networks from CBS to its younger sibling, the CW, where it will lead into Jane the Virgin on Monday nights. That means the Golden Globe–winning Crazy Ex-Girlfriend moves to Friday nights, where it will be paired with The Vampire Diaries. The move isn't entirely surprising, given CXG's low ratings and the fact that it will have less ratings pressure in a Friday evening slot.
Otherwise, there aren't major changes to the network's schedule, with just two new additions: Romantic comedy No Tomorrow gets a lead-in from The Flash on Tuesdays, and the cop drama with a time-traveling twist Frequency is on Wednesdays with Arrow.
The full schedule is below with the new shows in bold:
MONDAY
8:00-9:00 PM             Supergirl (new network)
9:00-10:00 PM           Jane the Virgin
TUESDAY
8:00-9:00 PM             The Flash
9:00-10:00 PM           No Tomorrow

WEDNESDAY
8:00-9:00 PM            Arrow
9:00-10:00 PM          Frequency
THURSDAY
8:00-9:00 PM             DC's Legends of Tomorrow
9:00-10:00 PM           Supernatural

FRIDAY
8:00-9:00 PM             The Vampire Diaries
9:00-10:00 PM           Crazy Ex-Girlfriend