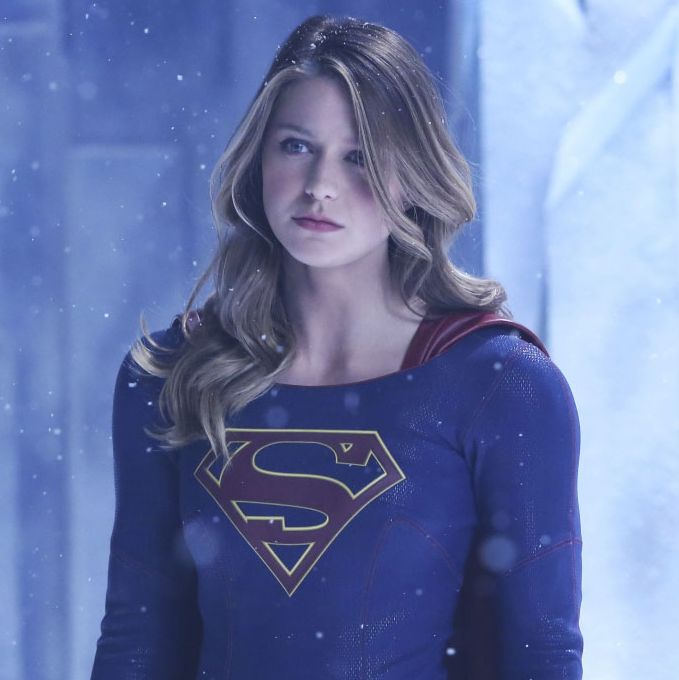 Melissa Benoist in Supergirl.
Photo: Cliff Lipson/CBS
The CW has long been a hybrid network of sorts: It's an old-school broadcast network with the heart and soul of a niche cable channel. A few years into its existence, it struggled with those dual identities, as well as the perception that it was little more than a hastily assembled marriage of two corporate giants (Warner Bros. TV and CBS) designed to hold on to the valuable broadcast real estate each had via the ashes of the WB and UPN. It wasn't hard to find industry insiders ready to predict its demise, particularly as ratings started taking a dive. But something funny happened on the way to the network's funeral: The CW started making shows people cared about. And while it'd be misleading to call the network some sort of juggernaut, it's absolutely one of the bigger TV success stories of the decade. The lineup the CW unveiled today looks to continue that momentum.
Under network president Mark Pedowitz and executive vice president Thom Sherman, the CW has now clearly established three distinct pillars of its programming: DC Comics super-shows, a.k.a. the (Greg) Berlantisphere; All the Feels millennial soaps; and Vamps, Zombies & Other Assorted Dystopias dramas. That doesn't appear to be changing next season; the CW will simply look to strengthen each of its three big genres with newcomers. And the series most likely to succeed on that front wasn't even developed at the CW: It's Supergirl, which is moving over from corporate cousin CBS. Scheduling doesn't matter as much on the CW as other networks, but in this case, the CW was wise to keep Supergirl in the same 8 p.m. Monday time slot where it'd been on CBS. Not only does that minimize disruption for the show's existing fan base, it allows the CW to basically strip DC Comics shows Monday through Thursday at 8 p.m., making superhero shows both an anchor for the schedule and a destination for audiences. Plus, it means both of the network's new shows get a decent-size lead-in. It's such an obvious and brilliant play, one almost wonders whether CBS, CW, and Warner Bros. have been planning to move Supergirl from CBS to CW all along — that season one on CBS was essentially just one long advertisement for the show's eventual move to its (much more obvious) home on CW. Supergirl will probably lose some audience in the shift to the CW, but if it can bring 75 percent of its season one audience to CW, it'll be a big win.
Supergirl taking over Mondays at 8 means this season's most critically acclaimed new broadcast show, Crazy Ex-Girlfriend, will be moving to Fridays at 9 p.m. For audiences who'd grown to love the pairing of CXG and Jane the Virgin on Mondays, this might be a bit of a bummer. But here's the thing: The fact that CW is giving CXG a second season at all is stunning. While its overall same-day audience wasn't dramatically worse than Jane's, the show got remarkably little growth via DVR replays. Shifting to Friday puts CXG  in a less high-profile slot, but it also means the show will get a lead-in boost from the long-running The Vampire Diaries, as opposed to having to open up a night on its own. Plus, competition (and expectations) will be far less fierce: No Voice, no Bachelor — just very old-skewing shows on ABC, CBS, and NBC, plus untested newcomer The Exorcist on Fox. This seems to be a great way to keep a low-rated show alive, at least for another season.
Elsewhere, the CW will smartly use its superhero powers to push audiences to its two new fall series, the All the Feels soap No Tomorrow (Tuesdays at 9) and the hard-to-characterize Frequency (Wednesdays at 9). The trailers for both look intriguing, with Frequency more so, since it doesn't fit squarely into one of the CW's three big forms (though its themes of time travel and looming doom put it closest to being part of Other Assorted Dystopias). It's silly to speculate so soon whether either show will work creatively or click with viewers, particularly since the CW doesn't have the same sort of ratings requirements as a traditional network (and has proven to be very patient with shows it loves). Based on early trailers, however, the CW seems to once again have succeeded in finding shows likely to inspire passion from at least some segment of the audience. And after the way-too-many, brain-dead, paint-by-numbers projects unveiled by ABC, NBC, CBS, and Fox earlier in the week, the two CW fall shows — and mid-season soap Riverdale — all at least look like they're worth checking out. 
Still, it's worth sounding a note of caution about where the CW stands. Much as it makes sense for NBC to keep adding Dick Wolf shows to its schedule — viewers want them! — it's completely logical for the CW to lean into DC Comics shows. They've given the network buzz, ratings and, yes, an identity. But they're now 40 percent of the network's lineup. That's a lot! If viewers suddenly feel like they've seen this all before, it's not hard to imagine a tipping point where all the DC shows suddenly collapse. CW has smartly balanced its schedule with rom-com soaps such as Jane and CXG, but the latest, No Tomorrow, does feel a bit like it's trying too hard to replicate parts of the formula used to make its predecessors. Thankfully, CW execs may have already realized the need to start diversifying. It's hard to know exactly what Riverdale is without seeing a pilot, but the trailer seemed like a cross between Gossip Girl and Twin Peaks (with nary a hint of its roots in the Archie Comics universe). Hopefully, it will be the teen soap CW is sorely lacking right now.