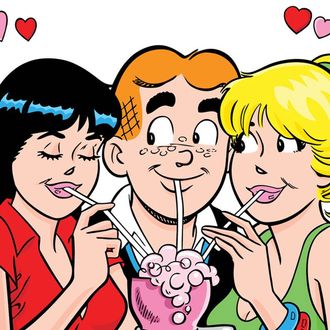 Coming soon to the CW.
Photo: Courtesy of Archie Comics
Fresh off inheriting Supergirl from CBS, the CW today announced it has picked up three new pilots to series. The first is Riverdale, a "surprising and subversive" live-action take on the Archie Comics universe from super-producer Greg Berlanti. K.J. Apa is Archie, Cole Sprouse is Jughead, Lili Reinhart is Betty, and Camila Mendes is Veronica. It's not the only reboot on the CW's schedule: The network also picked up Frequency, a TV remake of the 2000 Jim Caviezel-Dennis Quaid film. The plot is basically the same, except now the modern-day ham radio enthusiast is a woman, played by Devin Kelley. Last on the slate is No Tomorrow, a romantic comedy about a "risk-averse, straight arrow, female procurement manager" (Tori Anderson) who falls for "a freewheeling man who lives life to the fullest because he believes the apocalypse is imminent" (Joshua Sasse). Comics reboots and quirky romances — let no one say the CW does not have a strong brand.