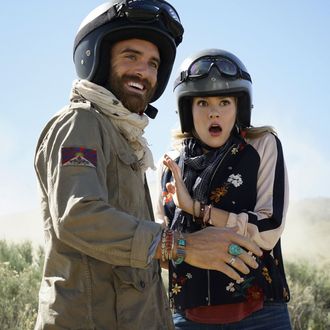 At least there's today!
Photo: CW
After renewing nearly all of its series currently airing, the CW didn't have a lot of space in its fall schedule for new pickups — especially with the inheritance of Supergirl from its parent network, CBS. At their upfront presentation on Thursday, the network introduced two new shows for the fall lineup: the apocalyptic romantic comedy No Tomorrow and the time-tampering Frequency. The CW also unveiled the trailer for Riverdale, a "gritty" retelling of Archie, which won't be out until next year. (The trailer shown at the upfront presentation isn't currently available online, but we'll let you know when it is.) The trio of new shows look more promising overall than most of the other big networks' slates, while still maintaining their brand trademark of starring impossibly good-looking people. Let's take a look!
No Tomorrow

The CW is looking to expand its stranglehold on the quirky rom-com with No Tomorrow — only this one looks a little more by-the-book than the genre-bending Jane the Virgin and Crazy Ex-Girlfriend. No Tomorrow is a classic tale of opposites attract: Tori Anderson plays a risk-averse quality-control assessor who falls for Joshua Sasse (RIP Galavant), a free-spirited dude who believes in beaded necklaces and the impending apocalypse. He might be crazy, but at least he's hot! Jesse Rath, Jonathan Langdon, and Sarayu Blue also star.
Frequency

Adding to the ever-growing list of fall TV shows about time travel (Making History, Time After Time, etc.), we have Frequency, an adaptation of the 2000 film starring Dennis Quaid and Jim Caviezel. Peyton List plays the daughter of an NYPD officer who died in a deep cover operation. She discovers a radio that transmits her father's voice from the past, and then decides to save his life, with dangerous consequences in the present. Time travel is not for the willful and naive, people! Riley Smith plays List's father. Devin Kelley, Anthony Ruivivar, Daniel Bonjour, Lenny Jacobson, and Mekhi Phifer fill out the cast.