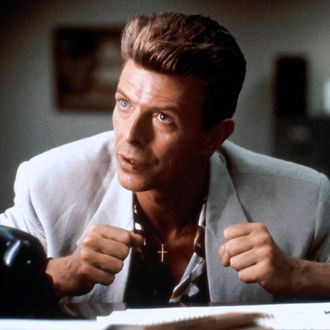 Farewell, Agent Phillip Jeffries.
Photo: New Line Cinema
In news that makes the 217-member cast list of Showtime's Twin Peaks revival seem small and insufficient, David Bowie was set to make a cameo in the project, but never had the chance to film it before his untimely death in January. Harry Goaz, who plays Deputy Andy Brennan on the series, revealed the news to the Dallas Morning News, though he didn't specify the details of Bowie's role. The singer made an appearance in the show's 1992 spinoff film Twin Peaks: Fire Walk With Me as an FBI agent who disappears on a case, and then briefly returns with a mysterious message. The new production will have to carry on without Bowie, unless of course he briefly returns from the afterlife with a mysterious message for David Lynch, which isn't outside the realm of possibility.