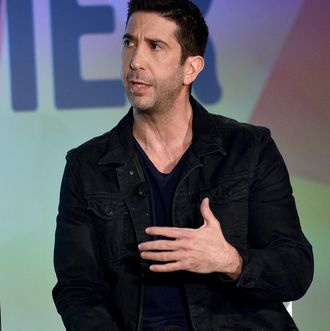 Schwimmer at Vulture Festival.
Photo: Bryan Bedder/2016 Getty Images
At a Vulture Festival pre-screening of the first episode of David Schwimmer's new series, Feed the Beast, in which Schwimmer plays an alcoholic sommelier trying to put his life back together by opening a restaurant in the Bronx, the former Friends star recalled how Ian McKellen once wowed him into becoming an actor:
Somewhere in high school I went to see a one-man show of Ian McKellen. At that time, he did this one-man show called Acting Shakespeare. And he toured it to UCLA, and my parents took me to see him. And that was the moment that I remember sitting there and I couldn't believe it. I watched this guy without any props, or makeup, or changes of clothing or anything — I watched him simply sit in a chair and stand occasionally, and transform into about 12 different lead characters from the greatest of Shakespeare's plays. And I couldn't believe it, it was like a magic trick. He suddenly became 300-pound Falstaff, or you know what I mean? I just watched this man change. And that's when I knew I had to try to do that. I just thought, Wow. It was incredible, very moving, and very funny. I think that was the moment for me, really.
Ian McKellen, a wizard even in the '80s.