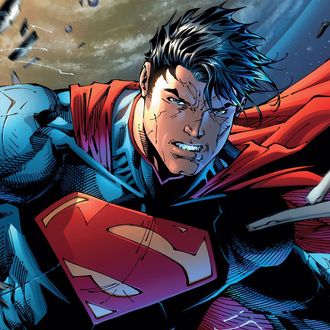 Superman has not been accused.
Photo: DC Comics
In the last few years, there's been a growing chorus of comics fans calling for greater awareness about — and official action against — sexual harassment in the comics industry. That chorus reached a crescendo last month when a female editor at DC Entertainment (the company responsible for Superman, Batman, and Wonder Woman) named Shelly Bond was fired from her position as head of DC's adult-oriented Vertigo imprint. Although there was no evidence that her firing was based on her gender, people were upset that a woman had been fired when a male editor named Eddie Berganza remained employed. Berganza is in charge of the Superman titles and has been rumored to be the perpetrator of multiple instances of sexual harassment. Soon after Bond's departure, artist Kate Jones said she was "sexually harassed and almost raped by a Senior Art Director from DC Entertainment." DC has finally responded, albeit vaguely.
In a statement issued recently on the popular geek site Comic Book Resources, DC said it "strives to foster a culture of inclusion, fairness and respect" and that, "[w]hile we cannot comment on specific personnel matters, DC takes allegations of discrimination and harassment very seriously, promptly investigates reports of misconduct and disciplines those who violate our standards and policies." DC's critics haven't been satisfied with this response, as you might expect, but the statement appears to be a sign that one of the comics world's biggest publishers (and a division of Warner Bros.) is feeling the heat. If you want to know more about the situation, as well as the larger effort among industry-watchers to bring attention to harassment, check out this comprehensive piece from The Daily Dot's Gavia Baker-Whitelaw.