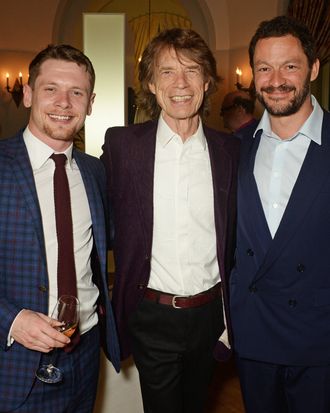 Photo: David M. Benett/2016 David M. Benett
Dominic West just debuted his new movie, Money Monster, here at Cannes, and he'll soon be back on Showtime's The Affair, but it took every ounce of this reporter's willpower to resist shouting "McNulty!!!" upon spotting him at The 8th Annual Filmmakers Dinner at the stunning Hotel du Cap-Eden-Roc on the French Riviera. Granted, West's awesomeness as Detective Jimmy McNulty on HBO's The Wire happened to be fresh on my mind; I'd re-watched the entire series as "research" for a profile on Spotlight director Tom McCarthy, who plays a conniving reporter in season five. But just as I was prepping to fan out to West, West was prepping to fan out to Mick Jagger.
See — said party was the exclusive annual Filmmakers' Dinner hosted by eccentric Brit Charles Finch, the son of Oscar-winning actor Peter Finch, whose many lives as a director, producer, agent, and now brand manager means he knows basically every celebrity in Europe, including Mick Jagger, who's a perennial guest to these dinners. And, it seems, is as much of a fan of West as West is of him. They chatted for ages, like the best of chums. How'd they become besties, I asked West as soon as I got a chance. "We're not!" he said. "I was just asking him about Vinyl, the TV show he's got. And I learned he watches The Affair, which made me very happy." A man walked by to say hello. "Were we on a trip to Cornwall together?" West asked.
"We've had this conversation!" said the man, laughing. "No, I've never been to Cornwall. You've thought I'm someone you knew twice now!" West laughed and laughed and kept talking to the guy.
Dominic West, ladies and gentlemen, is a delight.
He's also totally happy to talk about The Wire any time, any place, by the way. I mentioned that back in 2009 I spent a very memorable two hours at Barack Obama's first inauguration with Sonja Sohn, who played Detective Shakima Greggs, and was able to use police officers' fandom of the show to get us around a lot of barricades. Is West still able to play that card? "With security services, yes!" he said.
There was one perk of being on The Wire, though, that he still regrets not getting to cash in on, particularly since almost every other member of the cast did. "Were you there at the [Inaugural Ball] after party when Obama was dancing?" West asked me. "Wendell [Pierce], who played Bunk on The Wire, had footage on his phone of Obama getting down in brilliant fashion." West was kind of useless as an Obama supporter, he admitted: "I can't vote. But what I thought was, 'How do I get to meet him?!"' Alas, try as West might, that still hasn't happened. "Obama's met everyone on The Wire except for me. Because I'm white! And English! He did invite everyone else who's American to the White House."