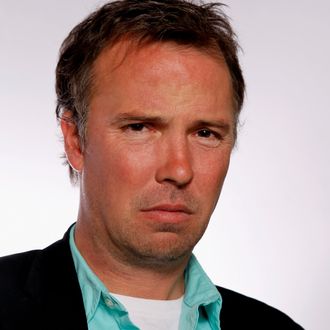 Stanhope.
Photo: Michael Schwartz/2011 Michael Schwartz
A couple of days after court documents stated Johnny Depp was "verbally and physically abusive" to Amber Heard, Depp's friend comedian Doug Stanhope has come to his defense with a guest column published via the Wrap. Stanhope claims Heard blackmailed Depp, saying she was "threatening to lie about him publicly in any and every possible duplicitous way if he didn't agree to her terms."
Stanhope adds that he and other friends had watched silently as Heard "manipulated" Depp:
When your friend is in an awful, abusive relationship — man or woman — and you risk weighing in that their counterpart is a demon, you know the odds are they will jump right back into the fire and then dump you from their life for being honest.
But no one wanted to say anything:
My girlfriend, Bingo, and I have known Johnny Depp for a few years now. We have watched Amber Heard f— with him at his weakest — or watched him at his weakest from being f—ed with — for the entire time we've known him.

And we didn't say s—. Because he's Johnny Depp. And we didn't want to be thrown out of the circle for saying that The Emperor was being Stripped of His Clothes.
He finishes by saying that his friend would never abuse a partner:
But any one of my friends will tell you I always call them out on bulls—. Abusing women is bulls—. Johnny doesn't abuse anyone. And he told me that day ahead of time that she'd pull some kind of s— like this.
Something tells me this is only the beginning of the Heard-Depp saga. Read Stanhope's full piece here.
Update: Amber Heard's lawyer has responded to the Wrap regarding Stanhope's claims, calling them "absolutely and unequivocally false," and that any suggestion that Heard is blackmailing Johnny Depp "has no basis in reality and is nothing but the typical celebrity muckraking for profit." Her lawyer has requested that the Wrap retract Stanhope's essay, writing "it is highly offensive and disturbing that you would choose to publish it in the first place." The Wrap says it will respond to Heard's lawyer through its legal counsel.