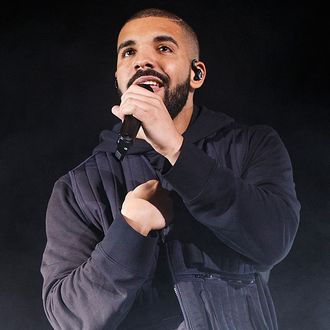 He's done it.
Photo: Andrew Chin/Getty Images
The wait is over: Finally, Drake gets to enjoy the views from the top of the Hot 100. On this week's Billboard chart, we have a new No. 1 and it's Drake's "One Dance," giving him his first No. 1 song in the U.S. as a lead artist before he's even dropped the song's upcoming video. Drake previously went No. 1 as a featured artist on two of Rihanna's songs ("Work," "What's My Name?"), but narrowly missed going it alone last year with "Hotline Bling." Prior to "One Dance," he'd peaked at No. 2 twice. Drake, as you may have heard, is also king of the Billboard 200, making history with the most first-week streams ever reported. Well, that's not all.
On the Hot 100, he makes history with 20 songs charting simultaneously — breaking the record Justin Bieber set last year at 17. (Drake had previously tied the former record holders, the Beatles, with 14 last year.) Of those 20 songs, 16 are making their Hot 100 debut at once (also a record) and 18 of them are from Views ("Work" and "Summer Sixteen" are the only exceptions). While "One Dance" and "Work" dominate the Top 10, he's also got "Pop Style," "Hype," "Controlla," "Grammys," and "Still Here" hanging out in the rest of the Top 40, which means the summer of Drake is only getting started.
Drake's "One Dance" replaces Desiigner's "Panda," which held the No. 1 title for two weeks and now sits at No. 2. And as we begin our premature Song of Summer watch, it's worth nothing that Mike Posner's "I Took a Pill in Ibiza" has reached a new high at No. 4, as has Fifth Harmony's "Work From Home" at No. 5 (their first Top 5 hit). Meanwhile, the Chainsmokers earn their second Top 10 with "Don't Let Me Down" rising to No. 7, and Calvin Harris and Rihanna's "This Is What You Came For" debuted at No. 9. So while Drake's enjoying his first No. 1, his perma-crush (or secret girlfriend, who knows?) Rihanna has her eye on what could be her 15th.