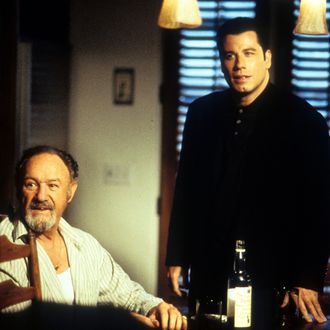 Gene Hackman and John Travolta in Get Shorty.
Photo: Metro-Goldwyn-Mayer/Getty Images/2012 Getty Images
Here's the long and short of it, and we promise it's no tall tale: Epix has gone long on a TV adaptation of Get Shorty, ordering a series based on both the 1990 Elmore Leonard novel and the 1995 movie, which starred John Travolta, Rene Russo, and Danny DeVito. The pitch, in short: A mobster moves from Nevada to Hollywood, where he picks up a job as a producer, but can't escape the long shadow of his criminal past. (A tiny reminder that the '90s are long gone: The new series will be a "modern-day re-envisioning" of the original.) Davey Holmes (Shameless, In Treatment) adapted the lengthy read for the small screen. Production on the hour-long dark comedy is set to start shortly, in time for a summer 2017 debut.