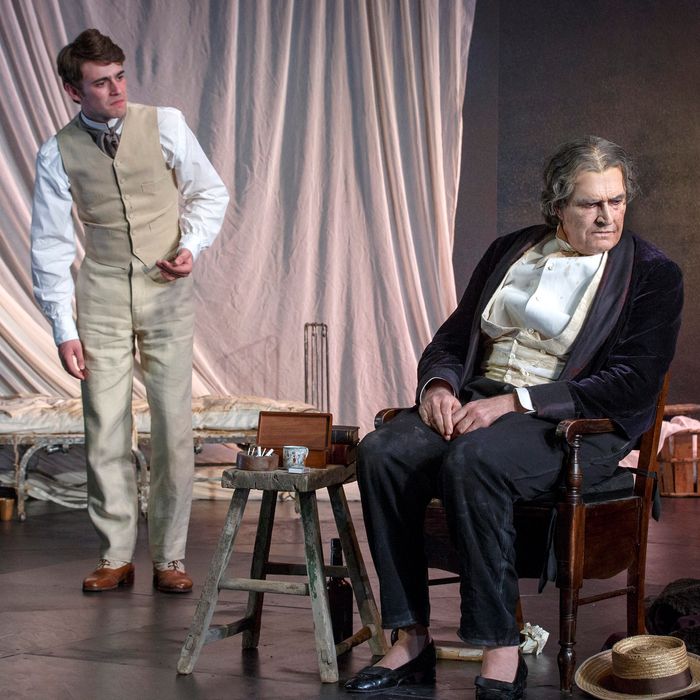 Unless cunnilingus is part of the late Victorian housekeeping routine, the studly footman and nubile maid seem to have seriously misinterpreted the task of straightening the bed. How daring of David Hare to begin The Judas Kiss — his play about Oscar Wilde — with such an explicit act of heterosexuality. And yet how dangerous, too. In the drama's desultory 1998 Broadway debut, starring Liam Neeson, this feint seemed like bad foreplay: a halfhearted apology for all the gayness about to transpire. But now, in the terrific Hampstead Theatre production that has landed at BAM after its success in England, the moment is much more fulfilling in itself and makes much more sense overall. So does the rest of the play, not least because, as Wilde, Rupert Everett apologizes for nothing. I don't want to claim this as a victory for typecasting, but Everett (who is gay) could hardly be better in a role he seems to have grown himself toward. Not literally: What turns him into a reasonable physical replica of the fleshy poet is a fat suit, complete with what he has called "baboon moobs" and "a marvelous knee-length arse." But Everett inhabits each facet of Wilde's cut-glass intelligence so precisely, and commands respect for his contrariness so fully, that the man comes alive as a specific human even as his mystery is enhanced. In the process the play, too, grows toward the brilliance of its subject.
The achievement is paradoxical. The Judas Kiss now feels, properly, much gayer that it did, while the philosophical clarity of the production, smartly directed by Neil Armfield, lets us understand that gayness is not really its subject. Wilde is no patron saint of homosexuality, though he has been nailed to that fabulous cross by subsequent generations; he is nobody's martyr but his own. As Act One opens in April 1895, he must decide what that will mean. His libel suit against the Marquess of Queensberry, who accused him illiterately of "posing Somdomite," has just collapsed in the face of evidence that, except for the "posing" part, the accusation was true. (A roll call of rough trade is prepared to testify to that effect.) Now the government will prosecute Wilde for gross indecency, but a window of escape has briefly opened. Will he climb through it, and into exile, as his faithful friend Robbie Ross urges him to do? Or will he stay and fight the charges, thus sending a message, at least to the future, that the passion of men is good and beautiful? This is what his insolent young lover, Bosie, wants him to do; but then Bosie is Queensberry's son and thus the cause of the problem in the first place.
As we know, Wilde did stay, though not for Bosie's reasons. In court, Wilde never "stood up" for homosexuality. He stood up instead for the sanctity of the individual and the right to be left alone. Making no choice was his choice: the perfect repudiation of public morality and private advice. The result was two years' labor (mostly walking on a treadmill) and the ruin of his reputation and health. But the trials and imprisonment, effectively dramatized elsewhere, are not really the concerns of The Judas Kiss, which, as its title suggests, is mostly interested in the nature of betrayal. If Act One argues that the forces of conformity and common sense are the enemy, Act Two, which is more speculative, complicates that view. It is 1897 and Wilde is now living in exile in Italy with Bosie, at great cost; his pittance of an allowance from his wife is based on the condition that he no longer take up with a "disreputable person." And Bosie isn't even his lover anymore. (He flaunts a series of local Neapolitan pick-ups.) Still, Wilde defends his unfathomable choice to stay with Bosie as a form of idealism: "To alter my life now would be to admit I was wrong. A patriot put in prison for loving his country goes on loving his country. A poet in prison for loving boys loves boys."
Here Hare is at his most trenchant, using Wildean syllogism to anatomize hypocrisy and explore the fineness of the poet's mind, even in despair. Ironically, it is this fidelity to Wilde's worldview that also damages Hare's drama. From the moment he enters the action, Bosie has been presented to us as callow, petulant, and literally entitled. (He is nasty to the help — a bad sign on a date or in a play.) By all accounts, this portrayal is historically accurate, though Wilde has no use for that kind of accuracy:
The vulgar error is to think that love is a kind of illusion. …  The reverse is the truth. The everyday world is shrouded. We see it dimly. Only when we love do we see the true person. The truth of a person is only visible through love. Love is not the illusion. Life is.
But in dramatizing this insight, Hare disrupts the balance of a play that must also keep faith with its audience. We cannot see the Bosie that Wilde sees, as we are not permitted to be in love with him. He and Ross are pitted against each other on Wilde's two shoulders, but Bosie is unmistakably the Judas. And though this makes Wilde aptly Christlike, Christ is an imperfect dramatic hero, refusing to fight his fate. This is, after all, the man who said, on his deathbed in 1900, "either that wallpaper goes or I do."
The play's flaw is too essential to be repaired so Armfield has had the good sense to highlight it instead. As Bosie, Charlie Rowe does nothing (except look good) to mitigate the character's awfulness. Cal MacAninch as Ross has perfected the hopeless, pursed-lip patience of the loyal adviser to a man who takes no advice. Importantly, this production is also much more beautiful than the earlier one: gorgeous draperies, Wagnerian music, Caravaggian lighting, awesome nudity. It's all Hare needed, and all Wilde would have wanted.
* * *
Wilde's first trial for indecency began in April 1895, while The Importance of Being Earnest was still running to packed houses on the West End. The new play Indecent, written by Paula Vogel and also opening tonight, concerns another such case, this one brought in New York against a play called God of Vengeance. By 1923, when the case was tried, that 1907 melodrama by Sholem Asch had already been performed all over Europe, and even, in Yiddish, in Greenwich Village. But now it had moved uptown, and been translated into English, bringing with it what is purported to be the first lesbian kiss ever seen on Broadway. Call the cops!
The cop, one Benjamin Bailie, dutifully arrives in Indecent, which, like Shuffle Along, concerns itself not only with the writing of an important early non-mainstream work but with "all that followed." The story is told by a ghostly European theatrical troupe, whose members play all the roles as Vogel hopscotches from Asch's early enthusiasm for his play, through its legal troubles, to his eventual renunciation of it as a youthful folly. But Vogel makes a convincing contrary case for God of Vengeance, offering us splintered scenes that depict an almost modern complexity of thought about women and power and faith. (The controversial kiss is between a chaste young Jewish woman and one of the prostitutes in her father's brothel.) Though Asch punishes the pair in the end, he offers their relationship not as an example of sin but as an example of escape from sin: the sin of not loving, of not being alive.
Vogel brings her usual digressive theatricality to the tale, which is partly historical and partly invented. The vagaries of Broadway production no less than the fate of European Jewry are brought into the mix, sometimes awkwardly. (The resulting ironies can ring a little hollow.) But the director Rebecca Taichman stages it so richly you hardly notice the threadbare patches. Haunting symbols, klezmer music, and perspectival high jinks abound; clearly a great deal of thought and expertise has gone into the mounting. (Taichman wrote her Yale School of Drama thesis on the God of Vengeance trial, and is credited, along with Vogel, with creating Indecent.) Perhaps there's not much authentic Asch left in it; Vogel seems rather to be arguing with him. But Indecent is a valuable reminder of a time when the theater and its great artists were on the dangerous leading edge of our humanity.
The Judas Kiss is at the BAM Harvey Theater through June 12.
Indecent is at the Vineyard Theatre through June 12.