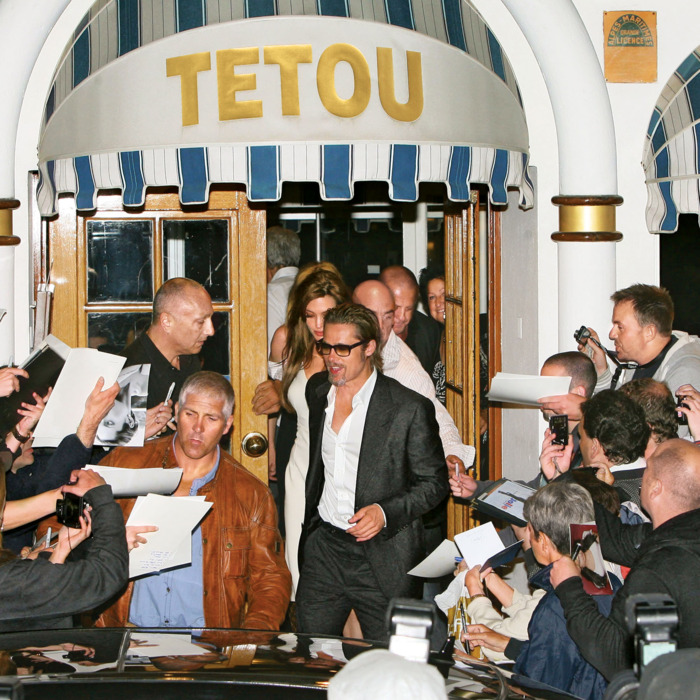 Brad Pitt and Angelina Jolie leaving restaurant Tetou in 2011.
Photo: Pacific Coast News
Cannes, the beachside town on the French Riviera, is not just a backdrop for yacht selfies. The 7.6-square-mile city is also a refuge for retired Brits, a place stuck in a glittery past where F. Scott Fitz­gerald and Ernest Hemingway roamed the cobblestoned streets, a playground for Russian oligarchs, and a summit town for all sorts of industries other than the movie business. (More than eight major conferences and festivals take place here each year, culminating with the weeklong Hollywood invasion that runs this year from May 11 to 22.) For better or worse, the Cannois are used to sharing their hometown with strangers. Some of them use the opportunity to schmooze with whatever ad execs or music bigwigs happen to be in town; others prefer to bury their faces in the parrot tulips at the Sunday-morning Marché Forville market. It's a city of rooftop parties and price-gouged panini, and of hidden wine shops and sailboat-watching beachside cafés. Even in the latter case, of course, one of those boats passing by may well be Microsoft co-founder Paul Allen's 414-foot Octopus. 
"I've lived here 20 years, and I remain a tourist."
A local's perspective on the city.
"The peculiarity of Cannes is that no one was born here. There's no real local spirit. I was not born in Cannes, and my wife was not born in Cannes. It's like everybody is a foreigner. I've lived here 20 years, and I remain a tourist. What makes Cannes unique is it is a small village, but a small village that welcomes the world. You can feel like you are in old Europe, a bit far away, and then all of a sudden, with the festivals and the conferences, it becomes the center of the world — during the film festival, people are making about 15 percent of their yearly income and all of us are faking we're interested in the movies. We look at it with a sense of the ridiculous. It's like moths attracted by the lights. We call them bling-blings. Look at all the money I've got! All those people who come to the film festival, I don't know what they're thinking — maybe they think they'll meet an actor?" —Stéphane Filone, general manager of a hotel-management company
Cannes According to a Festival Queen
New York super-publicist Peggy Siegal tells it like it is.
The Hotels
"I stay at the Carlton — I book my hotel room the day I leave — because it is within walking distance to everything. The Hôtel du Cap is the most beautiful hotel in the world, and a lot of the moguls stay there, but day to day, if you're serious about seeing films and making deals, you can't stay there because of the traffic. You'll miss everything. The Martinez is where you get all the fashion people, and the Splendid is where the media stay. Harvey Weinstein has an office at Hôtel Barrière le Gray d'Albion."
The Dress Code
"Black tie means black tie here. They have the regular police in Cannes, but they also have the fashion police. They pull you out of line and send you across the street to buy proper shoes and a proper tie."
The Weather
"The festival is during a time that is a little off-season, and sometimes it is 75 degrees and rainy or it's 40 degrees and you're miserable. I've been there with umbrellas and babushkas on my head, and I've also been there in sundresses and tank tops."
The Parties
"This year, you have Spielberg and Woody and Pedro [Almódovar] all there. Of course, you sometimes have a Vanity Fair dinner. Graydon [Carter] comes every other year, and then Paul Allen has the party on his boat. The yachts are okay. A lot of them are moored in the harbor and you have to take off your shoes and that's annoying, but it's fine."
Leo, Francis, and Tilda Were Here
Cannes star-spotting.
Hôtel Du Cap-Eden-Roc
Sean Penn, Dustin Hoffman, Marion Cotillard
Tetou Restaurant
Martin Scorsese, Tilda Swinton, Francis Ford Coppola
Le Bâoli Restaurant
Jay Z, Bono, Naomi Campbell
Hôtel Barrière Majestic
Jane Fonda, Naomi Watts 
Gotha Nightclub
Kanye West, Leonardo DiCaprio
Ask a Concierge
Where Pierre-Louis Renou, the general manager of Hôtel Barrière Le Majestic, sends people for local produce and 3 a.m. blowouts.
For partying into the early hours
"Every night, you are sure to have a private party at La Plage restaurant. But actually, most of the private parties are up in the villas. There are no rules there."
For late-night snacking
"The best late-night food is at Bâoli, a very trendy and renowned Asian-French fusion restaurant-slash-discothèque in the Cannes harbor."
For a last-minute blowout
"VOG is a tiny salon that is very intimate. A secret gem in town. It's open early every morning and late every night. There is someone there almost 24 hours, and for the film festival that is something extremely attractive."
For experiencing Cannes like a native
"The Marché Forville market is the center of local life in Cannes and plays host to every generation of the city. They come to talk, to gossip, and to buy local produce, flowers, wine, and cheese. This is where you see the real people from Cannes. For me, this is the center of the city."
For getting out of town
"On the first Sunday of the month, a lot of the celebrities here for the festival head to Valbonne, an old village 30 minutes away from Cannes, for its flea market. You know, Americans love French flea markets, and so during the festival, they all go there. They have everything from clothes to local food and paintings, old-style glasses and antique forks and knives in silver, and a market for linens and old-style curtains. You can find refurbished boat accessories and vintage driving attire."
"Not a Wonderful Place to Take My Jewelry."
In 2013, an armed gunman stole $136 million worth of diamonds from the Intercontinental Carlton Cannes hotel. Days later, two robbers threatened to drop a hand grenade in the Cannes watch store Kronometry if they weren't given several dozen expensive watches. And last May, roughly $20 million in jewels were stolen from Cannes's Cartier boutique. Not surprisingly, many fine jewelers won't send their diamonds to the Cannes Film Festival. "I just won't lend jewelry for the festival," explains Beverly Hills jeweler Martin Katz, whose gems regularly find their way down American red carpets. "There is no way to ensure the security of the jewelry. I don't need to do it just for the press and the sake of putting jewelry on pretty celebrities. Cannes is a wonderful place, just not a wonderful place I want to take my jewelry."
Last May, photographer Jennifer Loeber documented the Cannes teens who wait outside screenings for tickets.
"The local kids dress up every year to see what films they can get into, because black tie is required. Journalists are penalized if they don't use their tickets, so they'll give them away to these kids, who are hard-core cinephiles and hold up signs of the movies they want to see. All of them smoke, which isn't that surprising."
What Cannois Are Talking About
Rats and rich Russians.
The Hunky Mayor
Comparisons have been made between Cannes's mayor, David Lisnard, and Justin Trudeau, mostly owing to his good looks — the 47-year-old mayor is a member of France's right-wing party Les Républicans. Lisnard isn't just the mayor of Cannes; he's also the president of the French Riviera Convention Bureau and has made attracting more tourism a priority. Some locals refer to him as one of the most brilliant politicians in France. Speculation runs rampant about what higher office he might assume in the future.
Unwelcome Visitors
Last year, deadly storms and violent rainfall caused destruction along the French Riviera, particularly in Cannes, where cars were swept into the sea, storefronts were caked in mud, and thousands were left without power. The floods also brought a wave of unwelcome guests onto Cannes's pristine white beaches — rats, who were flushed out of their underground homes and descended on the sand last fall.
Post-Brussels security
Following the terrorist attacks in Brussels, security measures were increased in Cannes at the MIPTV television conference in April. Increased security will again be in effect during the film festival. A series of supplemental security measures have been put in place, including more bag screenings, additional security guards, and badge requirements throughout the Palais.
The Oligarch Invasion
The city has seen an influx of outrageously wealthy Russian and Arab oligarchs and oil barons in the past ten years. Throughout July, when the wealthy Arab crew rolls in, bartenders often quietly express their frustration at the lack of liquor sales (and subsequent tips). In August, the Russians arrive, ordering enough vodka to make up for it. (Their numbers, though, have fallen along with the ruble.)
The (Sort of) Real Cannes
According to local event planner Gina De Franco.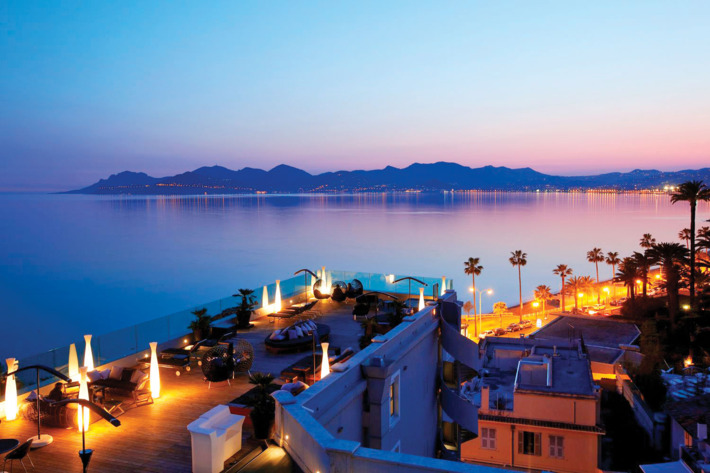 "The best view is in the Old Port on the rooftop of the Radisson Blu. I bring people there before we go on to obvious places like Baoli. And in town there is a special wine shop called Cave Riviera. The owner is so nice. Most people in Cannes aren't nice, so this makes him really special. From five to nine, the pricing of their wine is $3 to $9, and he gives you a plate of cheese and salami. All the locals know about it and go here. And then an eight-mile drive west of here is a town called Theóule sur Mer, which has a hidden gem called the Marco Polo Beach Club, from where you can see all the lights of Cannes. You have a DJ that plays American rock and roll in the sand, and everyone dances. They're known for their bouillabaisse and have been there since the '40s. It's a great place to take a break from the mental intensity of Cannes."
"A lot of the restaurants increase their prices when the conventions are in town, especially the ones in the walking district, like Pastis. I'm telling you, it's really horrible. All the out-of-towners get ripped off."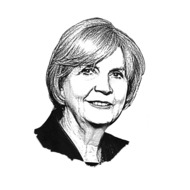 Cannes According to a Culinary Editor
"The city grew on me," says our own Gillian Duffy, who's had an apartment in Cannes for ten years.
"I remember the first time we visited, a friend had been raving about it, and I didn't really understand why. But then I went to Marché Forville on a Sunday and saw how exciting it was — everyone buying bunches of flowers and peaches so ripe that the juice just drips down your face — and I got it."
Beachside Lunch: L'Ondine Plage         
"I love, in the wintertime, being able to go down to the beach on a sunny day and sit here with yellow umbrellas looking out at the blue sea. I get the locally sourced grilled fish, and the seafood salads."
Cozy Dinner: Le Mashou
"It's this candlelit, super-intimate setting. The food is simple: beautifully cooked meats. They grill the bread over the wood fire and serve it with a nice dip … and the sangria is wonderful. As you leave, the owner presents every lady with a red rose."
Low-Key Dinner: La Table du Chef
"It's a little slither of a restaurant: There's a chef-owner in his minuscule kitchen and one waiter. They have a different menu every day, so you never know what you're going to get."
Seafood Lunch: Astoux et Brun
"A bustling restaurant one block away from Marché Forville. They do the most amazing fruits de mer platters as well as a lovely soupe de poisson. It's not fancy, but it's been there forever. They have a fish shop across the road, too."
The Other Festivals
Throughout the year, different conferences descend upon Cannes. Here's who shows up.
MIPTV
Early April
A television and digital-content conference.  One would think the TV crowd would be fun, but it's a bunch of serious suits.
MIDEM
Early June
The world-music conference. Said to have the coolest, most diverse crowd of all the festivals or conventions.
Cannes Lions
Mid-June
International advertising conference. Has the worst-dressed attendees, according to some locals.
MAPiC
Mid-November
Retail-real-estate conference. A local said: "Every woman from all over the Côte d'Azur heads here to meet men."
ILTM
Early December
International ­travel conference. A crowd of journalists and luxury-hotel operators; lots of dancing on the tables at Pastis.
*This article appears in the May 2, 2016 issue of New York Magazine.