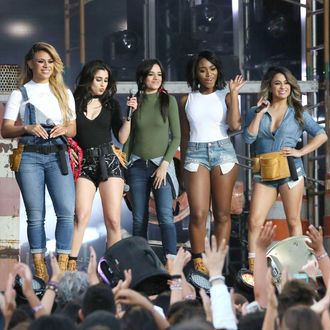 Yikes.
Photo: JMA/Star Max/Getty Images
Last month, Fifth Harmony became the first girl group in eight years to get a Top 10 hit in America, a depressing fact that has bled into their careers. Turns out, being famous teens is just as traumatic as you think. For Billboard's new cover story, the group opened up about the heartbreaking details of their young fame, including having to cope with death while on tour: "I was like, 'What kind of job are we doing?' I watched my great-grandmother be buried on FaceTime. We're all so family-oriented, and we've all lost people on the road," Dinah Jane sadly shares. "I'm in the process of getting to my high point," says Normani Kordei. Kordei has experienced the deaths of three people close to her — including  one who was murdered — in the past four months alone, all while promoting the group's sophomore album, out this month. And when personal grief isn't getting them down, Ally Brooke says the music industry can be just as cruel:
"They sell you this ­present of rainbows and butterflies, and as a 16-year-old that's what I bought. It's why I did X Factor and why I ended up in a group. But then you're working so hard, so young. [Meanwhile] my friends are in college, ­telling me about their days and what they're studying. You're having to put on a smile on a red carpet. It's like, 'Who am I? Am I for myself or for this?'"
Elsewhere in the interview, they talk politics: Normani's for Hillary, Lauren Jauregui's feeling the Bern, while everyone else is decidedly anti-Trump except an on-the-fence Dinah Jane, to the rest of 5H's shock-horror. And Camila Cabello confirms that Taylor Swift did not know about that controversial Kanye line in "Famous" before the song's release: "I spoke to [Swift] and she did not know he was going to say that. Taking credit for her success and then ­saying 'you owe me sex for that'? Disgusting." Girl power at work.