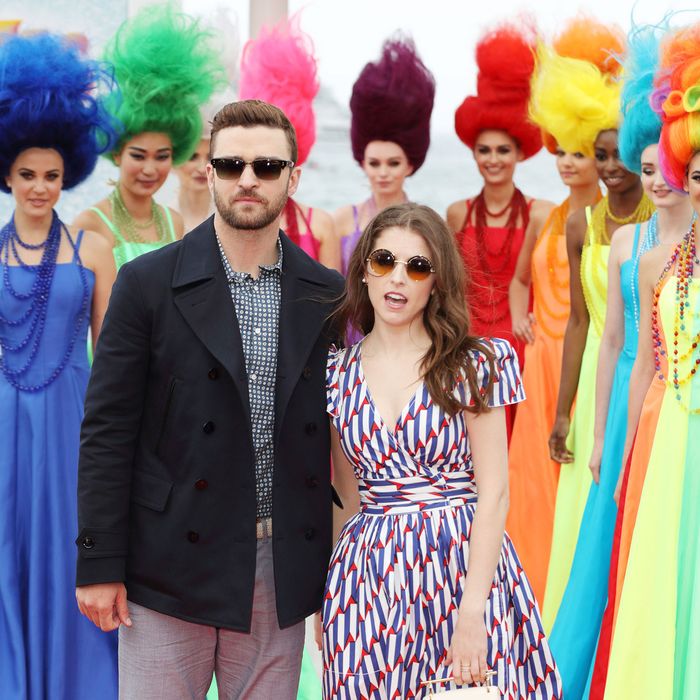 Photo: Mike Marsland/Getty Images
On the first day of the Cannes Film Festival, hours before Woody Allen's new film Café Society unspooled for a black-tie crowd, I found myself standing on a pier with Justin Timberlake and Anna Kendrick as we watched a troll fashion show. Those two stars were there, alongside willowy models buckling under cotton-candy wigs, to promote the DreamWorks animated film Trolls, which comes out in November and was not a part of this year's Cannes lineup. The surreal scene seemed out of place at this festival, which is purportedly dedicated to all that is intelligent and sophisticated in cinema, but by the end of a weird and wild 12 days filled with boos, fights, and confrontations — and especially after the Cannes jury inflamed the press by giving top awards to some of the fest's least-liked films — those teased-hair hobgoblins began to look like an omen. This year, Cannes started by trolling us and never stopped.
Things got off to a rough start at the opening ceremony, where host Laurent Lafitte cracked several off-color jokes that had the audience cringing, including a rape joke aimed at Roman Polanski but told while introducing Woody Allen. The latter filmmaker is usually treated with kid gloves at Cannes, but after a blistering essay by Allen's estranged son Ronan Farrow challenged the press to ask questions about the lingering accusation of sexual assault levied against the filmmaker, Allen's Café Society press rounds were dominated by uneasy confrontations and a very public retaliation by Allen's publicist against The Hollywood Reporter, the outlet that had published Farrow's essay.

Allen's actual film was met with indifference, but, as Cannes drew on, you couldn't go a day without a major movie being booed at its press screening by the notoriously ornery French critics. Typically, there's only one major dud per festival, but the jeers and whistles dominated this year, aimed not just at a critical misfire like Sean Penn's The Last Face or the intentionally polarizing provocation The Neon Demon but also at plenty of worthy, auteur-driven work like the Dardenne brothers' The Unknown Girl and Olivier Assayas's Personal Shopper, containing a career-best performance by Kristen Stewart. Smartly, It's Only the End of the World director Xavier Dolan cranked up his end-credits song to such decibel-shattering levels that the boos could hardly be heard over the din, but they could certainly be read later online: Journalists disparaged the film on Twitter with such gusto that Dolan himself started clapping back, supported by the star of his next film, Jessica Chastain.

For all its glitz and glamour, there's always been something uncouth bubbling underneath the civilized surface of the Cannes Film Festival: Just look to the Palais des Festivals, a movie temple that hosts high-profile premieres but sells ignoble Lindsay Lohan vehicles in its basement. And though it's tempting to connect this year's amped-up outrageousness with the global tensions stoked by a certain envelope-pushing presidential candidate, this isn't the first time that Cannes has stopped being polite and started getting real: The presence of Kirsten Dunst on this year's jury couldn't help but recall the train-wreck press conference she sat through in 2011 when Lars von Trier used the Cannes premiere of Melancholia to sympathize with Hitler, just one of many remarks that got him banned from the festival.

But this year, those sorts of incidents came consistently, and more often. Neon Demon director Nicolas Winding Refn took a barely prompted swing at von Trier during his own press conference, dismissing him as an over-the-hill drug addict who'd tried to sleep with Refn's wife, Liv (a woman, by the way, whose dedication card in the Neon Demon credits spurred one angry journalist to shout "Fuck you, Liv!"). That was followed by a tense media session with former flames Sean Penn and Charlize Theron, who reunited to promote their radioactive drama The Last Face but refused to so much as look at one another at the press conference, where two other participants separated director and star. You know down is up when the chillest, most-polite person at a Cannes presser turns out to be Shia LaBeouf.

Still, the festival's biggest feuds were started in the dark. Some people find the critical candor at Cannes refreshing — BuzzFeed's Alison Willmore tweeted that no audience "ever feels as actively invested in [the] film they're watching to me as Cannes press does" — but others are horrified by the outright booing that can happen at a poorly received Cannes press screening. Even in our reactionary Twitter era, where journalists and critics race to get their opinions online as soon as the lights go up, boos are faster, nastier, and pack a more potent punch: Whatever an American journalist is typing out in 140 characters can't hold a candle to the French critic literally jeering beside her.

Me, I'm fascinated by the gulf between online opprobrium in the dark and critical capitulation in the light. So many journalists talk a big game on Twitter but clam up at the Cannes press conferences, where even the most challenging questions are preceded by statements so obsequious that they might as well be applause. (Even when a journalist attempted to ask Sean Penn about the scathing Last Face reviews at that tense presser, he began, "Mr. Penn, you obviously have proven yourself to be a fantastically talented director …") It isn't easy to confront the people you'll be covering for years to come, and publicists have put in place a punitive power structure that minimizes the chance those confrontations will ever occur, but I found it interesting how often a journalist would step over that line online and then carefully walk it back in person. Several times, a critic wouldn't even tell me the brutal thing they thought about a movie: They'd call up the tweet they wrote and show it to me on their phone, as though they hadn't figured out how to say out loud what they had crafted with such catty care.

That's why, I must admit, I took a certain amount of perverse pleasure when the Cannes jury weighed in at the end of the festival with the ultimate troll: Several of the best-received films (like the rapturously reviewed German comedy Toni Erdmann) and most hotly tipped performances (including Sonia Braga in Aquarius and Isabelle Huppert in Elle) were entirely shut out by the George Miller–led jury, which rewarded Dolan's excoriated film with a second-place prize and gave the Palme d'Or to Ken Loach's poverty polemic I, Daniel Blake, dismissed days earlier by the press as a middlebrow pick. As journalists watched those decisions roll in from the press room, they booed once more: Not only had their prognostications been proven false, but the narratives they had crafted for each movie over the last 12 days had been blithely overturned.
The lesson? For all the energy we had spent talking, writing, booing, and feuding, the movies we thought we knew somehow wriggled out of our grasp at the end — which is perhaps as it should be. Though it's easy to treat all those bold-font Cannes headlines as definitive, a movie is a subjective, magical thing that can't quite be pinned down, no matter how hard we all try. It's good to be reminded of that sometimes, especially at a place like Cannes. You can rant and rave and troll at will. Just don't be surprised when, someday, the movies troll you back.