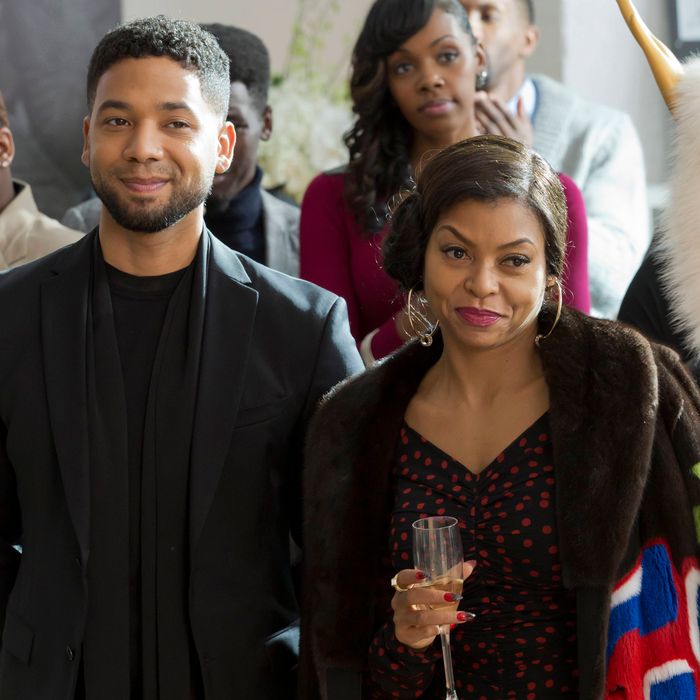 Fox's Empire will remain on Wednesdays at 9 p.m.
Photo: Chuck Hodes/FOX
Fox plans to get through its first post–American Idol season by leaning heavily on pre-sold concepts, scheduling shows based on classic movies (Lethal Weapon, The Exorcist) and offering new takes on the network's old hits (24: Legacy, Prison Break). The network's just-announced 2016–17 lineup will emphasize (relative) stability early on, with four new shows currently scheduled to launch in the fall and virtually no changes to its Sunday, Monday, and Tuesday nights. But with Idol no longer taking up a significant chunk of real estate, Fox plans to fill the void left by its departure by rolling out seven to ten new or resurrected shows within the first four months of 2017.
Perhaps the network's biggest move next season is one it did not make: Megahit Empire will remain on Wednesdays at nine, its season split between fall and spring. Some industry insiders wondered whether Fox might shift the show to the 8 p.m. hour, thus providing a big lead-in to something new. Instead, the hip-hop soap opera will stay where it is, while lead-in Rosewood moves to Thursdays at nine, partnered with new drama Pitch in the fall, and the final season of Bones in the spring. Wednesdays will now kick off with the Damon Wayans–led Lethal Weapon remake in the fall and, come spring, Star, a new drama from Empire's Lee Daniels. Fox's other big fall drama bet, the aforementioned TV take on The Exorcist, is getting a more low-key launch, airing Fridays at nine behind Hell's Kitchen. NBC has done well on Fridays for years with the horror-themed Grimm, but as that show continues to age, Fox clearly hopes to capture some of its audience. The network today also said its previously announced remake of The Rocky Horror Picture Show will air in October.
Elsewhere, Fox is turning over the Sundays-at-8:30 p.m. half-hour behind The Simpsons to two new comedies from Last Man on Earth producers Phil Lord and Chris Miller. The duo's hybrid live-action/animation series Son of Zorn, featuring the voice of Jason Sudeikis, will bow there in the fall. It will be replaced later in the season with the Adam Pally–Leighton Meester time-travel comedy Making History. With Last Man staying put Sundays at 9:30 p.m., Lord and Miller will replace Seth MacFarlane as Fox's most prolific producers on the night. Over on Mondays and Tuesdays, the network is staying very stable early in the season. Gotham and Lucifer will continue to kick off the week, while Brooklyn Nine-Nine and New Girl stay put on Tuesdays, paired with the return of horror-comedy Scream Queens. Later in the year, B99 and New Girl will be followed by comedy The Mick, competition series Kicking & Screaming, and Prison Break in the spring. Fox, as expected, is scheduling its reboot of 24 in the show's longtime Monday home come January. It's also planning to revive the two-night premiere strategy the network used for most of the show's later seasons, with 24: Legacy bowing Sunday, February 5, and then moving into its normal Monday slot the next evening. One big difference: This time, the Sunday episode will air following Fox's broadcast of the Super Bowl.
Here's a look at Fox's complete fall and winter schedules:
FOX FALL 2016 SCHEDULE
MONDAY
8:00-9:00 p.m.                      GOTHAM 
9:00-10:00 p.m.                    LUCIFER
TUESDAY
8:00-8:30 p.m.                      BROOKLYN NINE-NINE
8:30-9:00 p.m.                      NEW GIRL
9:00-10:00 p.m.                    SCREAM QUEENS
WEDNESDAY
8:00-9:00 p.m.                      LETHAL WEAPON (new)
9:00-10:00 p.m.                    EMPIRE
THURSDAY
8:00-9:00 p.m.                      ROSEWOOD
9:00-10:00 p.m.                    PITCH (new)
FRIDAY
8:00-9:00 p.m.                       HELL'S KITCHEN
9:00-10:00 p.m.                     THE EXORCIST (new)
SATURDAY
7:00-10:30 p.m.                      FOX SPORTS SATURDAY: FOX COLLEGE FOOTBALL
SUNDAY
7:00-7:30 p.m.                        NFL ON FOX
7:30-8:00 p.m.                       THE OT / BOB'S BURGERS
8:00-8:30 p.m.                       THE SIMPSONS
8:30-9:00 p.m.                       SON OF ZORN (new)
9:00-9:30 p.m.                       FAMILY GUY
9:30-10:00 p.m.                     THE LAST MAN ON EARTH
MID-SEASON 2016-2017 SCHEDULE
MONDAY
8:00-9:00 p.m.                       24: LEGACY (new) / GOTHAM (spring)   
9:00-10:00 p.m.                     APB (new) / LUCIFER (spring)
TUESDAY
8:00-8:30 p.m.                       NEW GIRL / BROOKLYN NINE-NINE (spring)  
8:30-9:00 p.m.                       THE MICK (new)
9:00-10:00 p.m.                     KICKING & SCREAMING (new)/PRISON BREAK (new)
WEDNESDAY
8:00-9:00 p.m.                       LETHAL WEAPON / SHOTS FIRED (new; spring)
9:00-10:00 p.m.                     STAR (new) / EMPIRE (spring)
THURSDAY
8:00-9:00 p.m.                      ROSEWOOD
9:00-10:00 p.m.                    BONES
FRIDAY
8:00-9:00 p.m.                       MASTERCHEF JUNIOR
9:00-10:00 p.m.                     SLEEPY HOLLOW
SATURDAY
8:00-10:00 p.m.                    FOX SPORTS SATURDAY
SUNDAY
7:00-7:30 p.m.                       ANIMATION ENCORES
7:30-8:00 p.m.                      BOB'S BURGERS
8:00-8:30 p.m.                      THE SIMPSONS
8:30-9:00 p.m.                      MAKING HISTORY (new)
9:00-9:30 p.m.                      FAMILY GUY
9:30-10:00 p.m.                    THE LAST MAN ON EARTH