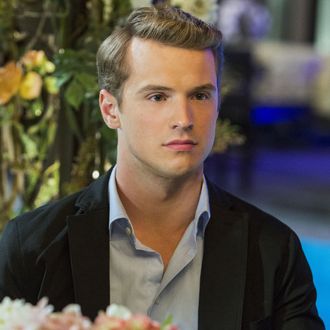 Prince Charming is back.
Photo: James Dittiger/Lifetime
What, did you think Rachel's love life would get a break? Yahoo! confirms that Freddie Stroma, who played Adam, the first bachelor of Everlasting (the reality show within the show) will return for the second season of UnREAL. It's unclear how many episodes he'll be in, but we can guess that his return likely means trouble for Shiri Appleby's Rachel. At the UnREAL panel at Vulture Festival on Sunday, Appleby discussed her character's new love interest Coleman (Michael Rady). "If Adam was the fairy tale version of the life that Rachel could've had, and Jeremy (Josh Kelly) was like the safe life that Rachel could have … Coleman sort of feels like, wait, this could actually be the guy," Appleby said. "He comes from a documentary film background, he has a nice Jewish family, and a house in Martha's Vineyard. It could be this really idyllic life." Well, that all sounds nice, but really boring television. Cue the drama!