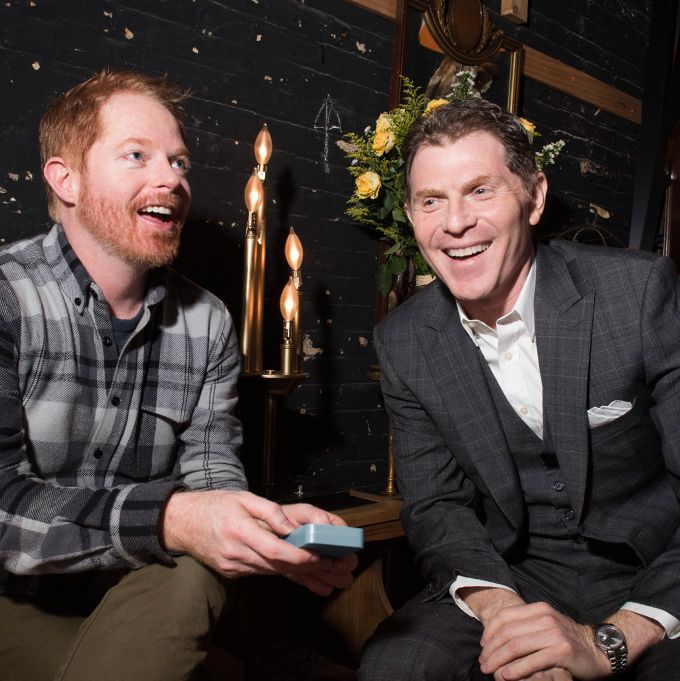 Emmy® award nominee Jesse Tyler Ferguson of Modern Family returns to Broadway in Becky Mode's delicious one-man comedy Fully Committed. In a tour de force performance, the winsome Ferguson plays Sam, a frenzied reservationist fielding calls in the basement of a fashionable Manhattan restaurant. But the esteemed actor also gives voice to a cast of 40 other characters—including a boorish chef, haughty French maître d', celebrity assistants, and pushy socialites—who all make ASAP demands on the lowly scheduler in this hilarious show.
We caught up with celebrity chef Bobby Flay, no stranger to spinning multiple plates himself, at a recent performance:
What's the secret to dealing with pleading customers when your hot restaurants are "fully committed?"
We always try to accommodate people. The most important thing is having a conversation to see how flexible they might be in terms of time, etc. If you're willing to come and spend some time at Gato's bar having a cocktail or two we can usually figure something out.
Everyone knows you as a chef; what other roles have you played in restaurants?
I was a busboy for the first two weeks of my restaurant career. It was apparent that I really needed to be behind the kitchen doors and not in the front of the house. That experience gave me an appreciation of how hard the servers work.
What life lessons did you learn?
I've learned most things I know about life working in my restaurants. I dropped out of high school in 10th grade and went right to work. I've learned how to inspire people and how to create opportunities for others so they can make a better life for themselves. Most of all, it taught me how to "play and work well with others"— it's the adult sand box!
"Nitro-frozen shaved foie gras enshrouded in a liquid chicken- filled orb" is a featured menu item at the fashionable restaurant in Fully Committed. What's the most faddish dish you've eaten recently?
That would have to be the salt and charcoal potato with house made sour cream and black vinegar at INK in Los Angeles.
When restaurant staff who are aspiring actors have auditions and big wins, how have you dealt with it?
We are very supportive of our staff. Some of our people are professional service employees and others are working to pay their bills while they pursue other passions such as acting. When something great happens in their "other" lives we certainly arrange for them to take time away from the restaurant to fulfill a dream. If they're employees in good standing (which is the case most of the time) we welcome them back with open arms if that's their wish.
In the show, Gwyneth Paltrow's party of 15 demands an all-vegan tasting menu, no women servers, and flattering lighting. What's one of the craziest requests you've received?
We hosted a party at Bar Americain for the show Billy Elliot after the Tony Awards®, and they wanted to know if Elton John, who produced the show, could stand on the bar and address the whole party of 350. Let's put it this way—there were shoes on my bar, a song was sung, it was a rowdy good time, they won a slew of awards—it was a good night for all!!
---
Check out the Fully Committed trailer here, plus enter for your chance to win two tickets to see the show!