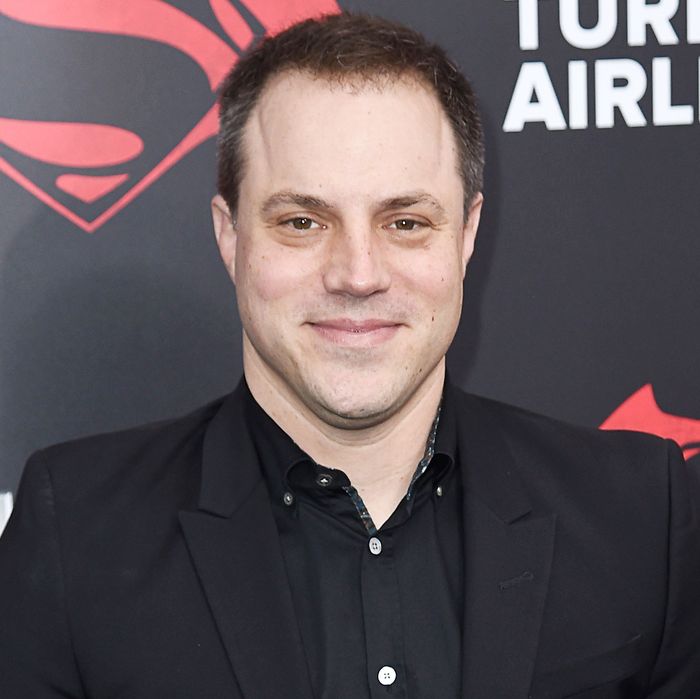 Johns, the new co-head of DC Films.
Photo: Nicholas Hunt/2016 FilmMagic
Just 12 hours after word came down about a major managerial shakeup with Warner Bros.' DC Comics-based superhero flicks, DC's chief creative officer, Geoff Johns, strode into a sunlit conference room in a midtown Manhattan office building and greeted a small group of geeky journalists. Though he showed up late (and apologized profusely for it), his reputation preceded him: In the past two decades, he's gone from comics fan to comics writer, then to being one of the leaders in DC's very lucrative expansions into gaming, film, and television. He's not yet a household name, but Johns has loomed large in entertainment's superhero boom.
Now, in a move that made total sense to the reporters at the intimate gathering, Johns is apparently about to gain even more influence. The previous night's report, broken by The Hollywood Reporter, outlines how Johns will be one of two people (the other being Warner executive vice president Jon Berg) in charge of a newly formed entity called DC Films, which will oversee future movies about Superman, Batman, the Flash, and other beloved properties.
He was there to talk about an upcoming comic he wrote and said he couldn't confirm the story, but that "you can connect the dots." Even though he declined to directly address that topic and didn't speak specifically about DC's film slate, he was more than willing to talk about what he thinks makes the DC mythos unique. One phrase came out of his mouth over and over again as he talked about DC's comics: "hope and optimism." Though Johns would never speak ill of Batman v Superman: Dawn of Justice or its director, Zack Snyder — Johns is nothing if not loyal to the company that made him a star — it's crystal clear that his vision for DC looks a lot brighter than the much-maligned grimness Snyder provided earlier this year.
DC's nascent cinematic universe has so far depicted Superman as an angry god; a violent, alien entity that needs to be kept in check. This morning, Johns offered a vastly different take on the character's archetype. "I think people make a mistake when they say, 'Superman's not relatable because he's so powerful,'" he said. "I'm like, 'Are you kidding me? He's a farmboy from Kansas who moves to the city and just wants to do the best he can with what he's got.' That's the most relatable character in the world."
That attitude isn't surprising, given Johns's track record in the superhero world. The 43-year-old started his career as an assistant to Superman director Richard Donner in the late 1990s, then snagged a gig writing for DC in 1999, at the tender age of 26. Right from the start, he showed a special interest in the company's past: He revered the smiling, benevolent heroes of the mid-century and largely eschewed the gritty bloodletting that had been in vogue since the '80s. In series like Justice Society of America and The Flash, he cranked out stories that managed to be sun-dappled without being sappy.
Over the course of the '00s, he became DC's golden boy. He was insanely prolific, producing stories on multiple series and in major company-wide crossovers like 2006's Infinite Crisis. He was especially lauded for his eight-year run on Green Lantern, which revitalized and redefined the character. When DC executed an ambitious reboot of its entire superhero line in 2011, he was put in charge of the miniseries that launched it and its subsequent flagship title, Justice League. Johns was never the flashiest writer, opting for traditional story structures and plain prose, but he had an undeniable reverence for DC iconography (some have said too much reverence) and a willingness to think big when the company wanted to do something world-shaking.
Naturally, the company's biggest world-shake of all was its transition from focusing on comics to expanding its brand across multiple platforms. After Marvel Studios burst onto the scene with the success of 2008's Iron Man, DC and parent company Warner Bros. rushed to catch up. DC Comics was restructured as DC Entertainment in 2010, and Johns became its chief creative officer. From then on, in addition to his comics-writing duties, he was in charge of figuring out how to translate the DC mythos to other media.
As such, he wrote for the CW's Arrow and helped launch its spinoff The Flash, where he acted as a writer, developer, and executive producer. He advised game developers. He became part of a brain trust responsible for mapping out the contours of the nascent DC cinematic universe. Last year, it was announced that he and Ben Affleck were co-writing the screenplay for a standalone Batman movie. There's no real equivalent to Johns in the Marvel org chart: Unlike Marvel Studios chief Kevin Feige, Marvel TV head Jeph Loeb, or Marvel chief creative officer Joe Quesada, he has his fingers in virtually every medium the characters show up in.
That said, he's currently taking a break from writing comics for a while. He penned a status-quo-altering one-shot issue called DC Universe: Rebirth, which comes out in a week and was the topic of conversation at today's journalist gathering — but after that his hands will be too full. Whatever he does next, it'll be rooted in a belief that DC needs to understand the deep-seated warmth and love that people feel toward its pantheon. "There's a lot of emotional underpinning of the characters and the stories," he said. "It's not that people take it for granted. They're just not as aware of it. But when it's not there, you really feel that emptiness."
*This article has been updated to clarify that Johns was speaking primarily about DC's comics output.