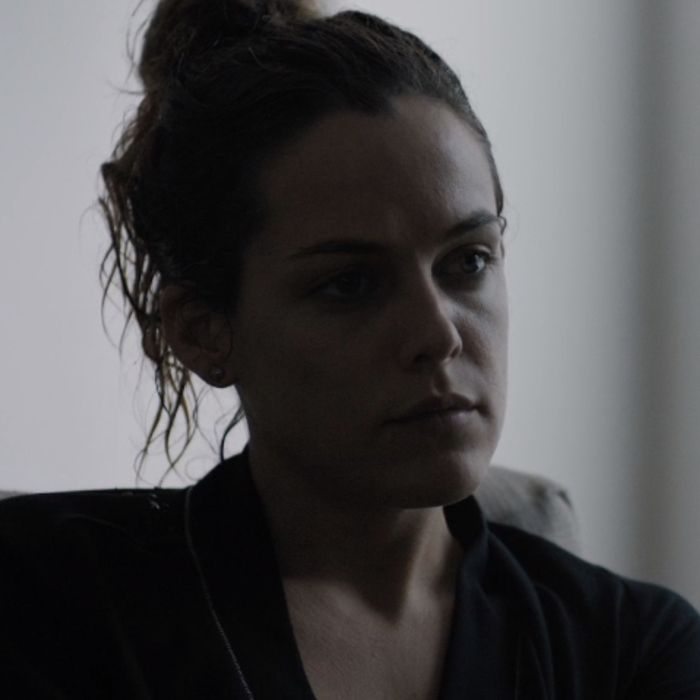 Riley Keough as Christine.
Photo: Starz
It's tough to define the female gaze, but it's easy to know what it isn't. It isn't like the male gaze, which is all around us, framing women as objects of lust or revulsion. Instead, the female gaze relies on a particular attention to detail. In shows that deploy it, such as Outlander and Orphan Black, sex carries nuances that we don't really see elsewhere. Men become objects of lust. And how a woman sees the world — how a woman moves through the world — is privileged by every element of production, from camera movements and to narrative developments.
The Girlfriend Experience is a curious contradiction, a feminist treatise on power within capitalist culture that also embodies the worst issues associated with the male gaze. "Available" is the best example of this innate dichotomy. Unlike the other 12 episodes of the season, which are co-written by showrunners Lodge Kerrigan and Amy Seimetz, this one is penned solo by Seimetz, while Kerrigan directs.
After "Blindsided" wrecked Christine's life, "Available" feels like a step backwards. It certainly isn't as visually or sonically dynamic as the previous episode. It feels like the calm before the storm; Christine still has to deal with the aftermath of the video, but refuses to do so. The episode puts a spotlight on the greatest strengths and weaknesses of the show.
Christine is drifting through life in a daze. After such a devastating violation of her privacy, reversing this character to icy behavior doesn't feel totally honest or interesting, even as cracks show in her façade. The episode begins with Christine just coming down from her panic attack, still surrounded by her co-workers and bosses. (Or former, perhaps?) David looks at her with a cool, detached gaze. He's seemingly decided he won't have to deal with her anymore, so he doesn't bother offering sympathy or pity. Kayla takes Christine home and makes sure she's okay, per David's request, highlighting the fact that Christine has no allies.
The rest of the episode deals with Christine's attempts to avoid what happened altogether. She refuses to speak to her sister, who also received an email of the video. She cuts herself off from the world she knows. She doesn't want to reckon with this. Can you blame her? The entire course of her life — being a law student, her internship, her side-career as an escort — has dramatically shifted. She is not the woman she was; she never will be again. With no current recourse in Chicago, she lists herself online as an escort for the "full girlfriend experience" under the name "Amanda Hayes." Once she books a client, she's off to Toronto to meet him.
The new client, Dennis Masterson (Trevor Hayes), meets her in his home. Like every setting on the show, his place is exceedingly minimalist and neutral-colored to the point of sterility. Christine, on the other hand, has consistently begun to wear color. I don't think she wore cool blues and forest greens this often when the show began — further evidence that she's a changed person.
Dennis is awkward and unsettling from the moment they meet. Sex with him looks uncomfortable. Christine's face, coupled with her flat delivery (which isn't that different from the other sex scenes she's had with clients), makes me wonder what exactly these men see in her. He pulls out to finish across her bare stomach, propping a Kleenex box nearby so she can wipe it off when he's done. Afterward, they share an odd exchange:
Dennis: I think it's best if you leave.

Christine: Whatever you want.
It all serves to underscore a crucial aspect of the show: As The Girlfriend Experience gets increasingly explicit, it never feels all that alluring or sexy. The men aren't attractive. They're controlling father figures, if they even make an impression at all. Instead, the show focuses on the careful ways women must respond to male affection, and how difficult it can be to navigate that (often unwanted) affection. This theme is emphasized when Christine bluntly fends off a man while eating dinner: "I don't mean to be rude, but I've had a long day and just want to be alone." And when she's talking on the phone with a potential client who asks how her face looks: "I've been told I'm beautiful. I don't think you'll be disappointed." Soon after, she hangs up on him.
These scenes are often contrasted with moments that epitomize the stereotypical male gaze. Before Christine leaves Chicago, there's a prolonged show of her watching a recording of herself masturbating. What's that unreadable look on her face? Is it pleasure? Is she studying herself? While in Toronto, we watch as she lathers herself up in the shower, her breasts directly in the center of the frame. What's the actual purpose of a shot like that? The camera feels inquisitive and leering in equal measure.
Christine doesn't take time for herself, quickly vaulting to another new client, Gary Barber (David Richmond-Peck). He already has two escorts at his place, the level-headed Monica (Emily Coutts) and Dana (Kimberly Sue-Murray). Gary is a mess of a man, covered in a thin sheen of sweat. When Christine first sees him, he's snorting coke with Dana. If this is anyone's fantasy, it's a torpid one. Christine gets paid more than expected since Gary wants her and the other girls to stay longer — but she doesn't have to do all that much. Ultimately, she gets a couple grand for spending her time on her phone and talking to Monica.
Later, Christine has a conversation with Monica before they're to meet for a double date with new clients. Monica has been an escort for six years and describes it as is easy work — "like going to an ATM." But it's a lifestyle she doesn't want to continue, even though she's not sure what she'll do afterwards. The exchange Christine has with Monica — and her crucial call with Martin, which leads to the revelation that the video is now online and making news in Chicago — makes me wonder what kind of story Kerrigan and Seimetz are trying to tell. Christine's personal tragedy is now an outright scandal. It raises the question: Whose fantasy does this show serve?