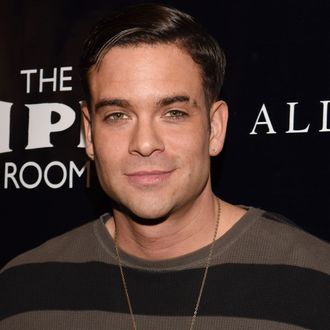 Mark Salling.
Photo: Vivien Killilea/Getty Images
Mark Salling, best known for playing Puck on Fox's Glee, was charged in a two-count federal indictment with receiving and possessing child pornography. Specifically, the indictment alleges that Salling received a still image and a video online that depicted child pornography on December 26, 2015. The second count charges Salling with possessing two videos depicting child pornography on December 29, the night Salling was arrested. At that time, police and Homeland Security Investigations searched his home in Sunland, California, and found thousands of illicit images, including several of young girls. The actor was arrested on state charges, and later released on bail, before investigators turned the case over to federal authorities. Salling faces at least five years in prison — the mandatory minimum for the charge of receiving child pornography — if convicted. He agreed to surrender to federal authorities on June 3.
This is not Salling's first brush with the law. In 2013, he paid $2.7 million to settle a sexual-battery lawsuit from an ex-girlfriend. "Those who download and possess child pornography create a market that causes more children to be harmed," United States Attorney Eileen M. Decker said in a press release. "Young victims are harmed every time an image is generated, every time it is distributed, and every time it is viewed."
Update, May 31: Director Adi Shankar has dropped Salling from his upcoming film Gods and Secrets. After Salling's arrest in December, Shankar said he wouldn't "feed our growing pitchfork culture," and would wait so see if allegations were true before taking action. In a statement released today, Shankar promised that he would personally pay for Salling's scenes to be re-shot and donate a portion of the film's profits to "a charity for abused children." Salling was going to play a villain in Gods and Secrets, which stars Kellan Lutz, Denise Richards, and Jane Seymour.
Update, June 4: According to the United States Attorney's Office, Salling was released on a $150,000 bail following his arraignment in downtown Los Angeles yesterday afternoon. He pleaded not-guilty to the federal charges, and a trial was scheduled for July 12. "He is going to be wearing an ankle bracelet for monitoring," Thom Mrozek, spokesperson for attorney's office, told reporters outside of the courthouse. "He has been ordered to not have any contact with children, the internet, and drugs." The actor was also required to surrender his passport, and will receive occasional check-ins from authorities at his home before the trial begins.
Update, June 29: Salling's trial, which was scheduled for July 12, has been delayed indefinitely. The delay was reportedly granted after the court allowed Salling to hire a new lawyer, who will use the given time to familiarize himself with the case. A new trial date is expected to be set during a preliminary hearing on September 19.